Esteem mobile; Some improvements for the mute feature.
Repository
https://github.com/esteemapp/esteem-mobile
Components
This feature request stems from an issue with the mute function on the app.
Firstly, I expected that when I mute a user, the option that should be visible when I check that menu option again should be unmute. But, right now, I still see the option to mute the user. This made me think that the mute function didn't work. I was almost reporting the issue as a bug until I decided to check my list of muted users on steemit and I found out that it actually worked. Now it's a cool thing that I can mute a user directly from esteem mobile. What isn't cool is the fact that I can't unmute a user.
Another thing that would be nice is; if there was a list of mute users on the app. It would be great to be able to keep track of muted users on the app.
Proposal Description
Here are my suggestions in details
Display a toast notification to indicate that I muted a user.
When I mute a user, let there be an icon on the profile to show that that user has been muted.
When I access the options menu to mute a user, when the user is already muted, it should be unmute instead. This means that I'm suggesting the ability to unmute a user.
Create a page on the app to access the list of muted users.
Mockups / Examples
Here's a step by step description of how this feature would be implemented. Now, the first thing I want to do is to mute a user. So I go to his/her profile and perform the action. Here's a screenshot;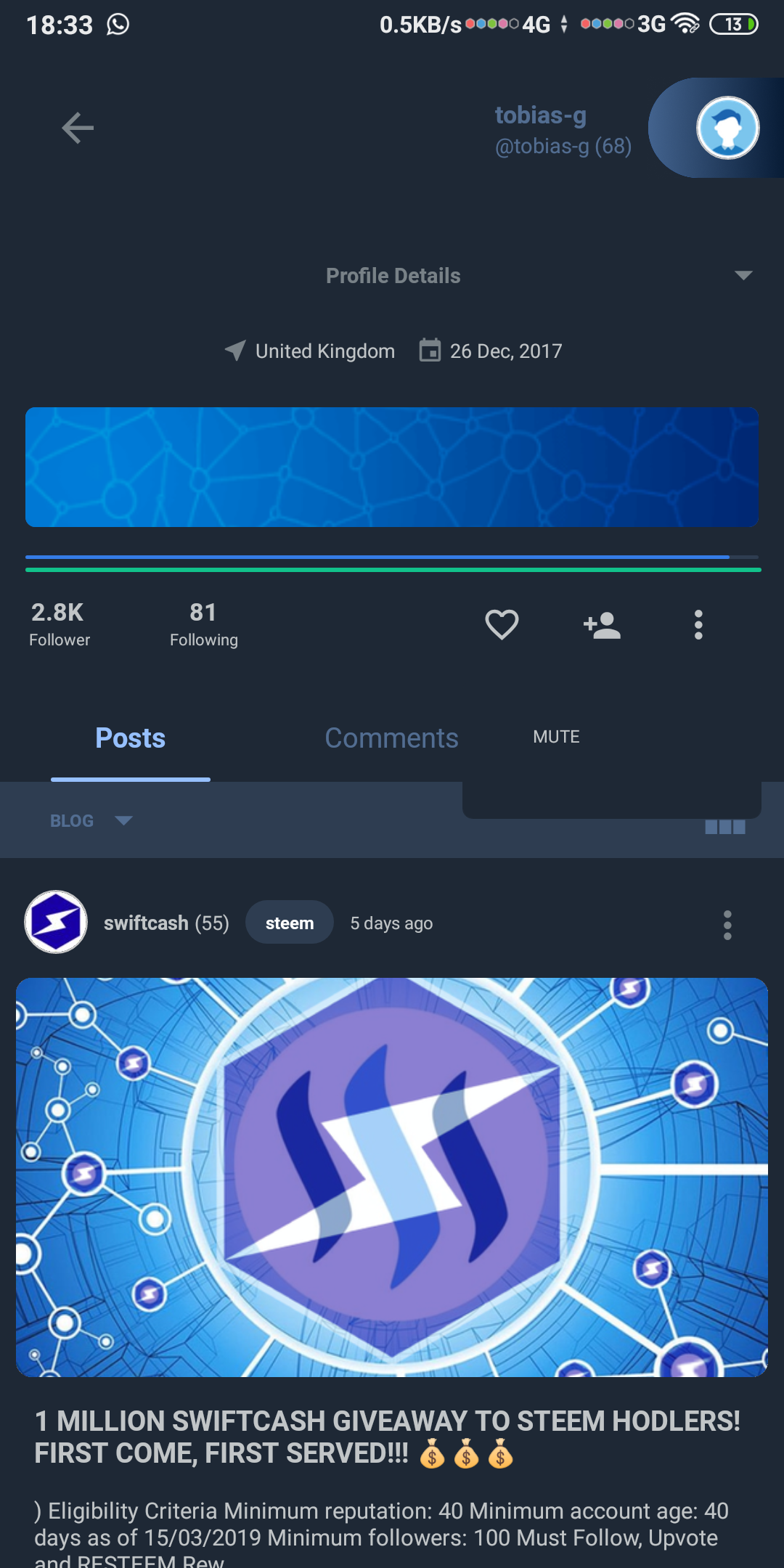 When I click on mute, it'd be great to get a toast notification to let me know that the action was successful.
This toast notification would be shown on the bottom part of the app like this;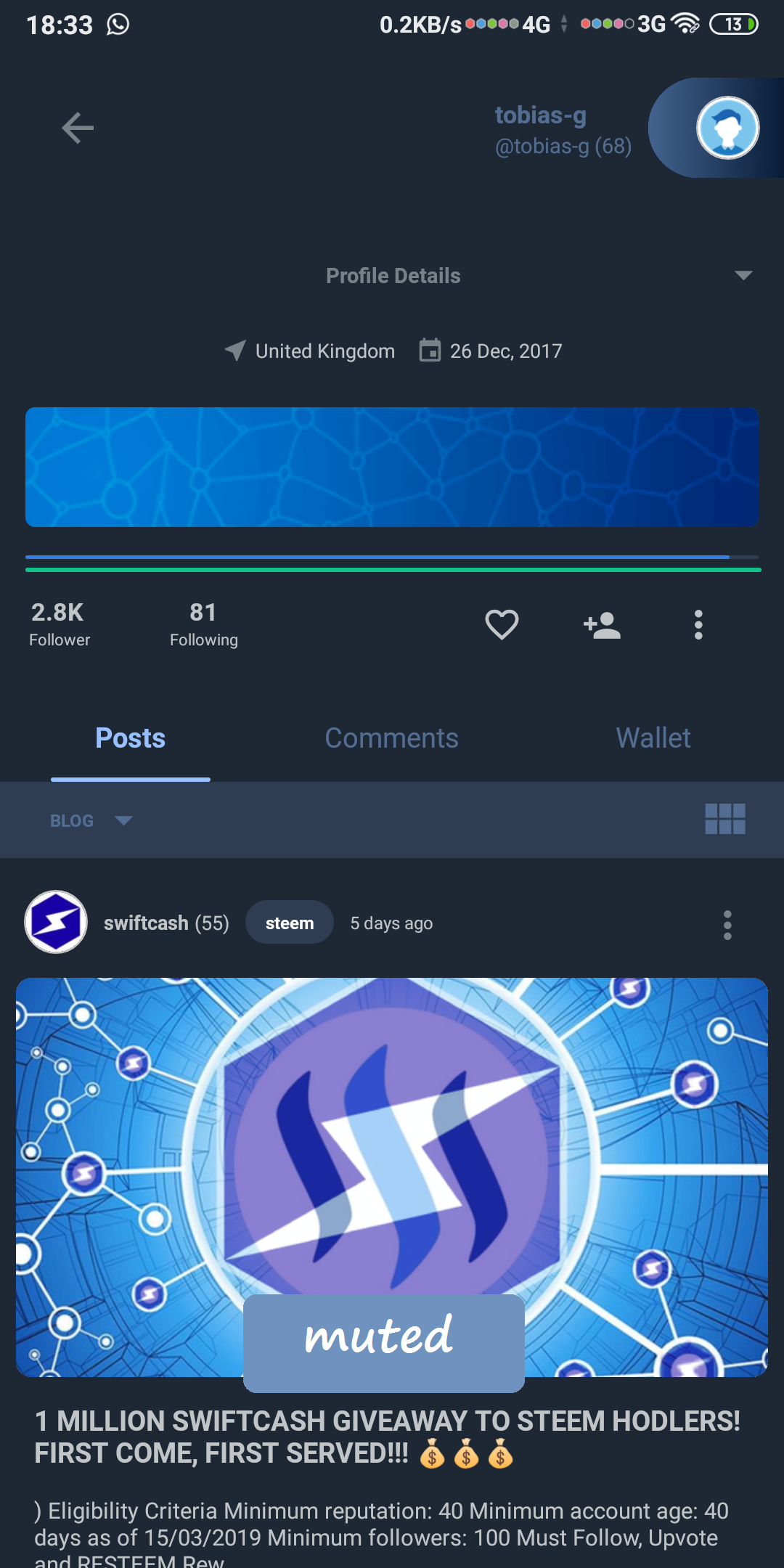 When that user is muted, I expected that when I click on the button to mute a user, it should have changed to unmute. However, it still displays as mute. Now, this is not a text error. I clicked on the mute again and when I checked on steemit, the user was still muted. So this change will go with some coding. But, here's a picture of the unmute option;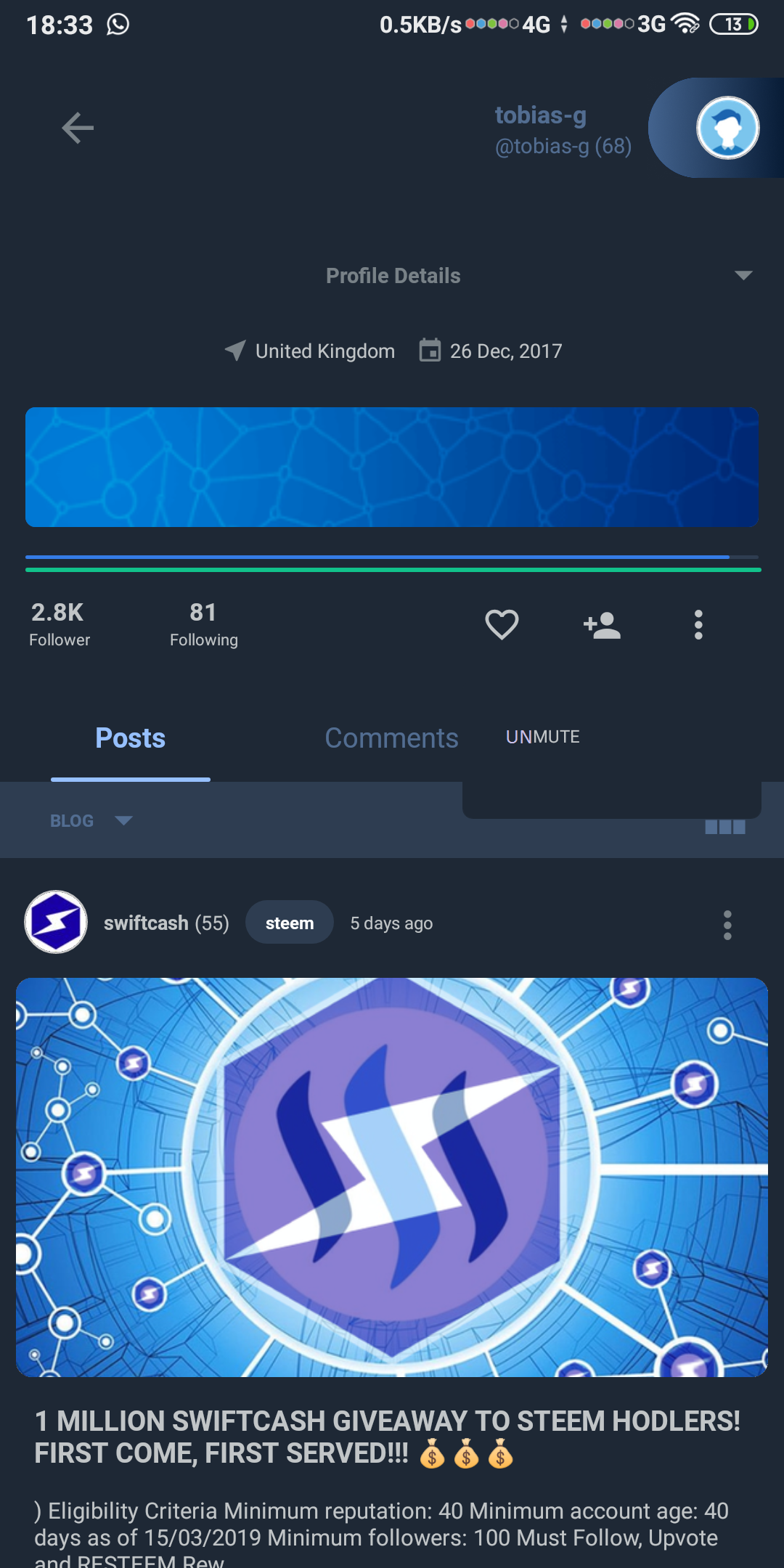 Now, I can mute an unmute a user from his/her profile page. But, what happens when I mute a lot of users and I forget their usernames. How would I know the users I have muted. This is where the dedicated muted users page comes in handy.
On Esteem mobile. There's a slider page for bookmarked posts and favourite authors. Instead of the settings page, it would be great to have a third page for muted users. In this mockup, I'm using the favourites page as a makeshift page.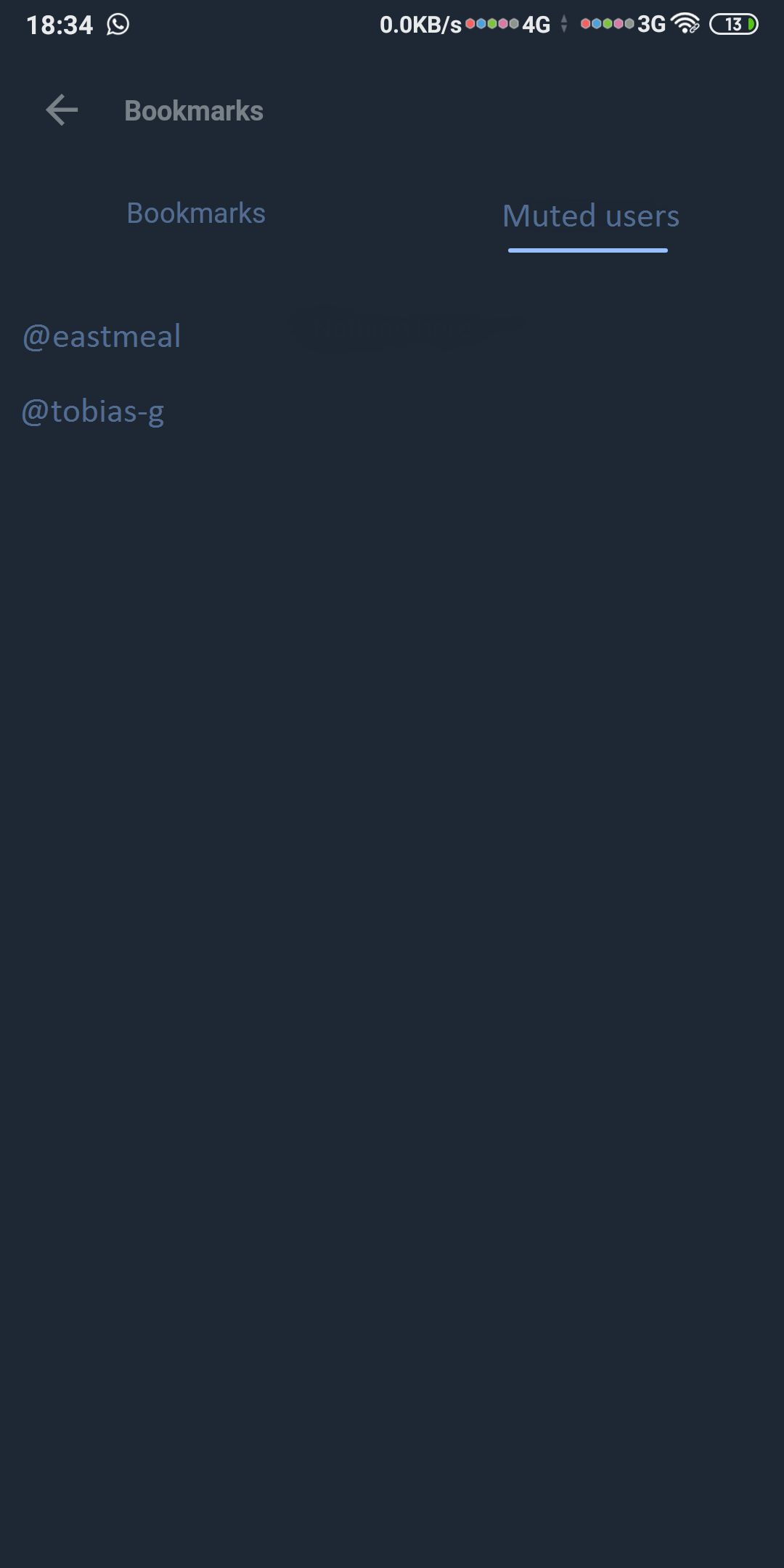 From the list, I can simply unmute a user without having to visit his/her profile. When I tap on the username, the option to unmute the user will pop up just beneath the page. Like this;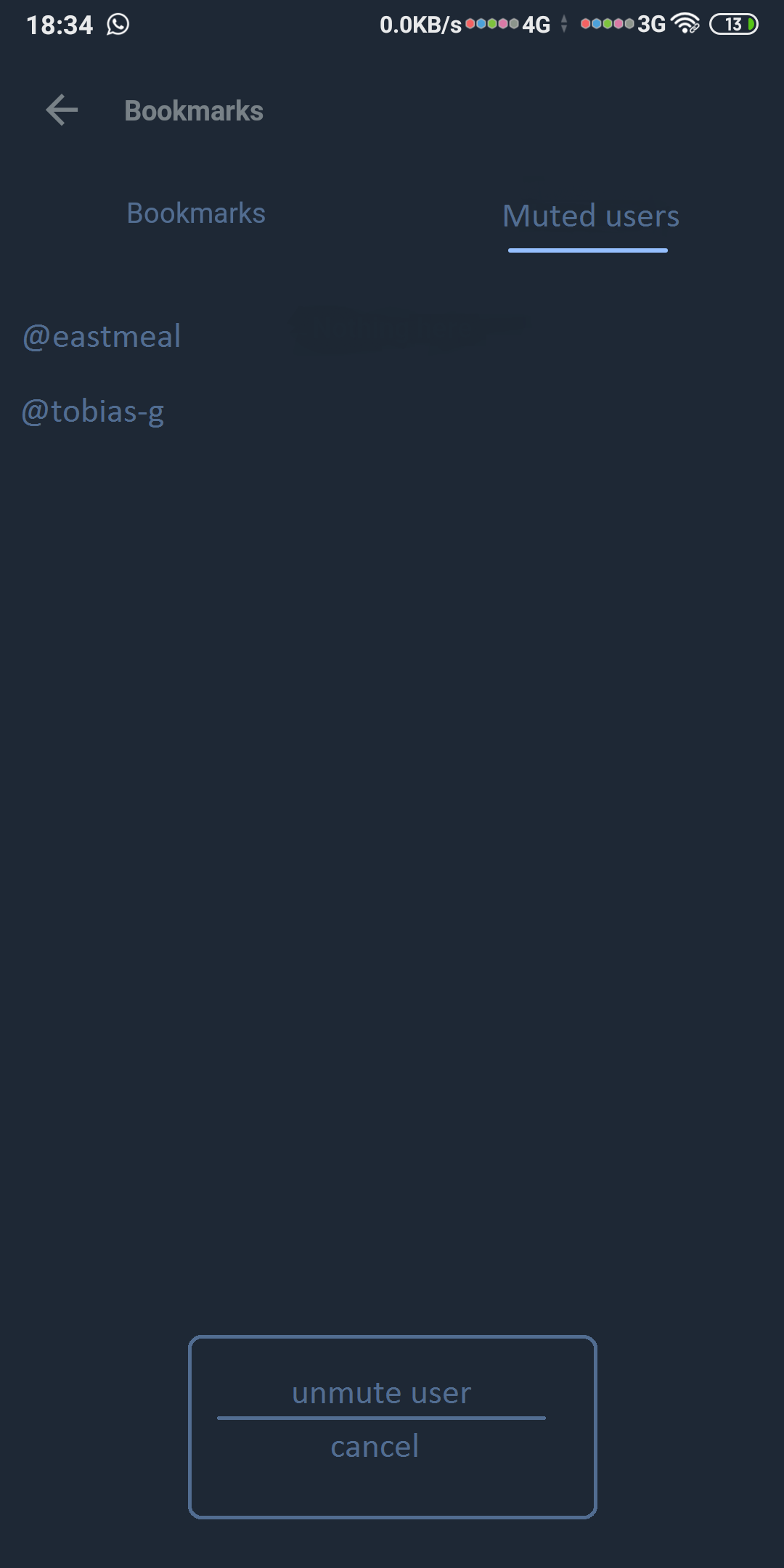 There you have it. An organised mute system on Esteem mobile. The same feature can be applied to Esteem surfer. But, I don't know if another contribution about this feature on Esteem surfer would be accepted.
Benefits
Users would be able to mute and unmute users easily on the app.
This would eradicate dependencies on other steem dApps like steemit.
With the dedicated muted users page, users won't have to keep track of muted users in their minds. They can access the list anytime they wish.
GitHub Account