Waiting for Steem Monsters Tournament to Start!
Waiting for Tournament to Start is Killing Me!
There's too much excitement going on right now for new Steem Monsters! It's been less than 2 weeks but this new steem blockchain based card game is starting to get the crowd very optimistic with their upcoming tournament. Of course, I'm one of those who are very eager to find out where this new game would lead the steem blockchain to.
Some Expectations:
It's human nature to expect something very interesting out of something new. I hope steem monsters won't fail me this time!
1. Effects Should be Great!
Not all games have stunning visual effects or graphics. Of course, this would disappoint a lot of new users if the tournament sucks. Not all might care about graphics but of course, it one factor for the game to be loved by many.
2. More Cards!
I hope more monsters will be released in the future. It would add more excitement if the monsters to be drawn will not be announced. Imagine the feeling of getting a monster you've never had before! I would be fun to buy more packs knowing what you don't know what you'll get right?
3. Higher Rewards!
It is expected that the highest reward will be given to of course the top player in the tournament. With this in mind, I can't help to think how much will be the reward for those who are in low rankings. I expect it to be not much but I hope at least fair enough for those who invested buying lots of card packs.
4. Honest and Hard/Smart working Admin!
There's nothing more disappointing than putting your trust in a person and in the end will betray you and leave like nothing happened. It makes you feel you wanna kill somebody! I hope the admin for Steem Monsters will be credible enough to stand by their word and fulfill the expectations of many that this steem blockchain based game will fun, exciting, and worth it to play!
My Favorite Card so Far . . .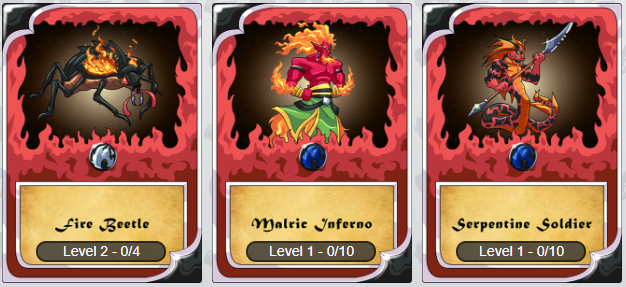 I hope these card will be worth playing once the tournament starts because I'm starting to love them! I hope they will have cool effect of something that will make them even more precious to keep. I bet this will really be fun once everything is ready to start. I hope too that Steem Monsters admin can hear me Haha!
If you're not aware of this new cool Steem Monsters yet, you can check it out by visiting their site here: Steemmonsters.com
Reminder: You need to purchase a starter pack to participate in tournament. Starter pack cost 5 USD which you can pay via steem, SBD, or vests. You can purchase booster packs after that for the chance to get legendary cards. The better cards you have, the better chance you'll get to have higher rewards one the tournament starts! Don't miss the fun and excitement now guys. You should try it out!

---

I'm interested in cryptocurrency trading, photography, new things in life, reading and writing blog, socializing, meeting other people and make friends with them. I hope you can be my friend too!