SEEKING GOD'S WILL FOR YOUR LIFE.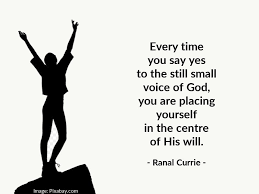 Reading passage:- 1st Samuel 23:1-24
1.Then they told David, saying, Behold, the Philistines fight against Keilah, and they rob the threshingfloors.
2.Therefore David enquired of the Lord, saying, Shall I go and smite these Philistines? And the Lord said unto David, Go, and smite the Philistines, and save Keilah.
3.And David's men said unto him, Behold, we be afraid here in Judah: how much more then if we come to Keilah against the armies of the Philistines?
4.Then David enquired of the Lord yet again. And the Lord answered him and said, Arise, go down to Keilah; for I will deliver the Philistines into thine hand.
5.So David and his men went to Keilah, and fought with the Philistines, and brought away their cattle, and smote them with a great slaughter. So David saved the inhabitants of Keilah.
6.And it came to pass, when Abiathar the son of Ahimelech fled to David to Keilah, that he came down with an ephod in his hand.
7.And it was told Saul that David was come to Keilah. And Saul said, God hath delivered him into mine hand; for he is shut in, by entering into a town that hath gates and bars.
8.And Saul called all the people together to war, to go down to Keilah, to besiege David and his men.
9.And David knew that Saul secretly practised mischief against him; and he said to Abiathar the priest, Bring hither the ephod.
10.Then said David, O Lord God of Israel, thy servant hath certainly heard that Saul seeketh to come to Keilah, to destroy the city for my sake.
11.Will the men of Keilah deliver me up into his hand? will Saul come down, as thy servant hath heard? O Lord God of Israel, I beseech thee, tell thy servant. And the Lord said, He will come down.
12.Then said David, Will the men of Keilah deliver me and my men into the hand of Saul? And the Lord said, They will deliver thee up.
13.Then David and his men, which were about six hundred, arose and departed out of Keilah, and went whithersoever they could go. And it was told Saul that David was escaped from Keilah; and he forbare to go forth.
14.And David abode in the wilderness in strong holds, and remained in a mountain in the wilderness of Ziph. And Saul sought him every day, but God delivered him not into his hand.
The passage above is about David,
What caught my attention is he seeking the face of God before even going to fighting and when God gave him the answer he gathered his men and they went to fight the Philistines.
When King Saul heard of the war, and how David smothe the Philistines he planned to kill David and luckily for David he heard of it on time, and again he didn't just stand up to go believing in his ability, but he enquired of the Lord, he ask God one after the other and God also took time to answer him telling Saul will definitely come down to kill him as he has heard and that the men of Keilah will definitely deliver him(David) to Saul's hand, they will betray him.
From the answers given to him by God he knew what to do.
Without God's direction we go astray.
Indeed God is the compass of our life's journey, if he isn't there in our life's journey then we are finished.
We cannot do anything and succeed if God is not involve.
David never depended on yesterday's guidance to win today's battles, he sought the will of God afresh.
Let's learn from David and seek God's will at every occasion as we face constant challenges of life.
We can achieve this through regular prayers and Bible reading, godly counsel and by being in touch with the Holy Spirit at all times.
Someone once said:-
"Go for more knowledge, because the knowledge of yesterday may not be enough for the challenges of today".
Let's depend on God and he will never disappoint us.
One thing is to seek the will of God and another thing is to do the will of God.
Especially in marriage we might be praying for the will of God but when God finally answers and give us what he knows is best for us we frown, leave God's will and do what we want.
My question is if you knew you won't take the will of God why even pray at first, disturbing God.
Let's guard our heart to accept what God has for us.
I am
glotokens
Thanks for stopping on my blog
Posted using Partiko Android