How much did the military spend yesterday? $1.3 billion
geke
70
8 months ago
Busy
3 min read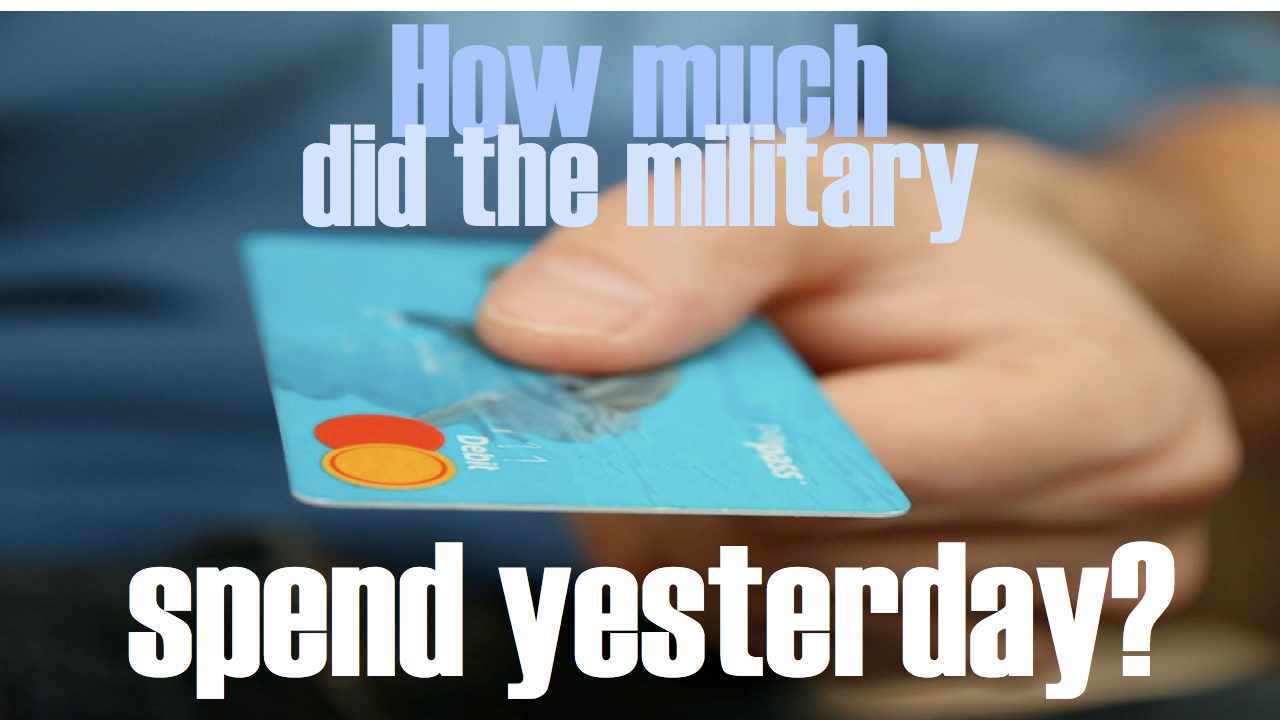 There are two instances of multiple-award contracts from yesterday's spending list. One involves a contract award to four companies, including General Dynamics and Booz Allen Hamilton, so I'm listing one quarter of the award amount for those two below. The other instance involves a modification awarded to the Bell / Boeing joint venture, so Boeing's award will be listed below as half the total award amount.
Yesterday's breakdown:
BAE: --
Boeing: $7,261,548 (1 modification)
Booz Allen Hamilton: $106,750,000 (1 contract)
General Dynamics: -- $155,750,000 (2 contracts)
Lockheed Martin: --
Northrop Grumman: $16,197,311 (1 modification)
Raytheon: --
September to-date totals:
BAE: $288,416,143
Boeing: $100,671,286
Booz Allen Hamilton: $168,015,526
General Dynamics: $282,620,311
Lockheed Martin: $496,880,935
Northrop Grumman: $116,498,377
Raytheon: $559,789,488
This information is provided to highlight just how much taxpayer money is spent, per day, to enrich companies participating in the military industrial complex. The idea that our economy requires a governmental redistribution of wealth from individual taxpayers to large corporations that are friendly and well-connected to government came from the Keynesian argument for demand "stimulus" -- that our economy's health depends on higher and higher levels of spending. For this reason, personal saving is discouraged and often penalized by the government. But because individuals still tend to follow personal incentives to save, the Keynesian argument remains in effect: that government should spend money the public is reluctant to spend through tax-and-spend policies.
---
Below are the contracts awarded by the Defense Department
September 16, 2019
totaling $1,398,288,867
Recent record daily spending: $17 billion on August 5, 2019
Air Force - $462,000,000
General Dynamics Information Technology (Fairfax, VA), American Systems Corp. (Chantilly, VA), Booz Allen Hamilton (McLean, VA), Polaris Alpha (Colorado Springs, CO) $427,000,000
Kratos Unmanned Systems Division (Sacramento, CA) $35,000,000
Navy - $336,837,223
Harper Construction (San Diego, CA) $95,355,749
Environmental Chemical (Burlingame, CA) $90,696,992
Hydroid Inc. (Pocasset, MA) $52,300,236
AECOM Management Services (Germantown, MD) $26,822,300
Northrop Grumman Military Aircraft Systems (Melbourne, FL) $16,197,311
Nan Inc. (Honolulu, HI) $15,128,199
Bell / Boeing Joint Program Office (Amarillo, TX) $14,523,096
International Marine & Industrial Applicators (Spanish Fort, AL) $14,152,760
General Electric (Cincinnati, OH) $11,660,580
Washington Headquarters Services - $269,990,592
NCI Information Systems (Reston, VA) $269,990,592
Defense Logistics Agency - $195,133,873
Reinhart Foodservice (Valdosta, GA) $185,615,149
Vinyl Technology (Monrovia, CA) $9,518,724
Army - $111,509,771
General Dynamics Information Technology (Falls Church, VA) $49,000,000
The Dutra Group (San Rafael, CA) $23,168,500
Oshkosh Defense (Oshkosh, WI) $12,244,296
ZelTech Training Solutions (Winter Park, FL) $10,000,000
B3 Enterprises (Woodbridge, VA) $9,443,920
L3 Doss Aviation (Colorado Springs, CO) $9,424,653
ESA South (Cantonment, FL) $7,672,322
Defense Information Systems Agency - $22,817,408
Artel (Herndon, VA) $11,817,932
Inmarsat Government (Reston, VA) $10,999,476