How much did the military spend yesterday? $1.9 billion
geke
70
5 months ago
Busy
3 min read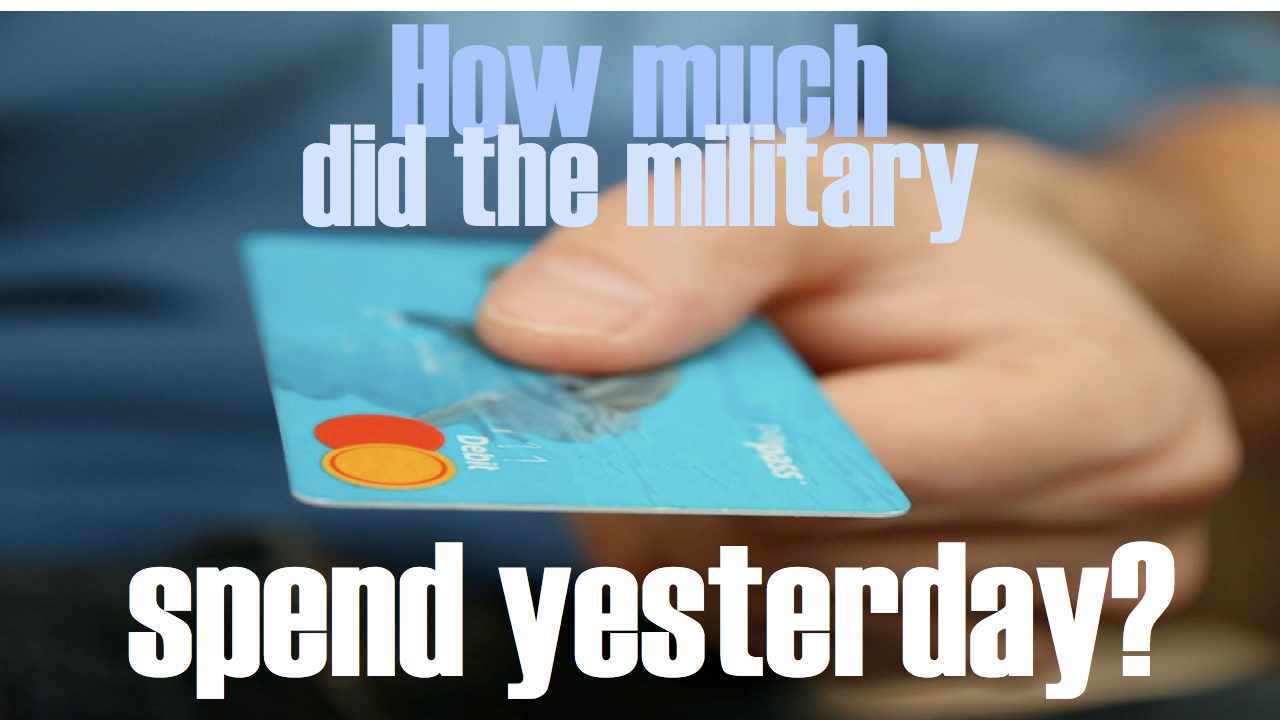 Aside from the 8 awards given to three of the companies on our watchlist (see below), of note in yesterday's defense spending was a $1 billion modification (increase) to a previous contract awarded to The Aerospace Corporation in El Segundo, California. The modification covers added systems engineering and integration support for the National Space Community and increases the original contract's value to $2.1 billion.
Yesterday's breakdown:
BAE: $187,513,520 (2 contracts, 1 modification)
Boeing: $22,264,039 (1 contract, 1 modification)
Booz Allen Hamilton: --
General Dynamics: $45,843,758 (3 contracts)
Lockheed Martin: --
Northrop Grumman: --
Raytheon: --
September to-date totals:
BAE: $475,929,663
Boeing: $122,935,325
Booz Allen Hamilton: $168,015,526
General Dynamics: $328,464,069
Lockheed Martin: $496,880,935
Northrop Grumman: $116,498,377
Raytheon: $559,789,488
This information is provided to highlight just how much taxpayer money is spent, per day, to enrich companies participating in the military industrial complex. The idea that our economy requires a governmental redistribution of wealth from individual taxpayers to large corporations that are friendly and well-connected to government came from the Keynesian argument for demand "stimulus" -- that our economy's health depends on higher and higher levels of spending. For this reason, personal saving is discouraged and often penalized by the government. But because individuals still tend to follow personal incentives to save, the Keynesian argument remains in effect: that government should spend money the public is reluctant to spend through tax-and-spend policies.
---
Below are the contracts awarded by the Defense Department
September 17, 2019
totaling $1,978,407,222
Recent record daily spending: $17 billion on August 5, 2019
Air Force - $1,246,443,879
The Aerospace Corp. (El Segundo, CA) $1,084,529,525
Semper Tek (Lexington, KY), Construction Services Group (Charleston, SC), Kmk Construction (Jacksonville, FL), Charlton Enterprise (Folkston, GA), York / Brawley JV (Yorktown, VA) $95,000,000
Gulfstream Aerospace (Savannah, GA) $31,899,999
Major Tool & Machine (Indianapolis, IN) $9,339,200
General Dynamics Ordnance & Tactical Systems (Garland, TX) $9,691,384
Alliant TechSystems Operations ATK Tactical Propulsion & Control (Rocket Center, WV) $8,762,690
Enfield Enterprises (Springfield, MA) $7,221,081
Navy - $379,375,237
BAE Systems Ship Repair (San Diego, CA) $86,117,104
BAE Systems Ship Repair (San Diego, CA) $84,595,351
CH2M Hill (Englewood, CO) $75,000,000
AH / BC Navy JV (Newport News, VA) $60,000,000
General Dynamics National Steel & Shipbuilding (San Diego, CA) $21,150,803
Boeing (St. Louis, MO) $11,414,936
Briartek (Alexandria, VA) $11,233,400
Boeing (Huntington Beach, CA) $10,849,103
United States Marine (Gulfport, MS) $9,510,838
Modern International (Barrigada, Guam) $9,503,702
Defense Logistics Agency - $233,181,522
Alaska Structures (Scottsdale, AZ) $200,000,000
DJ Engineering (Augusta, KS) $26,174,400
WK Containers (Mill Valley, CA) $7,007,122
Army - $119,406,584
Four Peaks Environmental Science & Data Solutions (Wenatchee, WA), Real Time Research (Bend, OR), Environmental Assessment Services (Richland, WA), R2 Resource Consultants (Redmond, WA), SP Cramer & Associates (Portland, OR) $40,000,000
Bowhead Mission Solutions (Springfield, VA) $33,659,910
BAE Ordnance Systems (Kingsport, TN) $16,801,065
General Dynamics Mission Systems (Huntsville, AL) $15,001,571
Hamilton Sundstrand (Phoenix, AZ) $13,944,038