How much did the military spend yesterday? $3.4 billion
geke
70
5 months ago
Busy
3 min read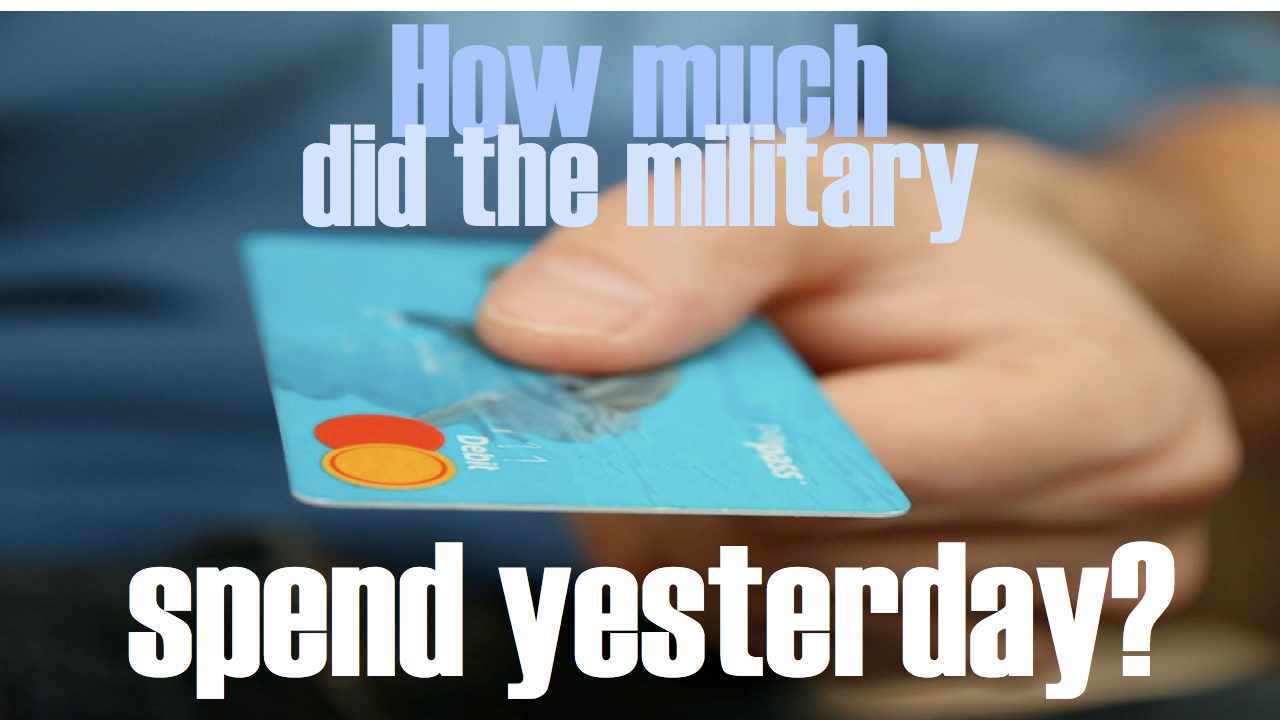 Yesterday Northrop Grumman and Raytheon both broke the billion dollar barrier for September. Orbital Sciences Corporation, which received a $1.1 billion Missile Defense Agency contract, is a wholly-owned subsidiary of Northrop Grumman Innovation Systems so the award amount is listed below under its parent company.
Yesterday's breakdown:
BAE: $7,489,851 (1 modification)
Boeing: $61,212,252 (2 contracts)
Booz Allen Hamilton: --
General Dynamics: $58,014,179 (2 contracts, 1 modification)
Lockheed Martin: $62,153,291 (1 contract, 2 modifications)
Northrop Grumman: $1,120,178,540 (1 contract)
Raytheon: $575,318,795 (1 contract, 1 modification)
September to-date totals:
BAE: $1,146,438,420
Boeing: $371,939,767
Booz Allen Hamilton: $286,765,526
General Dynamics: $400,229,812
Lockheed Martin: $568,784,226
Northrop Grumman: $1,258,317,715
Raytheon: $1,174,158,938
This information is provided to highlight just how much taxpayer money is spent, per day, to enrich companies participating in the military industrial complex. The idea that our economy requires a governmental redistribution of wealth from individual taxpayers to large corporations that are friendly and well-connected to government came from the Keynesian argument for demand "stimulus" -- that our economy's health depends on higher and higher levels of spending. For this reason, personal saving is discouraged and often penalized by the government. But because individuals still tend to follow personal incentives to save, the Keynesian argument remains in effect: that government should spend money the public is reluctant to spend through tax-and-spend policies.
---
Below are the contracts awarded by the Defense Department
September 20, 2019
totaling $3,412,099,033
Recent record daily spending: $17 billion on August 5, 2019
Missile Defense Agency - $1,120,178,540
Orbital Sciences (Chandler, AZ) $1,120,178,540
Navy - $1,032,970,831
Perspecta Enterprise Solutions (Herndon, VA) $656,861,974
Raytheon Integrated Defense Systems (Portsmouth, RI) $80,396,861
Boeing (St. Louis, MO) $51,585,702
Carolina Growler (Star, NC) $44,366,774
General Dynamics Ordnance & Tactical Systems (Anniston, AL) $35,976,015
Management Concepts (Tysons Corner, VA) $35,000,000
G-W Management Services (Rockville, MD), Desbuild (Hyattsville, MD), CFM / Severn JV (Millersville, MD), Ocean Construction Services (Virginia Beach, VA), CER (Baltimore, MD), Tidewater (Elkridge, MD) $33,000,000
Lockheed Martin Rotary & Mission Systems (Syracuse, NY) $24,657,488
Lockheed Martin (Orlando, FL) $23,995,803
Islands Mechanical Contractor (Middleburg, FL) $10,850,038
Colonna's Shipyard (Norfolk, VA) $10,068,663
Boeing (Annapolis Junction, MD) $9,626,550
General Atomics (San Diego, CA) $9,095,112
BAE Systems Controls (Endicott, NY) $7,489,851
Air Force - $892,140,450
Raytheon (Woburn, MA) $494,921,934
MicroTechnologies (Vienna, VA) $159,999,966
COLSA (Huntsville, AL) $69,618,375
Quantitech (Huntsville, AL) $54,726,755
Torch Technologies (Huntsville, AL) $47,489,349
Bevilacqua Research (Huntsville, AL) $37,229,216
DCS (Alexandria, VA) $28,154,855
Army - $300,022,626
Great Lakes Dredge & Dock (Oak Brook, IL) $56,651,056
FLIR Detection (Stillwater, OK) $35,100,000
Mike Hooks LLC (Westlake, LA) $28,651,505
Weeks Marine (Covington, LA) $26,307,500
Valiant Global Defense Services (San Diego, CA) $16,578,107
B&K Construction (Mandeville, LA) $14,205,897
URS Group (Omaha, NE) $13,675,968
Lockheed Martin (Orlando, FL) $13,500,000
Pragmatics (Reston, VA) $11,714,010
Ahntech (Mountain View, CA) $11,000,000
BryMak Eagle Pro (Clarksville, TN) $11,000,000
USP / CBFS JV (Bryans Road, MD) $11,000,000
Quinilvan, Pierik & Krause Architects (Syracuse, NY) $9,900,000
Young's General Contracting (Poplar Bluff, MO) $8,776,353
Oshkosh Defense (Oshkosh, WI) $8,569,388
General Dynamics Land Systems (Sterling Heights, MI) $8,182,016
Johnson-Frank & Associates (Anaheim, CA) $8,000,000
Great Lakes Dredge & Dock (Oak Brook, IL) $7,210,826
Defense Logistics Agency - $44,842,119
DRS Network & Imaging Systems (Melbourne, FL) $14,594,720
General Dynamics Land Systems (Sterling Heights, MI) $13,856,148
ZOLL Medical (Chelmsford, MA) $8,436,200
Parker-Hannifin (Irvine, CA) $7,955,051
Defense Health Agency - $21,944,467
Advancia Aeronautics (Milwaukee, WI) $21,944,467