Sydney sister | Little boyfriend | Wearing food | Drinking wine - Not a typical weekend
Faith and I caught up with my sister from Sydney last weekend; We had dinner together on Saturday night. We don't see each other much due to the distance between here and Sydney but when we catch up it's good, and fun. This time she was introducing us to her new boyfriend-chap for the first time, also a Sydney-sider so it was destined to be interesting. And so...
Dinner
The setting for dinner was a Vietnamese restaurant in Tanunda - Barossa Valley, and we were not sure what to expect. We were pleasantly surprised to find a very well-presented and appointed restaurant, an old villa added onto and converted into a modern and contemporary space, that was warm and welcoming. It was, in fact, far more upmarket than we had expected and the service and food did not fail to impress.
We began with an entreeé of vegetarian Hanoi spring rolls and South Australian prawns with roasted grapes, fennel and orange. We shared these and both dishes were really nice. Unfortunately you don't get to see these as they were consumed in quick order.
Mains are pictured below.
Top left: Snapper with dill and tumeric.
Top right: Barossa Hampshire pork belly with ginger and orange sauce.
Lower left: Massaman curry with grilled Mayura Station wagyu beef and taro.
Lower right: Stir-fry of South Australian squid, Chinese celery and aromatic spices.
To this we added stir-fried seasonal vegetables and steamed jasmine rice, of course.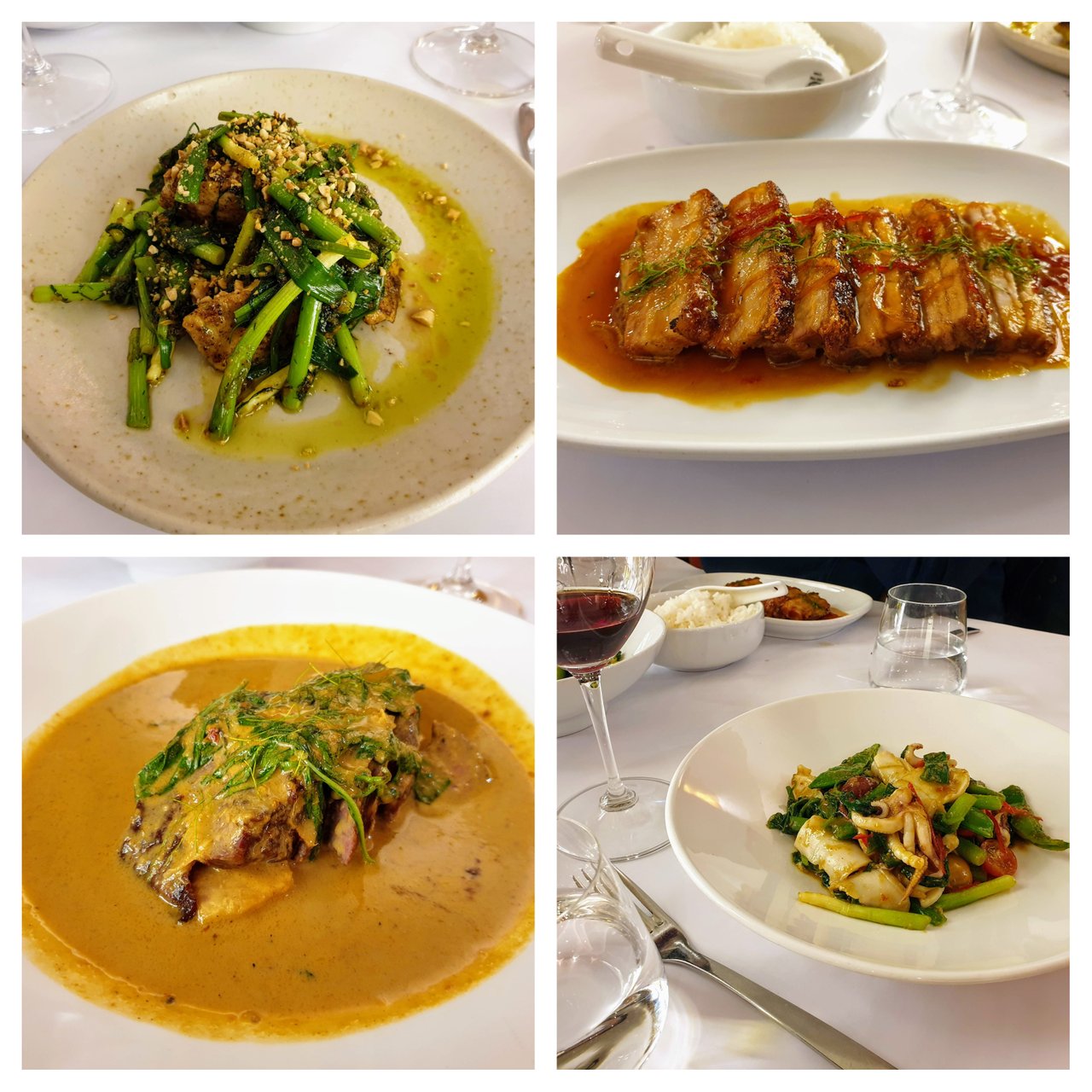 As a non-wine-person...Meaning someone who drinks it occasionally but doesn't get excited or talk about it, I let my sister choose the wine - She's a wine snob. She decided to go with the Cirillo 1850 "old vine" Grenache (vines planted in 1848) - Locally sourced from the Barossa Valley. It was a good choice although the significance of it was lost on me and for $110 a bottle...Well, I would have been happy with a glass of coke. Just to put you in the picture...Their wine list has 100 pages...Seriously. You can download it here
I have to say that dinner was extremely good and have no qualms in recommending the restaurant however I think that over $400 was more than I would have liked to pay for it. fermentAsian. Such a good thing my sis and boyfriend-guy paid! We take it in turns...My turn next [cough cough...McDonalds!] 😆 Big Mac's for everyone.
Sister
My sister seems to be going quite well and seemed happy. She is thirteen years younger than I am and so it's difficult to see her as anything but my little sister however she works a corporate job and, despite only looking about 20 years old and being a midget small girl of only 5' 2" tall, totally slays it at work! It was good to see her happy as the last time we saw her she had just exited a reasonably poor relationship - Dodged a bullet is more apt a description I think. Anyway, that brings me to...
New boyfriend-guy
My sister had purposely not told me anything about the guy which I think was good - Preconceived ideas can be a hinderance. Faith and I got to the restaurant first and sat down with a drink waiting for them to arrive. A few minutes later in they walk, sis followed by boyfriend-guy. I was surprised to see he was...Short. Little taller than my sister in fact. Maybe 5' 5" or so. We stood and greeted them and got introduced. Just some perspective...My wife is 6' tall and with heels on...Much taller. I'm just under 6' myself so greeting these two munchkins little-folk umm... small people people was a little comical. (I'm just fucking around here of course)...But considering her last two guys were over 6' tall...It was a surprise.
We sat and the night got underway. This was around 1830 (6:30pm) and we were still there at 0000 (midnight).
We parted ways after a very enjoyable evening in which we simply ate, drank stupidly-priced wine and talked shit. As it turns out boyfriend-dude is a reasonable guy and they seem happy together. He's a very smart guy, down to earth, has travelled all over and is my age so a little older than my sister. They seem to have similar interests, and different ones, which is healthy and they came across as very comfortable and content together. I like that. There were no hiccups on the night, no awkward moments...Well, there was this one time that someone splashed Massaman curry on their shirt [cough cough me] but life happens right, and to be honest, I don't give a shit about stuff like that. I'm as imperfect as the next person. I wear my food with pride! 😛
I've decided after, first-contact, that I like new boyfriend-chap and whilst it doesn't matter if I like him or not it makes me happy that I think he is a decent guy from what I can tell at this early stage. I spoke to my sister during the week and said as much and she seemed happy with that. It's good to see her happy.
Anyway, that was last weekend and in under a couple of days new horizons will present themselves. It's Thursday here and I've had a challenging interesting week so Friday can't come soon enough. Oh, HF21 is also just around the corner too right? Interesting times ahead...I wonder how much my content will get flagged? I'm preparing for lot's of flags, sort of setting my expectations low in the hope I achieve a better result. Anyway, time will tell. I'm more focussed on the real world weekend right now anyway. Come at me!
---
Design and create your ideal life, don't live it by default
Discord: @galenkp#9209 🇦🇺