Simple things
Sunday afternoon, that dreaded time when the weekend begins to fade from vibrant hues to dull colourless shades of grey in preparation for the working week. OK, so maybe it's not quite so dramatic however what was is not what will be, for the next five working days at least, and whilst I enjoy my job and the privileged position I hold it's just a job and I choose not to let it define me or be my purpose. I work to live, not live to work. But...it's not Monday yet right?
I've had a good weekend, as usual. I mean I vary rarely have a bad one, just varying degrees of good. I was shooting all day Saturday and whilst I haven't seen the results yet I'm confident I performed well so will place well. Not that it matters, I compete against myself more than anyone else. Saturday night we went out with some friends and Sunday we had brunch with my mother in-law and my wife's aunt who is visiting from up north, 400km away.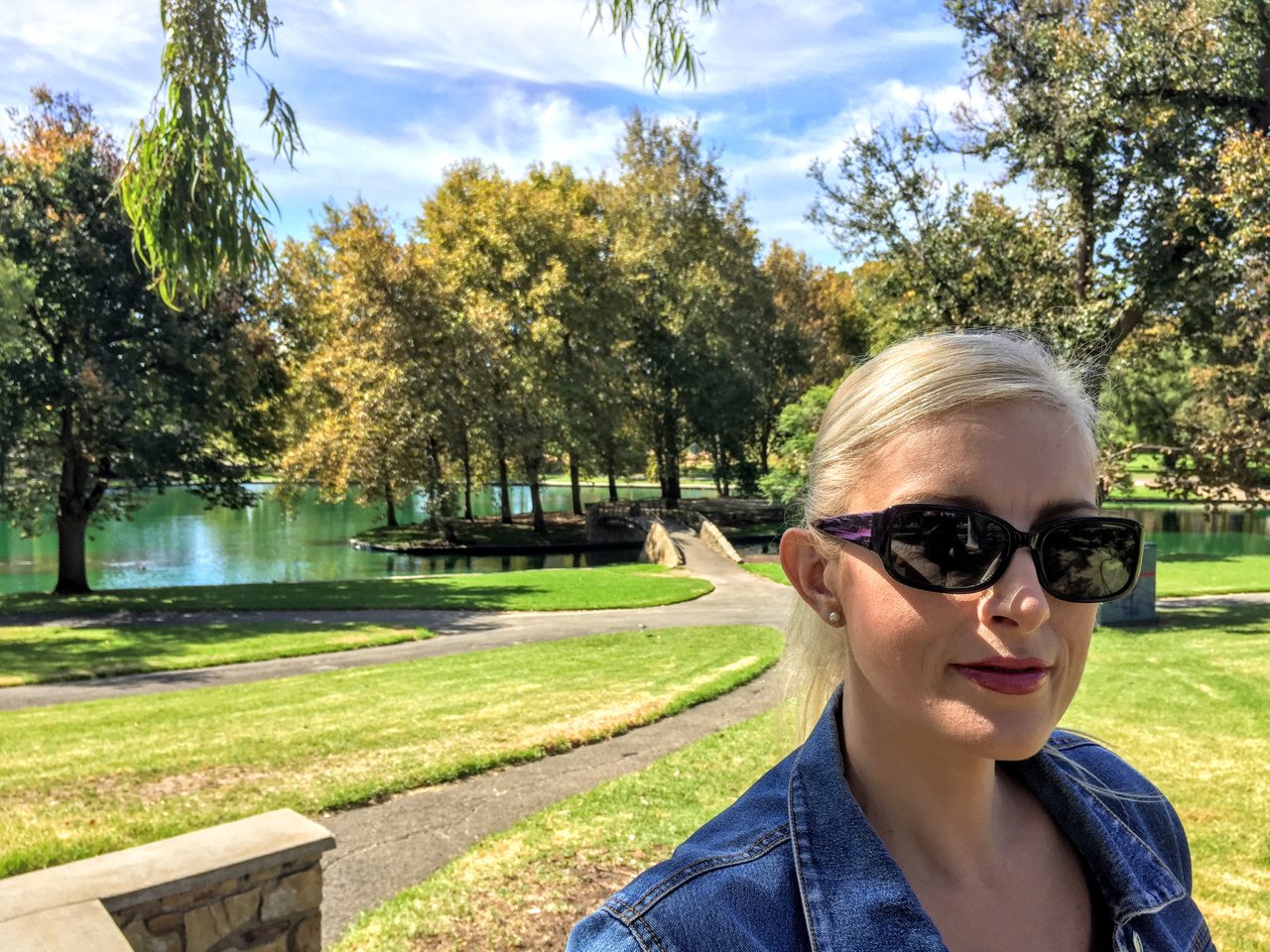 After brunch my wife and I went for a walk around the city, not the CBD and shopping precinct, the fringe areas. My city is surrounded by parklands and one can just about walk around the entire city without leaving a parkland-setting. It's pretty cool. You can see an image I took of my wife. She hate's being photographed but I managed to coax a smile out of her for the photo.
My wife and I are busy people and whilst we see each other every day tend to get caught up in life and its complexities during the week. On the weekends though we work hard at finding time to engage with each other, to put aside business concerns, strategising, worries and any discussion that isn't us-focused. Walks like today are a perfect way to do so. It's a time to focus on ourselves and find enjoyment through one of the most simplest of things life can offer: Togetherness.
Finding enjoyment in simple things is a focus for us and today we walked around, discussing small things: Our impending holiday to NZ in October, our plans to hit Europe up again in June/July 2020 [Look out EU, the Aussie's are coming back!] and some plans around seeing one of my brothers, his wife and 1 year old who we have yet to meet around Christmas time. They live in Australia but we haven't had the chance to meet up for a while. Australia is big, if you haven't been here you won't get it.
I have to admit I did spoil the simpleness somewhat today by way of a very complicated and compelling argument in favour of why a donut would compliment my coffee perfectly however despite putting forward a very sound case my plea fell on deaf [wife] ears and I went donut-less. I'm sure my diabetes thanked my wife for denying my stomach, I was too busy grumbling [internally] to hear my diabetes' gratitude though.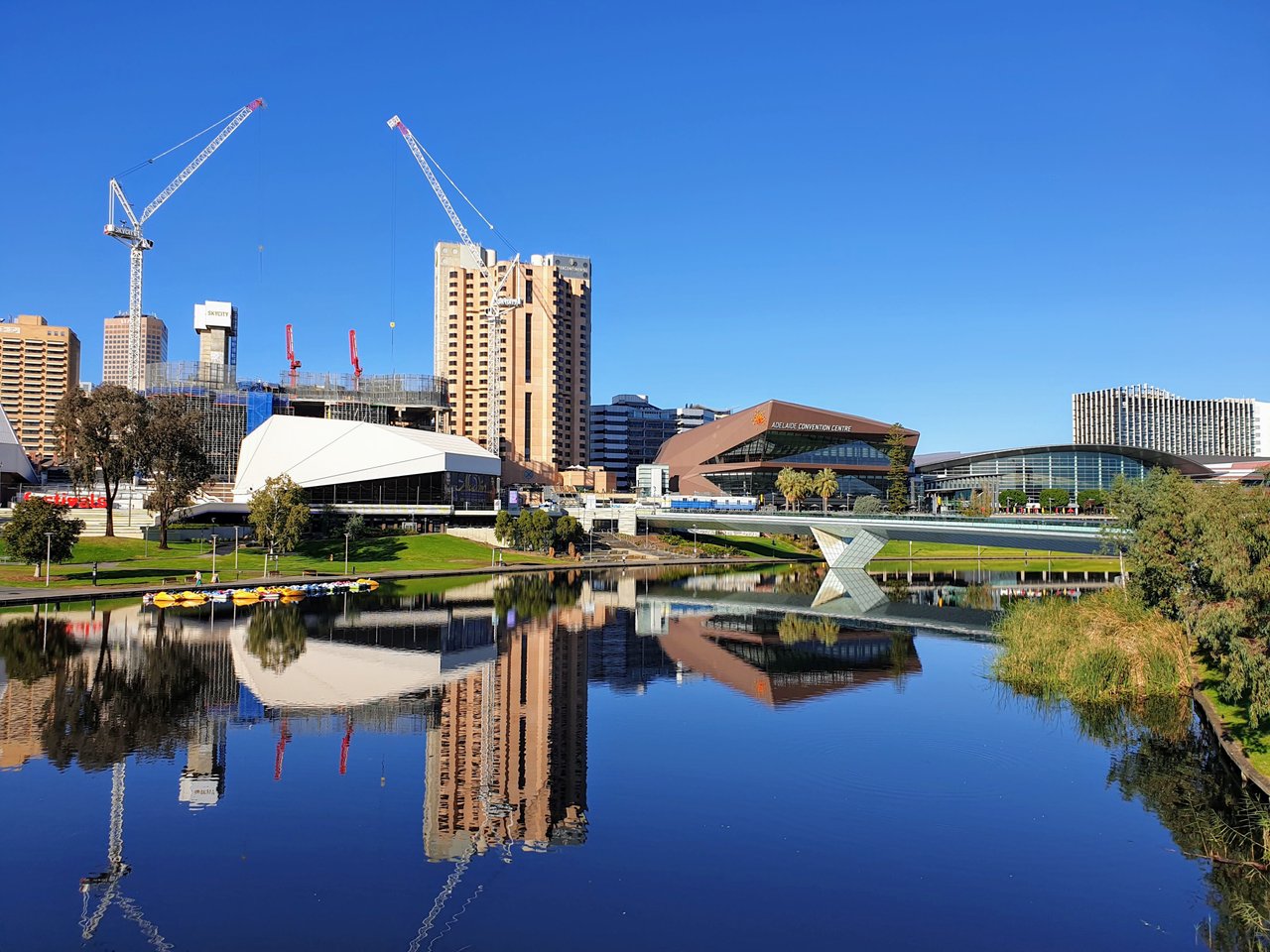 An image of Adelaide looking over part of the Festival Centre to the left and the Convention Centre complex to the right. Across the water you can see the footbridge that carries people to and from the world-class Adelaide Oval facility, the site of sporting and entertainment events. The cranes are erecting a new casino/hotel facility.
So right now, around dinner time Sunday night my simple weekend is still colourful and not as grey and dim as I made out in my opening paragraph. I'm cooking something amazing for dinner tonight so Faith doesn't need to cook...And when I say cooking I mean ordering off my phone. Yeah, pizza and garlic bread for dinner. I know, it's lame but I can't be bothered cooking when ordering is so much easier.
I hope you have all had a great weekend. Some of you who lag behind are still part way through so have the chance to impact it positively if it's not going to plan. Get after it, own it and make it worth doing...You'll never get another this weekend because time doesn't come back around.
---
Design and create your ideal life, don't live it by default and aim small, miss small.
Discord: @galenkp#9209 🇦🇺