New Thoughts On Indian Crypto Ban Draft Bill
Last couple of days have been interesting with report from BQ blowing up everywhere. I've been thinking over the implications of the report as well as the tweets with screenshots supposedly of the draft policy from the author of the Bloomberg article.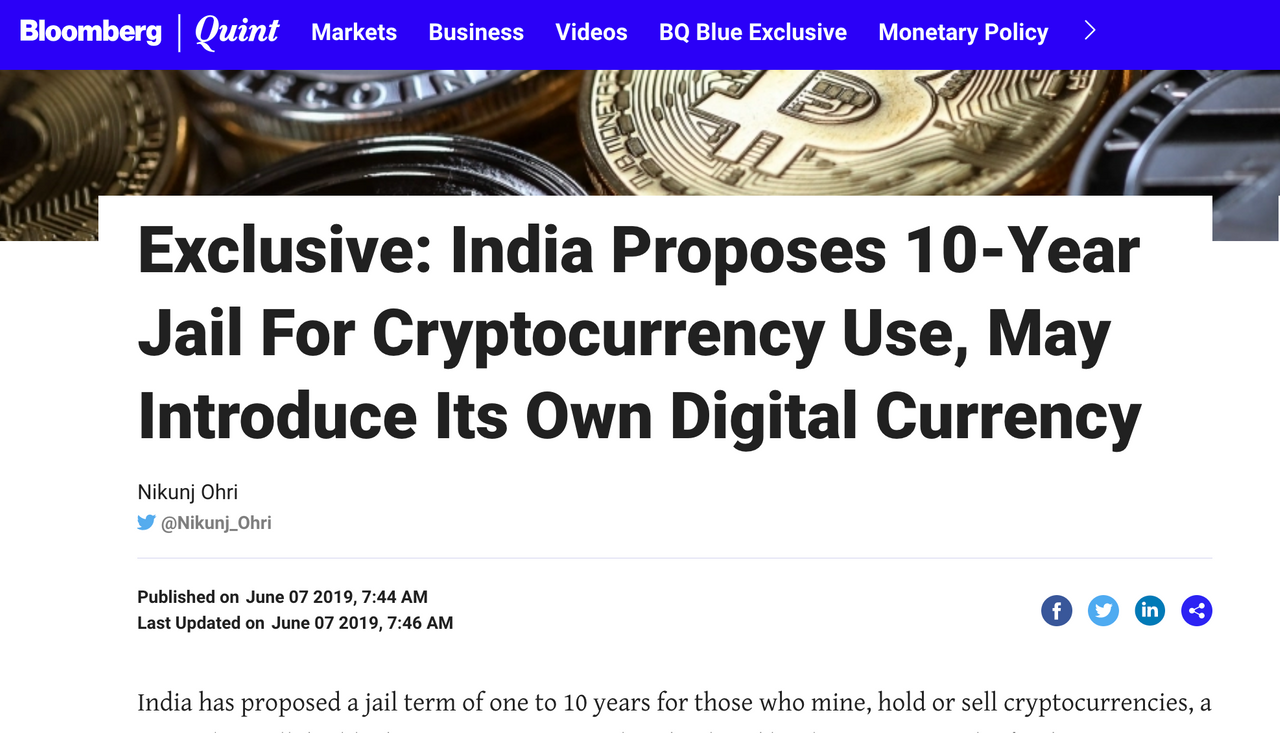 These are my latest views.
It's hard to doubt the authenticity of the draft policy.
We don't know at what stage of the policy bill being drafted this copy might be leaked. Are these screenshots from an approved policy or a rejected one?
The author seems to be focused on a small part of the policy. What is in the rest of the policy? He has no past records of reporting on this sector and probably no skin in the game.
How can we remove ambiguity stemming from the interpretation of the screenshot? My understanding is that you can't have a very narrow interpretation of the law without accounting for other sections of the law and how statements in the policy screenshot subverts other provisions.
A draft policy outlawing cryptocurrencies does not take away the value of the cryptocurrencies.
People cannot discard their crypto similar to throwing away demonetised notes in the dustbin past their expiry.
Who will reimburse investors for their losses because of a useless bill forcing people to stop using cryptocurrencies?
There is no draft bill in public domain yet and a recent RTI has revealed that even RBI has nothing to do with any of this nor have they received any copies yet as per the information we know today.
If such a bill that takes away livelihood of people is passed by the upper and lower houses of the parliament it can be fought in the Supreme Court. Policy matter concerning citizens cannot be unconstitutional.
We have paid too much attention to this news. I have received messages on my phone, FB, twitter, Steem.Chat etc regarding this. We need to calm down and wait for further information to come out.
Finance Ministry hasn't approved this policy banning cryptocurrency. Some media publications use these clickbait tactics to increase their web traffic. Let us take some time to think this over carefully before taking any extreme steps.
There's no need to panic until we have a law in place. The article on Bloomberg even if real implies that the draft bill is only a proposal, nothing else and certainly nothing more than that for now.
Keep calm and remain confident that over government will uphold the rights of its citizens and will introduce policies that are progressive and in-line with the times we are in. That's all we can hope for realistically.
I will write about this as the situation continues to develop, so kindly stay tuned to my blog for more updates on this.
---
If you like my work kindly resteem it to your friends. You may also continue reading my recent posts which might interest you:
---