We are EOShenzhen(EOS BP Candidate)
Background:
About the EOS Block Producer campaign
If EOS is a New World, the EOS Block Producer campaign may be the first campaign voted by "global citizens" in human history;
Please cherish your rights.
I. EOShenzhen Introduction and Philosophy
1.Introduction
Our Position
We (EOShenzhen) will provide high-performance and stable hardware and network infrastructure for EOS network, and configure devices and services to prevent DDoS attacks. We will strive to nurture a technical team to provide the underlying architecture and technical support for application projects. We will act in accordance with the requirements of the community constitution and actively participate in community governance.
To sum up, we are committed to becoming a stable and reliable infrastructure provider in the EOS network.
Our Basic Duties
Stable operation for EOS BP and all nodes, including providing high-performance hardware equipments, strong technical maintenance, implementation of real-time operation plan, etc., to ensure the healthy operation of technical network and community governance.
Our Location: Shenzhen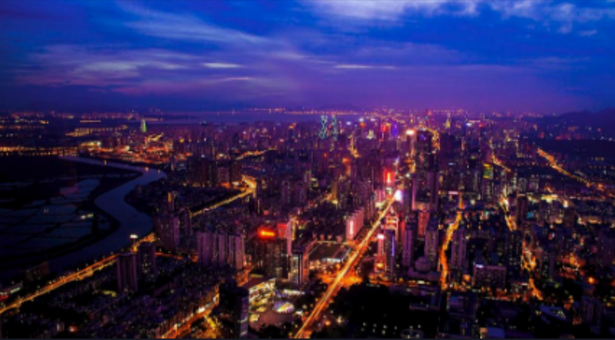 Shenzhen is the "Silicon Valley" of Asia, the most creative and competitive city in the world. We hope to become a block producer in EOS.IO software, based in shenzhen, and first serve a billion Asian users.
2.Our Principles
Transparency
As block producers, we will make the operation and financial team transparency, conforming to the basic requirement of the constitution of EOS. If necessary, we also consider at the appropriate time to go beyond the basic requirements of information disclosure.
Any changes of team operation and investment related information will also be disclosed in accordance with the above description.
Communication
Always keep in touch with the community, listen to the community's opinions, and promote the healthy development of EOS network and community.
Financial independence
EOShenzhen team has enough financial budget, and not be controlled by external investors. This is a relatively independent individual, equity will not be assigned to any given EOS. IO software block manufacturer or EOS. IO software publisher.
Cooperation
Invest in quality projects based on EOS network and maintain close cooperation with projects that benefit EOS development. Optimize the content and development of EOS ecology.
Vision
Create a healthy and sustainable ecosystem through other frameworks, such as inspiring communities.
Be independent and impartial
To strictly abide by the constitution and to conduct the arbitration and other matters in the community in a fair, open and fair manner.
3.Team Members
(1)CTO: Sheldon Huang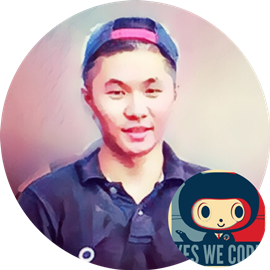 Top-5 communitycontributor to EOS.IO GitHub(EOS meetup Hongkong April-06-2018)
Active EOS Developer and EOS evangelist
2017 Huawei Global Codecraft Top 36 Final Team
2017 Visa Asia Pacific Code-Competition 3rd-Runner
(2)CEO: Alexander Yan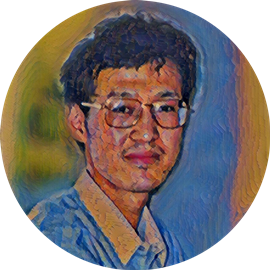 Rich experience in communication industry operation and management
Deeply rooted in the telecom industry (TOP3 of the 2017 world's top 500 telecom industry), with very rich working background in this industry
Specializes in communication solutions and multidisciplinary investments
(3)COO: Benjamin Wang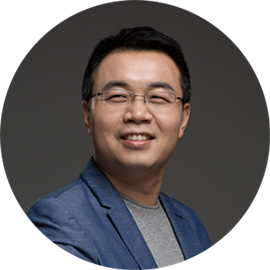 Founder of Micro Block Investment
Have been working in well-known securities companies in China and abroad, with rich investment experience in primary and secondary markets
Participated in the Tokyo securities data transfer project
Extensive experience in equipment integration and investment
(4)Responsible for Community Governance, DApp Incubation and Project Investment: Yvonne Li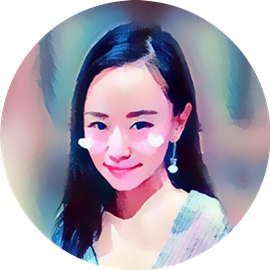 More than 10 years of financial industry experience, familiar with the operation of domestic capital market and the enterprise investment and financing
Have ever managed a private fund company
(5)CMO/Director of Community: Qin Jie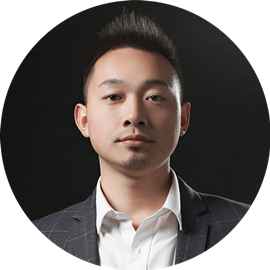 Successful entrepreneurs for successive times
Author of the public account "Born to the Left".
Founder of "Never Out" program
(6)EOSTechLover Editor/Director of Social Media: Lochaiching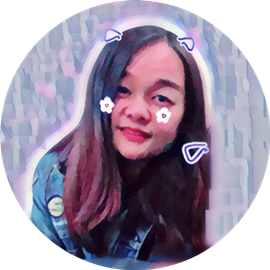 Have been working in municipal TV stations, have rich experience in media news collection, editing and publicity
Responsible for the Chinese community management of a large overseas block chain project.
(7)Chief Trader/Blockchain Market Expansion: Fred Feng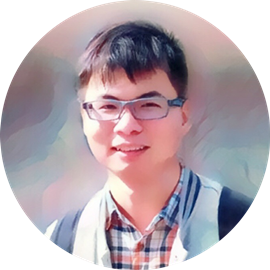 Once worked in a famous securities company in China, responsible for marketing and customer services, have unique views on the primary and secondary markets and various types of financial derivatives.
(8)Support Operation: Dong Lihui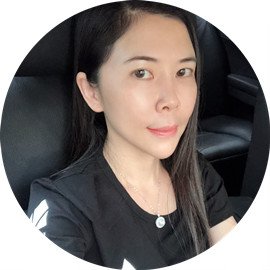 Internet entrepreneurs for many successful trials
Senior experts in hardware industry
Ⅱ What did EOShenzhen do
1.EOShenzhen's first phase: Hardware Equipment.
Special statement: EOShenzhen has signed a contract with a telecom operator for a two-year ISP line + cabinet rental contract for 1 year. Ample budget is reserved to support at least 1 year of hardware service for EOS network without any revenue.
Use bare metal server integration
Strong, robust and assured IDC (Internet Data Center) room:
Located in the top 3 telecom operators in the world, with a population of 20 million people in the core city of Shenzhen.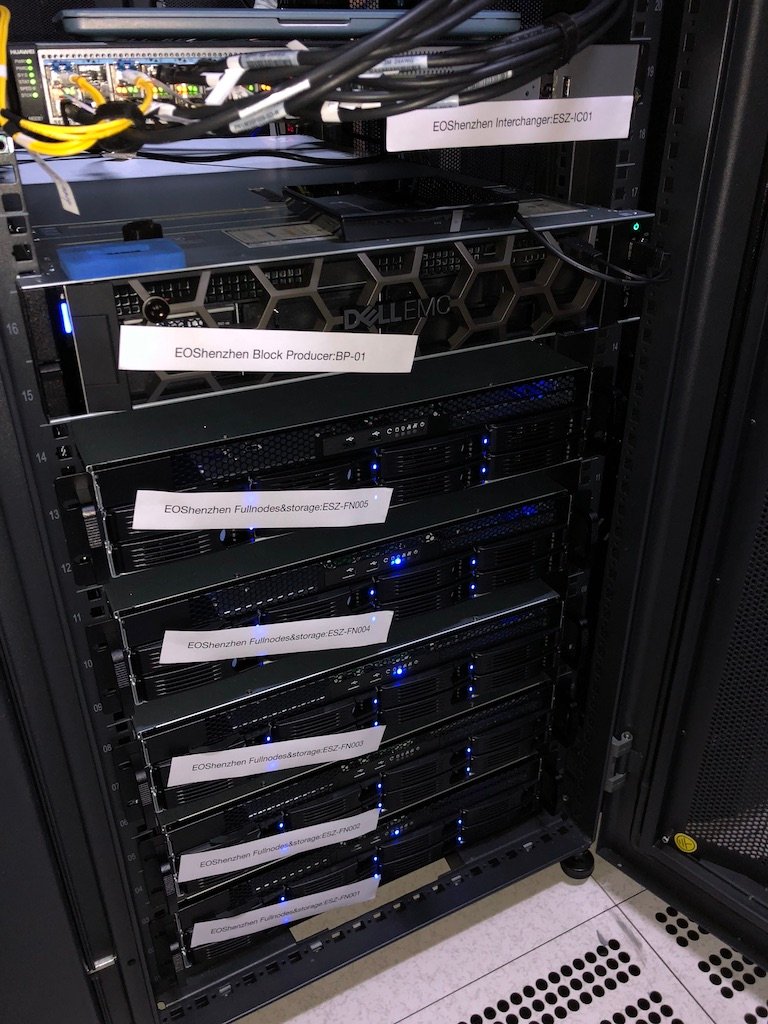 Dual ISP lines, independent BP lines
All-Gigabit SFP+ Access
Dual ISP line, anti-DDoS attack service (Deep Server) configured on the IDC Internet portal of the operator (including traffic screening & cleaning)
Line ISP-1
For BP use only
[producer BP-01] 1 station
Xeon Platinum 24 core 48 threads, 256 Gb memory, 1T SSD, dual 10G SFP+;
Line ISP-2
[fullnodes+storage of all nodes] 5
Xeon 8 core 16 threads, 64gb memory, 256gb SSD system disk, 40G (storage) dual 10G SFP+;
EOShenzhen plans to provide 4-5 full-node & Storage services for the entire network at the beginning of the EOS main online line. And fully consider the medium-term forward server upgrade space.
EOShenzhen will continue to improve its integration capabilities and strive to provide a solid hardware infrastructure for EOS networks.
2.EOShenzhen Technology
(1)EOS Github Contribution
EOS Github, we are contribute to the http://github.com/eosio/eos consistently.
Top-5 communitycontributor to EOS.IO GitHub
(EOS meetup Hongkong April-06-2018)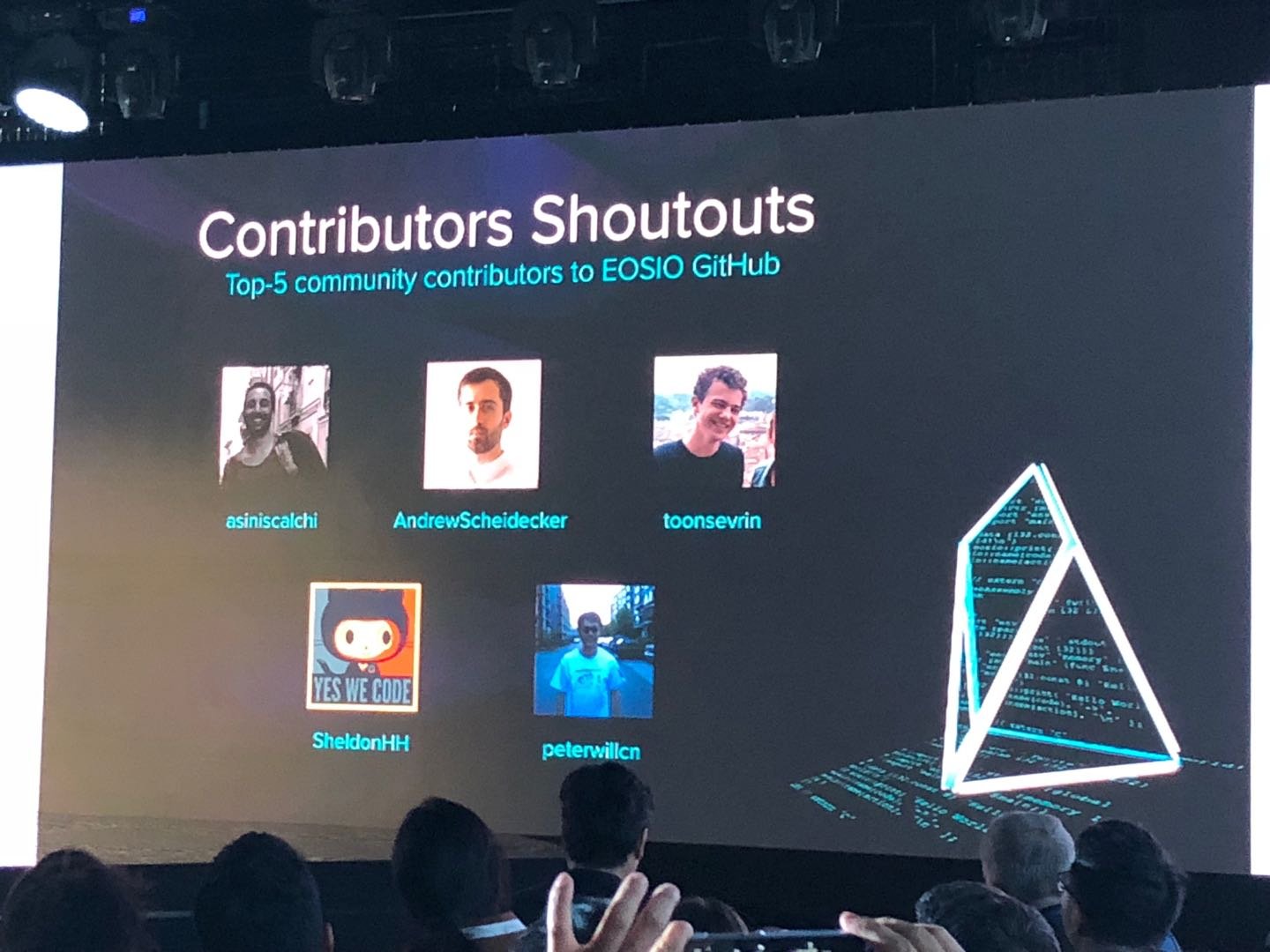 (2)EOSPortal.io
We are determine to provide server and contributing on this non-profit project to serve the community.
(3)Test Report
Our first testing report is about the single-testnet and fullnode testing(https://steemit.com/eos/@eoshenzhen/eoshenzhen-test-report-1). The full node and block producer we are provide are bare metal machine, the testing report shows that the location and performance of our physical server are capable to provide stable connection entry to developers in Shenzhen and Pearl River Delta.
In subsequent report, we will reveal our servers topology and tackles to handle DDOS.
(4)Future
Contribute EOSPortal.io is contributing
Preparing EOS Hackathon in Hong Kong on 9 June
We are planning to be the incubator for the DAPP
3.Social Media of EOShenzhen
We continue to enrich the technology and governance of EOS on social media such as Steem, Busy, Telegram group, Twitter, Wechat Public Accounts, Jianshu, knowledge planet, sina weibo, etc.
Original and Translation
EOSTechLover have created a special project in Jianshu, which has collected hundreds of EOS articles from August 26, 2017, to share quality content with more fans for EOS technology and governance.
From August 24, 2017, when the EOStechlover founded the knowledge planet, Sheldon's excellent answers and content have attracted thousands of fans.
The public number of EOShenzhen in Wechat Public Accounts, has been spoken since February 27, 2018 (May 25), with 102 articles published, including 53 original articles and 49 translation articles.
In the original article, the technical content accounted for 32, the producer and the governance content accounted for 16.
In the translation of the article, the technical content is 22, the governance content is 25 (including 16 in the translation constitution), the information is 4.
4.Governance/Article/Voice
EOShenzhen's Yvonne has rich legal and financial experience, is active in discussions in the core group of EOS governance.
EOShenzhen Wechat Public Accounts, Steem, Busy, Twitter, Jane book, Knowledge Planet and Sina Weibo are updated simultaneously. The article on governance has published 42 articles, leading the content of most EOS communities. In addition to technology, the EOS enthusiasts have a very important governance content. Follow the core architecture of EOS.
Ⅲ The Roadmap of EOShenzhen
1. Overall Planning of EOShenzhen
EOShenzhen will be based on our past robust technical operation, providing high-performance hardware equipments, community organization and governance, value information dissemination, and the enterprise operation candidate as the benchmark. Our focus will be on node operations, technical team building and technical training, community governance, foundations and incubation.
2.The Roadmap of EOShenzhen
In 2017:Preparation stage: begin to create EOS technology enthusiasts and small circle in August, popularize EOS technical content.
2018
Q1:
The announcement was made in February.
technology: Participate in building the initial test network and become [CommunityTestnet] the first test node from China.
Determine IDC room and professional server to ensure maximum performance of BP hardware.
Q2:
Operation: international social platform starts to run, rich content.
Governance: participate in the discussion of governance content.
EOShenzhen constitution statement.
Q3:
Mainnet online
Accelerate the producer's progress and maintain the BP responsibility.
Incubate high-quality DApp to promote community ecological development.
Maintenance of the community
Build good cooperation with partners.
IV Stance on Dividends of EOShenzhen
1.EOShenzhen Constitution
The EOShenzhen team has previously stated our philosophy and basic principles through the "EOShezhen :Code of conduct(Draft)"https://steemit.com/eos/@eoshenzhen/eoshenzhen-code-of-conduct-draft Adhere to the principle of open and transparent to do something, we oppose any introduction of any form of mechanism of share out bonus, no matter for voters, community operation management is not good, believe that the incomes of nodes in a principled, conducive to the allocation of community construction mechanism is more advantageous to promote the benign development of the EOS community.
2.Income is mainly used in the following aspects
(1) Due to EOS network DApp need powerful hardware, we will try to improve their integrated ability and to provide powerful hardware resources (CPU/RAM/Storage/Bandwidth);
(2) Part of the income will be used for the development of Dapp project incubation and the ability of excellent project teams to enrich the EOS ecosystem;
(3) Set up the eos technical team and focus on technical communication and communication;
(4) Others.
Ⅴ More about EOShenzhen:
Website: https://eoshenzhen.io
Steem:https://steemit.com/@eoshenzhen
Busy:https://busy.org/@eoshenzhen
Telegram: https://t.me/eoshenzhen
Twitter:https://twitter.com/eostechlover
Jianshu: EOS technology enthusiast
Sina weibo: EOSTechLover