BITCONNECT 2.0 is Back!| The Scam that Never Left?? Back this July.. Be Aware! Once Bitten, Twice Shy...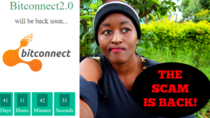 ---
Man, my Twitter was blowing up this morning with the Bitconnect Return News... YYou can be sure alot of people have a lot to say! Personally I am out of words. How dare thse guys? Like what some nerve some people have right??
If you haven't heard the news yet, well, now you know!
Their Website Says T-Minus 41 Days to their Return! Also, they are trading on Binance???Man, this crypto space is unpredictable. I'm not sure what to make of this entire situation, is this actually the original Bitconnect or just someone trying to pick up where the mess was left & possibly scam some more?
Either way, Be in the Know! STAY AWAY FROM THIS SCAM!!
Bitconnect Remix Clip Credits
HAPPY MONDAY
---
▶️ DTube
▶️ IPFS