Dtube Upvotes (aka. Fireworks) Anonymous Group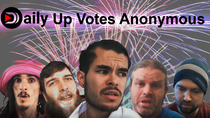 ---
Comedy Open Mic Round 8
We nominate @paolajane and @waybeyondpadthai
Hey there Dtubers, how are you all doing?
You probably can relate to this if you have been getting them. It is hard and some aren't able to cope with it. You might think that it's ok, but it might get you sooner or later. Do something about it now before it's too late...
Special thanks to the dtubedailies @buttcoins, @artakush, @to7, @maslowmission and @myndnow for their contribution and thank you @to7 for the awesome editing work.
If you enjoyed it and it made you smile then upvote it and resteem it.
That was your DtubeDaily Comedy.
---
▶️ DTube
▶️ IPFS