Review of Crypto Voucher - Buy Steem & Other Crypto Easily with Fiat Currency! [Free €10 Crypto Voucher Inside]
daan
66
last month
Steemit
4 min read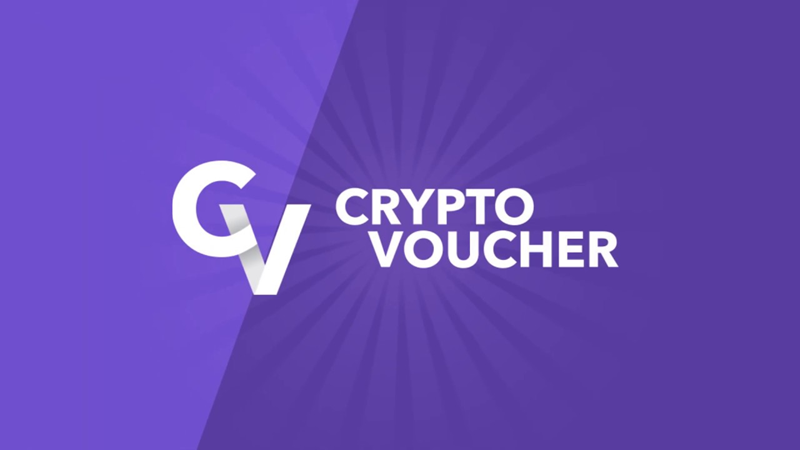 Logo is property of cryptovoucher.io
---
Good news! It is now possible to buy Steem directly with fiat currency through cryptovoucher.io. By using their service, you can purchase vouchers which you can trade in for many different cryptocurrencies: BTC, BCH, ETH, ETC, LTC, DASH, XRP, ZRX, BNB, STEEM & XLM.
No matter where you're located around the world, Crypto Voucher has options to either purchase vouchers from them directly or through one of their online distributors. If you're in Europe, you have the option of buying your vouchers using your local payment provider, which is extremely convenient.
US citizens have the option of buying Crypto Vouchers with existing gift cards of major brands. There are also local distributors around the world, from whom you can buy Crypto Vouchers with cash.
---
---
Making Your First Purchase
For this part, I'm going to show you how to purchase a Crypto Voucher with Bancontact, which is a Belgian payment provider. The process should be fairly similar for people from other European countries using their local payment providers. You also have the option of paying with a SEPA transfer, which is available in all of Europe.
On the top right side of the Crypto Voucher website, click on the "Buy Now" button. You should now see the screen below (🡇).
---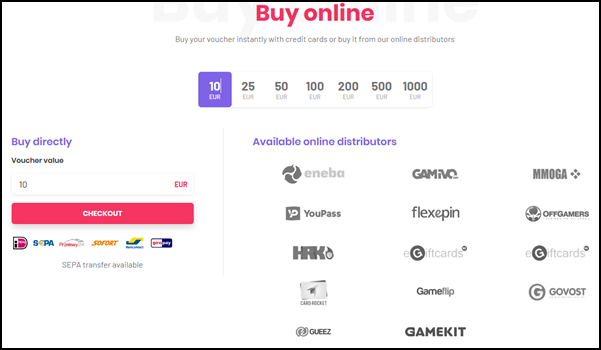 ---
From there, you can choose the value of the Crypto Voucher you want to purchase & you should click on "Checkout" when you want to go ahead with your purchase.
There you can see how much cryptocurrency you will receive for your selected voucher (values may change depending on exchange rates) & choose which payment provided you want to use. In my case, I'm going to use Bancontact, which is only available in Belgium.
---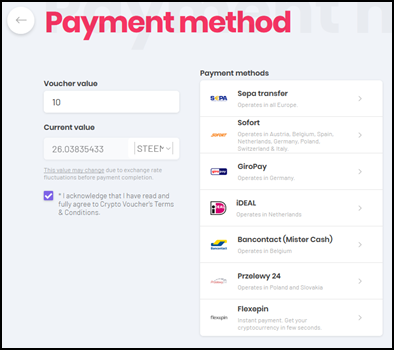 ---
At this point, if this is your first time using Crypto Voucher, you will be prompted to create a new account and complete KYC. Don't worry, this process is fast and painless. Do make sure you have your smartphone within reach, because you will receive a verification text message & you may use your smartphone to complete KYC automatically. This process doesn't take more than 5 - 10 minutes.
When you're done creating your account, you can pay for your voucher. In my case, I pay by scanning the QR code with my Bancontact app.
---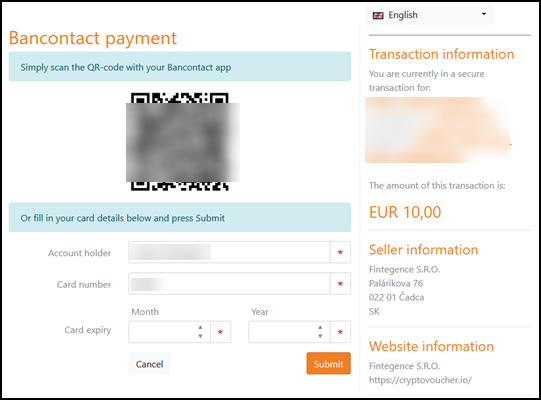 ---
Et voilà, I've immediately received my crypto voucher, which I can then redeem for Steem cryptocurrency.
---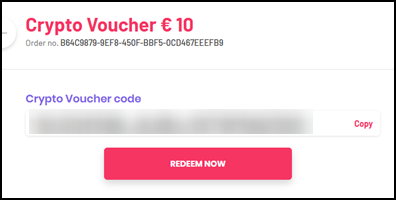 ---
Now I can go ahead and redeem my Crypto Voucher for STEEM from within my Cryptovoucher.io account. For this, I've used my alternative Steem account @daanonsteem
---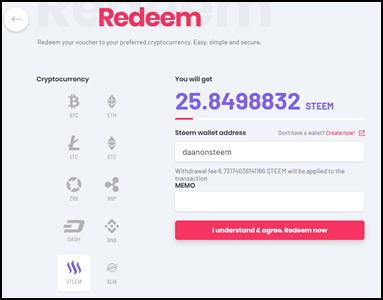 ---
My Thoughts on Cryptovoucher
One of the biggest strengths of Cryptovoucher is that they offer you countless ways to buy their vouchers. I don't think I've ever come across another service that has so many different payment methods, especially payment methods that are specific to certain countries.
In terms of fees, they're a bit more expensive than some other options, they charge 4% fees of your Crypto Voucher value + a withdrawal fee (depending on which cryptocurrency you use). In return, you do receive an excellent service from them and you have the ability to use payment methods that are almost 100% safe to use.
I wholeheartedly recommend Crypto Voucher to anyone wanting to purchase Steem (and other crypto's)!
€10 Crypto Voucher Giveaway!
Throughout this post, I've hidden 3 puzzle pieces which, if correctly put together, will form a €10 Crypto Voucher. The first person to find all 3 pieces and redeem the voucher, gets it. It's as simple as that! Well, maybe not that simple... Look on places where you would normally not look, links can be very very deceptive!
Look out for the hidden links in this post, happy hunting!
---
---