📌 My work in an orphanage 😊🎨Landscapes of Ukraine 🌻🤗🌻
Hello to all! 🤗🌻
Today I want to introduce you to my work in an orphanage. This is the older group (not all). The rest of the children were in the library at this time, they are doing homework there.📗🧐📕
But with those who stayed, we had a drawing lesson.
We painted landscapes of Ukraine and that's what we did. This is not all the drawings, some children will still finish their work. 😉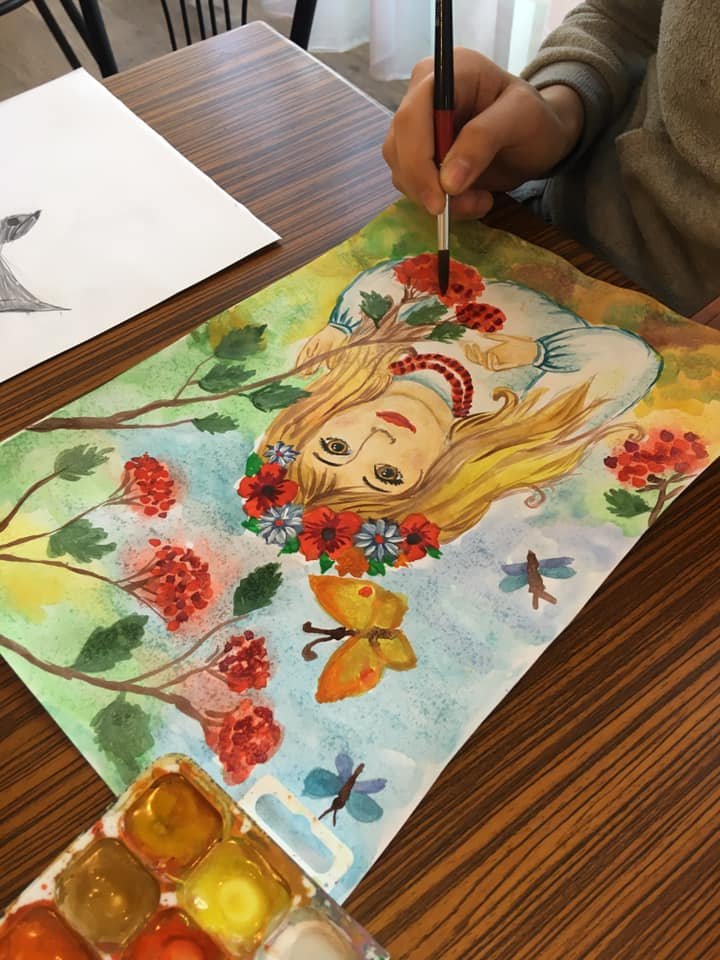 One girl, Sophia wanted to draw a girl with viburnum. 👸
Kalina is a symbol of Ukraine. The girls embroidered viburnum on their shirts, they wove her into a wreath. From a sprig of viburnum, the father made a little tin to his son, and to the infant girls, a kolisochka (bed).
Kalina is sung in songs, legends are made about her.
Kalina decorated wedding loaf. Before the young on the table put a bouquet of oak twigs and viburnum. And on the wedding towel (towel) embroidered viburnum with oak as symbols of maiden beauty and tenderness and male strength and strength.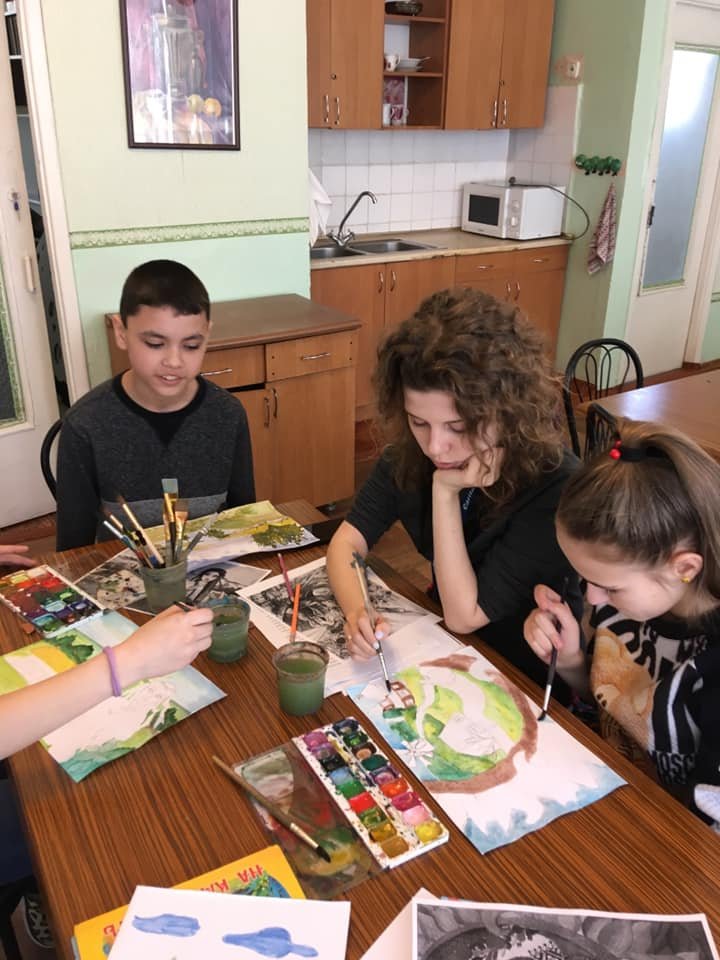 And this is me.🤣😂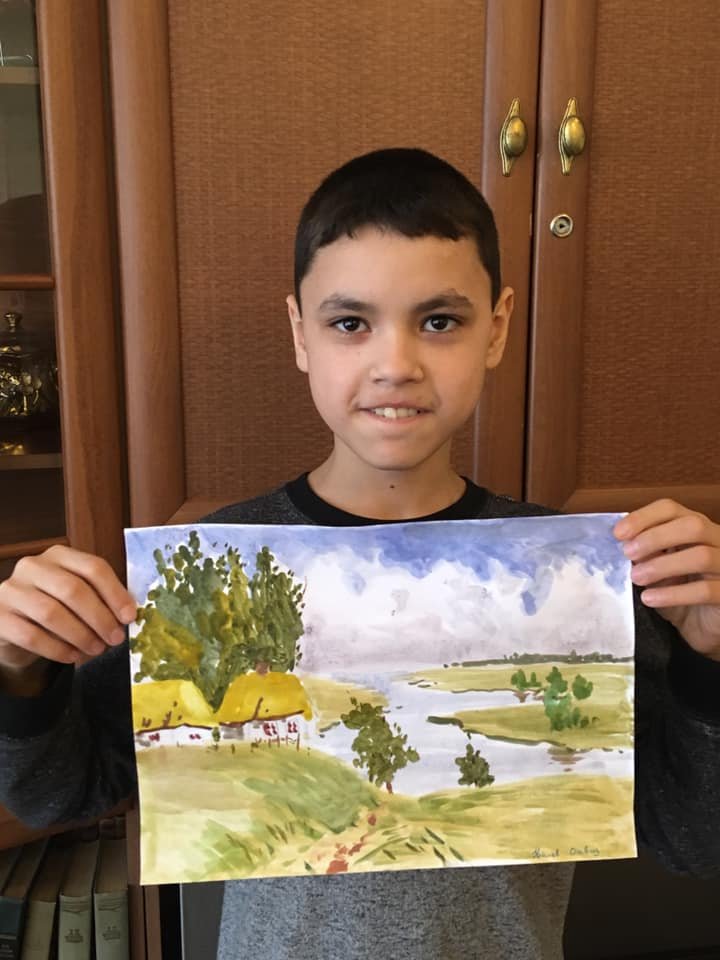 Arthur wanted to paint a watercolor landscape. Ukrainian huts on the background of the river.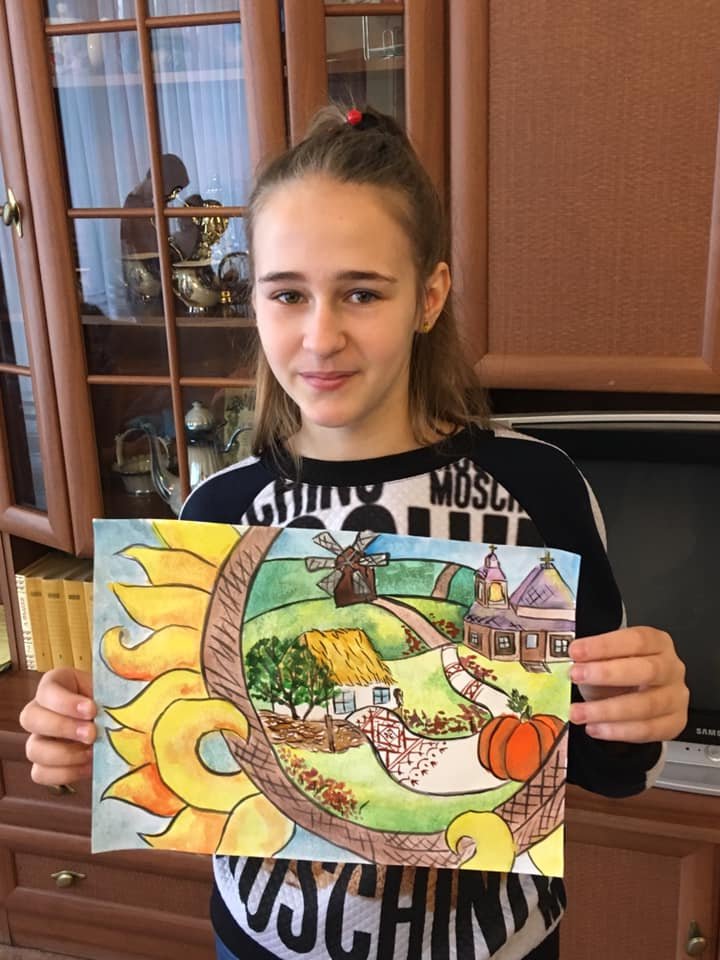 Lena painted a fragment of the Ukrainian village in a sunflower.
Sunflower is also a symbol of Ukraine. It is a flower of the sun.🌻🌻🌻
Lesha came up with such a Ukrainian hut in the yard, which geese and roosters walk.🐓🐤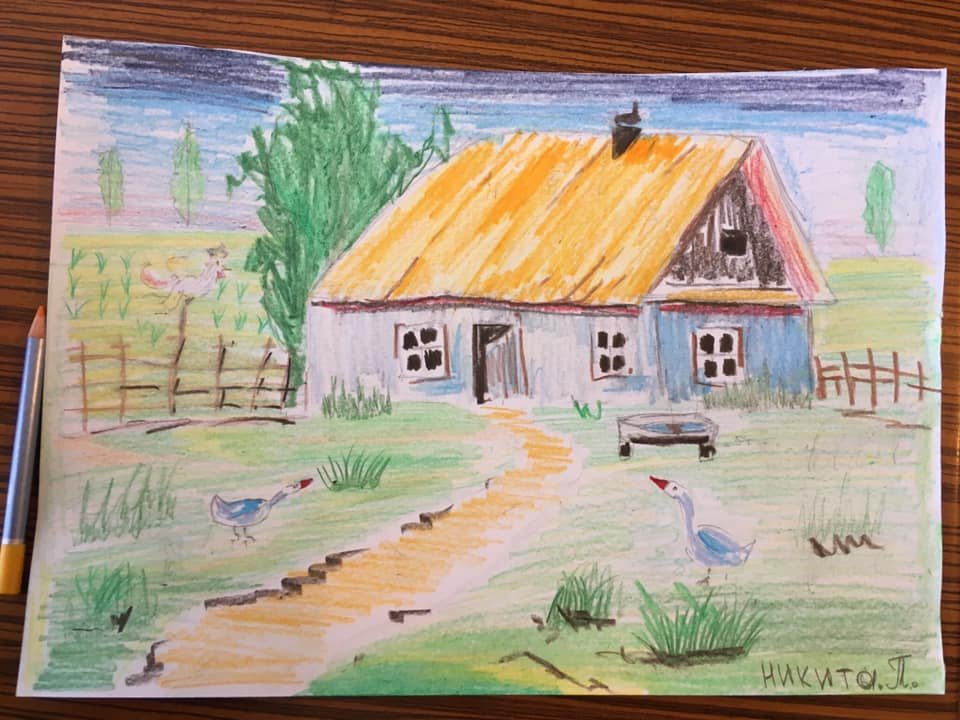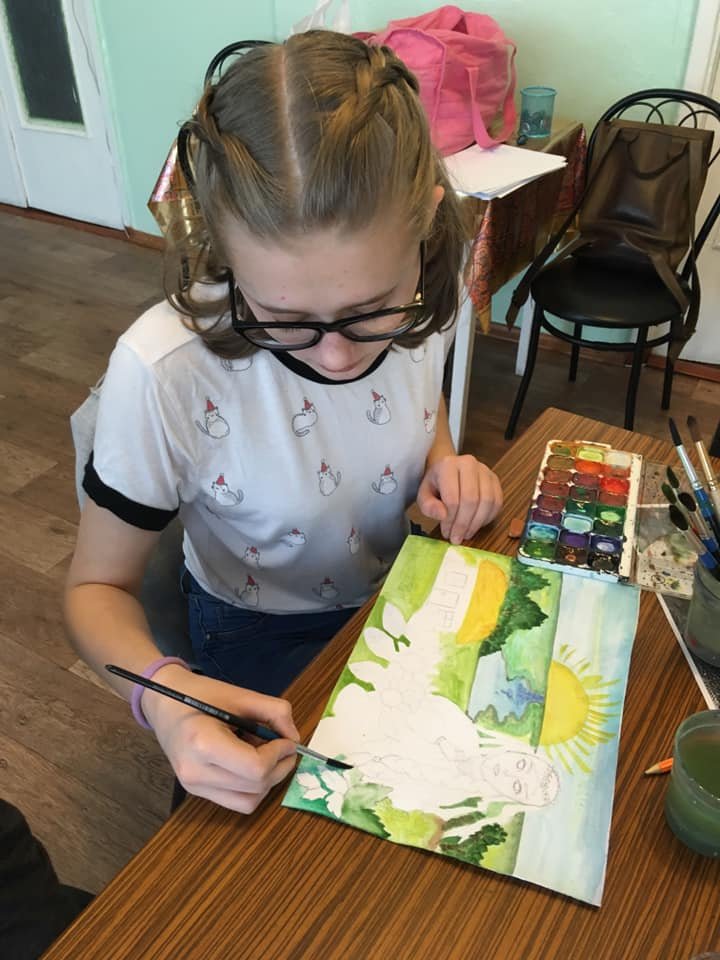 Figure Tanya you will see next time. She painted a Ukrainian woman against the backdrop of a beautiful landscape.
(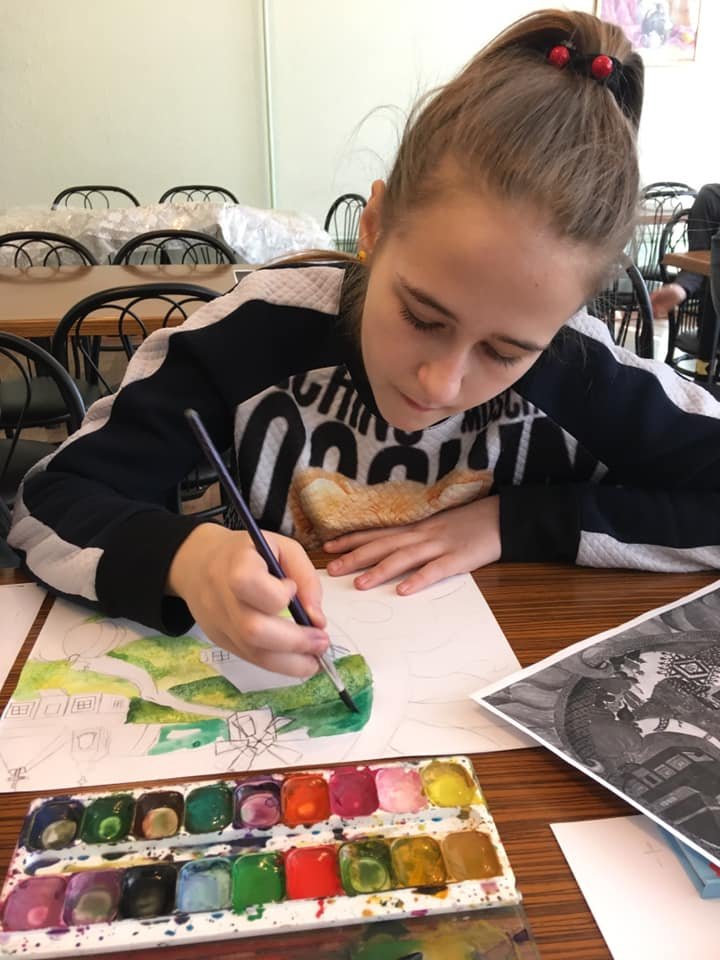 )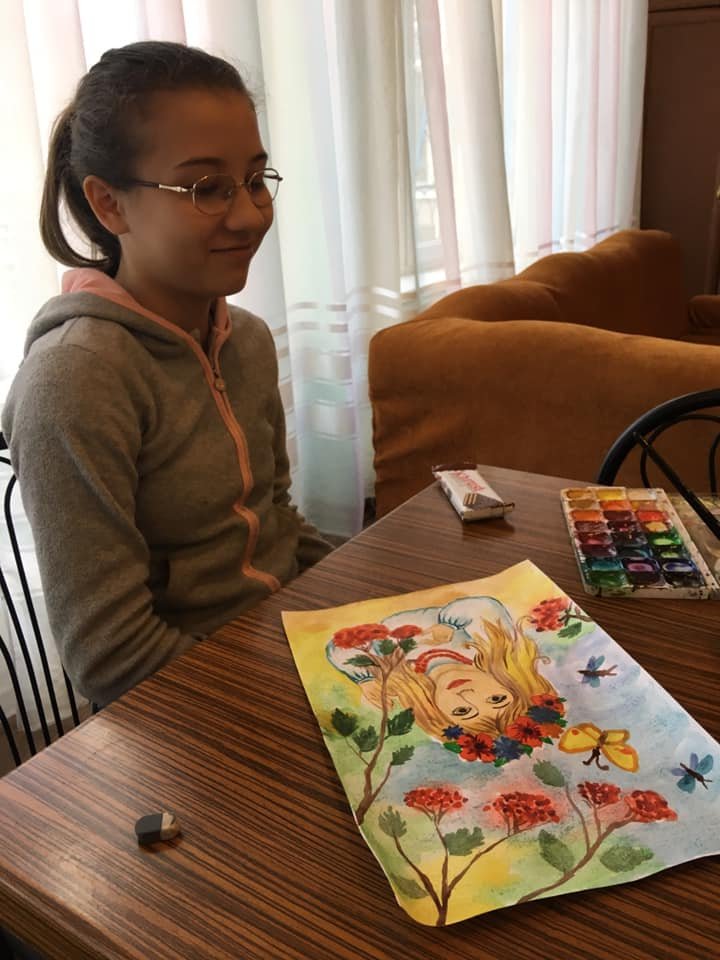 Sophia is sitting happy with what she has finished.😊
What can I say? It was a very busy day. But I am glad that I could meet with these children.
While I was on sick leave, I missed them a lot.
They are wonderful and very sincere. 😌
I hope you enjoyed it. And I was able to introduce you to art at least a little. 😇
Today I say HUGE THANKS: 🧡
@trincowski , @chekohler , @alexworld , @artzone , @artzone.curators , @celinavisaez , @delishtreats , @artzone , @humanbot , @veryspider , @betzaelcorvo , @celinavisaez , @dexxx30 , @lynncoyle1 , @wolfhart , @sudefteri , @nesni996 , @veryspider , @art-venture , @creativecrypto , @mind.inception , @steemingmark , @artbyclark , @flaccidfervor , @patschwork , @ivanic , @maxijgcomm , @kevmdm , @randomwanderings , @glenalbrethsen , @hlezama , @audreybits , @road2horizon , @janton , @melooo182 , @dandays , @splatz , @ivanic , @audreybits , @tibfox , @diytube , @patschwork , @appreciator , @zeusalpha , @adnanjacky2020 , @romiferns