First Hybrid Stock Exchange launched today !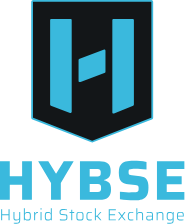 Today is a big day for the DimFoundation (https://dim.foundation/) as they launched the first ever (!) Hybrid Stock Exchange, where it is possible to buy shares with Crypto Currencies.
" There are currently 17 companies being processed to trade on HYBSE, some of these include:
Ð.Daimler Mercedes Benz
Ð.SAP SE
Ð.ABB STK N
Ð.Amazon COM STK
Ð.Apple Inc.
Ð.Alphabet (Google)
Ð.Investec Ltd.
Ð.Old Mutual Ltd.
Ð.Standard Bank Group
A selection of these companies will be open to trade going forward from today. "
For more informations check their medium article. 
https://medium.com/hybse/hybse-lesotho-is-live-1f8f90e120df