Flood Relief in South Indian state of Kerala - Update 19 - Updates on new Donations and Support
Dear Steemians,
This is the 19th update post for the Fundition.io project I have created with regards to the fundraising for flood relief activities in the form of the donations to the Chief Minister's Distress Relief Fund in the South Indian State of Kerala.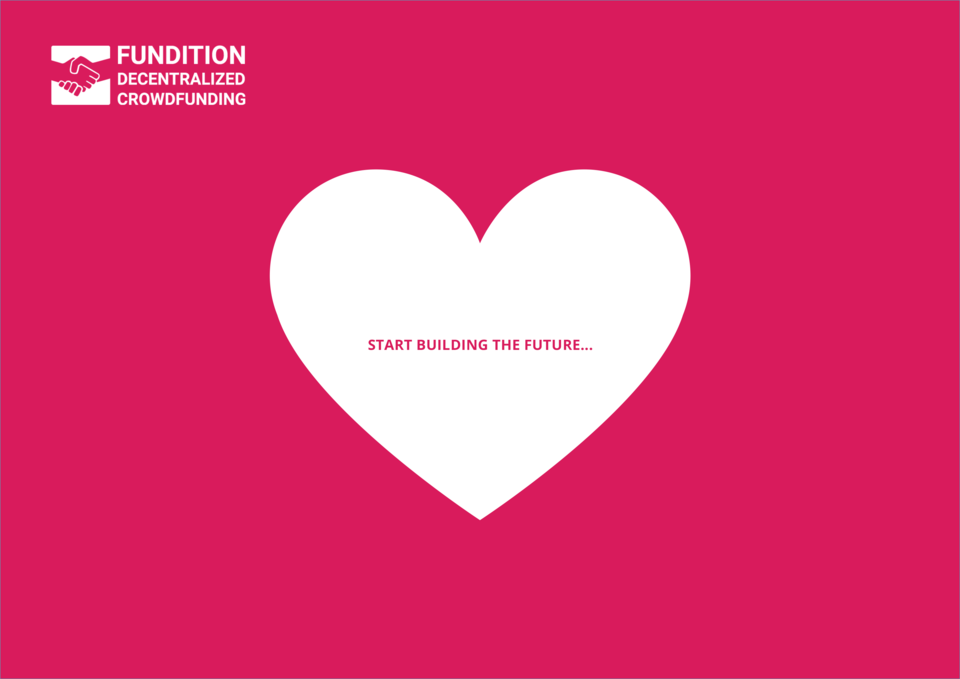 Image Courtesy and owner of the iamge: @fundition
This is the third such update blog I am creating and the second blog which was published 5 days back had details till 5th September and the donations stood at 134.971 Steem and 15.236 SBD
In the past 5 days, we had donations of 12.043 Steem from @juliawilliams and 1.275 Steem from @winarobert consolidating to 13.318 Steem.

The regular upvotes from @fundition and other Steemit users continues as we completed the first goal of 500$ and progressing on the second goal of additional 1000$.
Let's see the transaction details of Post Payouts and Donations.
Post Payout amounts details:
We had 5 post payouts related to this project with realized Steem amount 92.577 Steem.
Here is a screenshot of transactions of post payout for the mentioned period.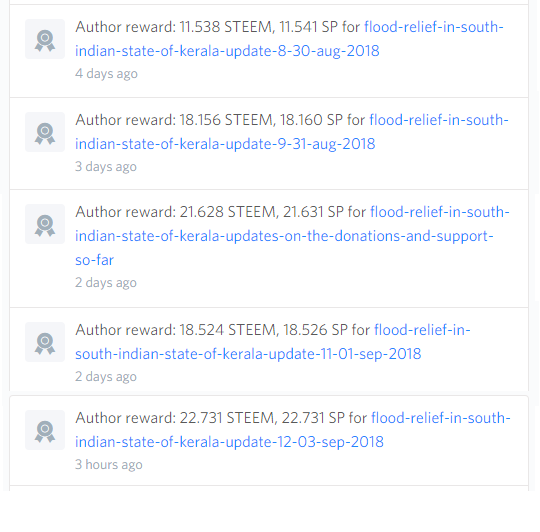 @fundition was the biggest supporter with the upvotes for all these above mentioned posts and major Steem return as part of post payout is from @fundition.
Updates on Donations:
As I mentioned above, we had 2 new donations one each from @juliawilliams and @winarobert and the transaction details are as in below screenshot.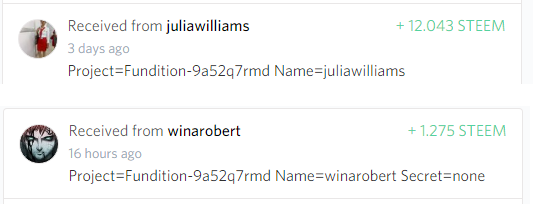 I would like to appreciate @juliawilliams and @winarobert for their support through upvotes on these update posts along with these donations they have made to this fundraising project.

So, the total realized donations amount including the details from last 2 update posts stands at: 134.971 240.866 Steem and 15.236 SBD.
Thank you all for your continued support.
Here is the link to @pennsif's "The Alternative Lifestyle Show" for last Friday's show and I was part of that show to talk about this project.
Previous Donation and Support Update post links:

Thanks for the votes, comments and resteems.
I am a proud member and supporter of below communities:

Do you use eSteem?
eSteem is a Mobile📱& PC💻 app. for Steem with great features. Also, you get Incentives posting through eSteem apps.
eSteem Spotlight; eSteem provides rewards for it top users in Leader Board with most Posts, Comments and Highest Earners.
---