How Has Steem Impacted My Life?
How Has Steem Impacted My Life?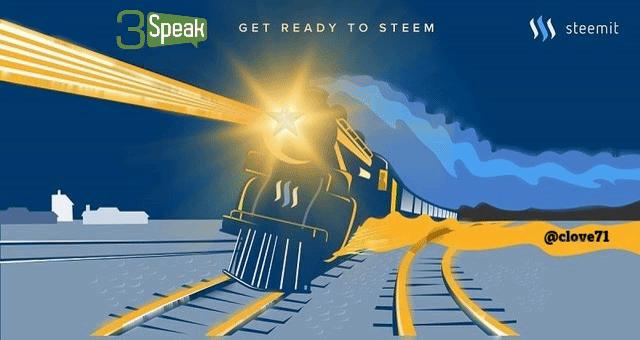 Hi everyone! This is a great question to be asked and I appreciate @theycallmedan being here on the Steem blockchain as a great leader and a great inspiration to us all! Check out his latest post How Has Steem Impacted My Life Initiative HERE
I first joined the Steem community back on the 1st of July, 2017. My older son David @cushcoast told me about it. He said I could post photographs that I post on Instagram on the Steem blockchain and get upvotes for them. I was shocked! You can earn crypto by posting? I was very excited to learn about it. I have been a stay at home Mom with extra time at home. My son Adil was born 24 years ago with severe Cerebral Palsy. He is non-mobile and non-verbal. He is my world though, to say the least. Finding out about Steem was a dream come true at first! It did take me a long time on the Steem blockchain to start earning. I think my first year I did not earn much at all. However, once you find a perfect community for you, a perfect place for you... it can become a bright shining star in your life! Splinterlands is my community for sure, love at first battle, LOL!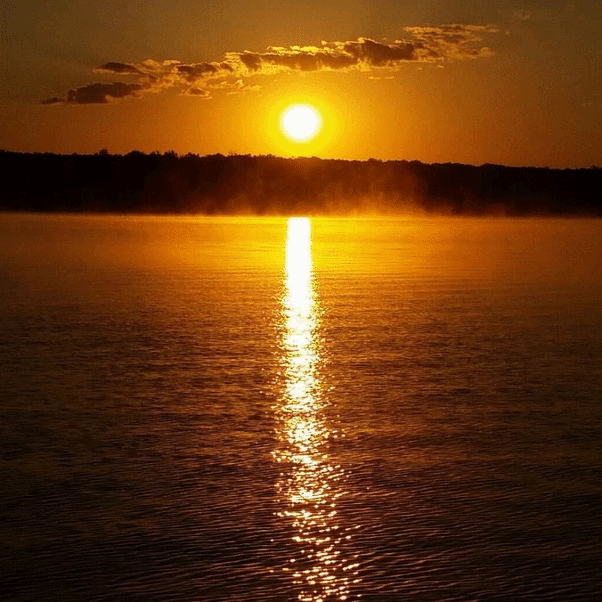 Lake Anna, VA sunrise
I love Steem so much. It has given me some financial freedom. Not in big massive ways but a huge help for sure. Something like a sort of savings account I can take from when in need of something. Recently, I needed some funds for medical costs and Christmas and I sold 2K of my extra Splinterlands cards in about 12 days! Splinterlands is awesome, it is my favorite crypto game ever! It has grown so much. They started off as Steem Monsters but rebranded to Splinterlands as they now have interfaces on the Tron and Ethereum blockchains as well. You can buy and sell Splinterlands cards on Opensea.io! I have gained so much from Splinterlands thanks to the awesome Steem Witnesses and Splinterlands Founders @aggroed and @yabapmatt. I appreciate the opportunity they gave me and what they have created together. This game is so amazing as you can actually earn crypto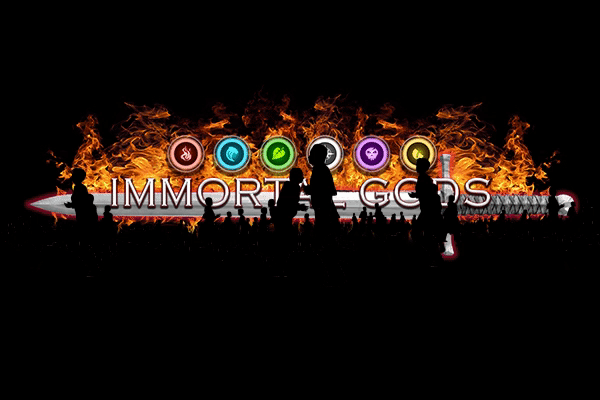 while playing it! You own your own cards unlike Magic the Gathering or Hearthstone. I truly believe it will have mass adoption one day! I believe in the game and it has the best community I have ever known! I love crypto! The future of all bankers, lol!
I have also learned how to trade crypto in so many DEX's, for example, you can go to https://steem-engine.com and sell your DEC or buy more or other tokens in there. I can power up my Steem, trade it for DEC or Litecoin and go to coinbase to cash it out on my PayPal card in minutes! Then go have a nice seafood dinner that night, lol! Who doesn't like Steem when you can do all that with it! I sent my DEC over to my Metamask wallet! DEC is on my Tron wallet as well. It is awesome to be able to trade crypto so easily, it is fun! I have learned all about crypto by being here and experiencing it for so long! It is second nature to me. I really cannot stand the Ethereum blockchain as it is so slow compared to Steem and the gas fees are ridiculous! I just love Stee,m so much it is hard to be dealing with one not up to par, haha! However, I will go sell a few Splinterlands cards over there for profit. Sure, why not?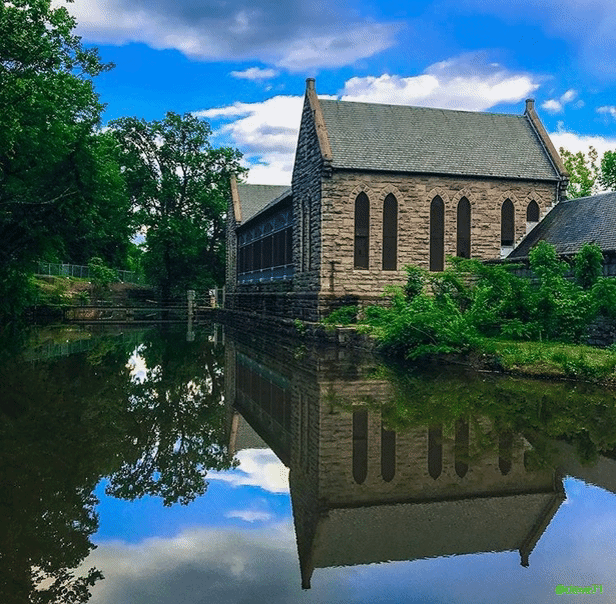 Historic Pump House Park in Richmond, VA USA
When I started posting on Steemit back in 2017, I posted my photographs of nature, the city every day. I also started posting recipes I made with step by step instructions and tons of food photographs. The posts were very time consuming, sometimes a few hours but I posted them every day. I had to make sure the length was good, that I wrote enough and all my photographs were perfect. I knew you had to have good quality posts. I would only get a few pennies but kept on posting. After a few months of posting daily, I finally got my first whale upvote for around $75 from @hendrikdegrote. It was a long food recipe post with lots of food photographs. I was so excited! I was screaming with joy, jumping up and down! This was a lot of money for me to make as I only receive a few hundred a week in real life. I was so shocked but I was indeed hooked on Steem. This is what I was looking for, something to do from home where I was all the time in between taking care of my son. I had previously been on the Ethereum blockchain playing Cryptofighters and Cryptokitties. I could not stand how slow it was and such high gas fees. I love how lightning-fast Steem is and there are no crazy gas fees!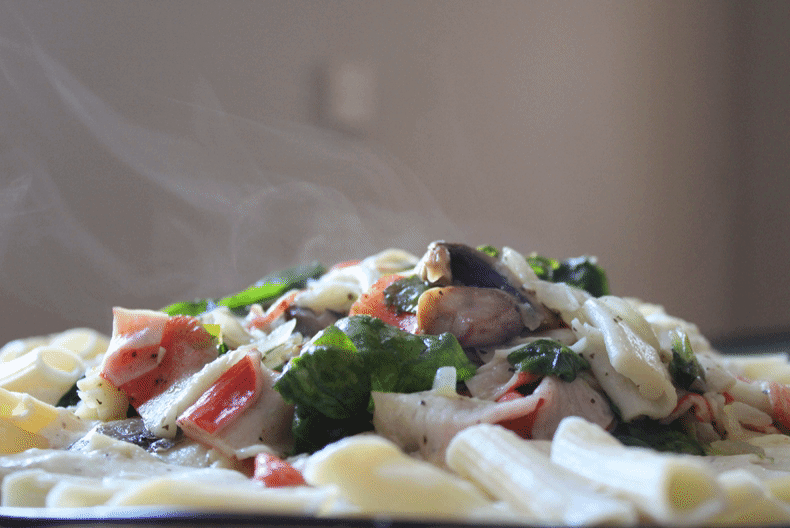 Gluten Free Seafood Pasta with A Spinach and Mushrooms Wine Sauce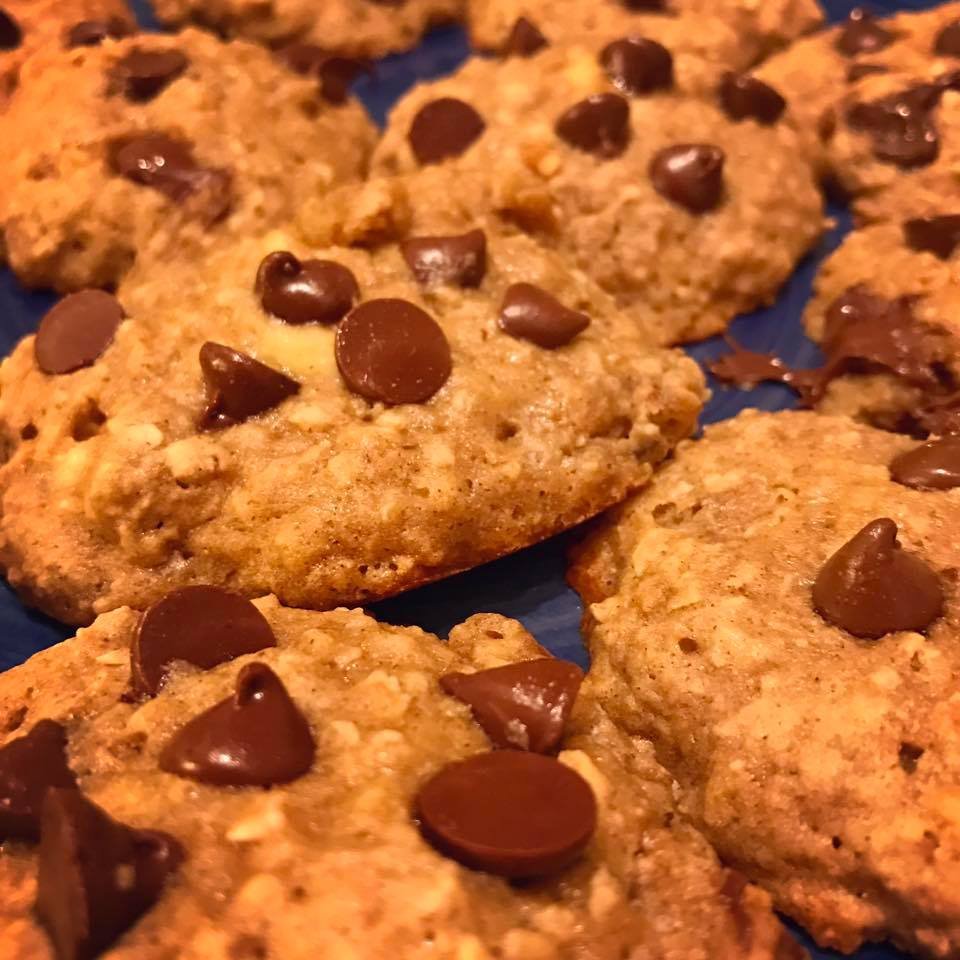 Gluten free Oatmeal Choclate Chip cookies! I did my job well if you are hungry now, LOL!
I also ventured into Discord finally after listening to it from my better half @ty2nicerva every day and found the amazing @fyrstikken a Norwegian Viking Steem Witness Whale living in Peru who has an amazing Discord Steem Speak https://steemspeak.com Back in 2017, it was like a daily episode of the show Cheers but with crypto instead of beer! I enjoyed listening to them all talk and learning about crypto from all of the crypto experts in there. Everyone knew one another. I wanted to learn how to trade crypto and use the many different exchanges as they did.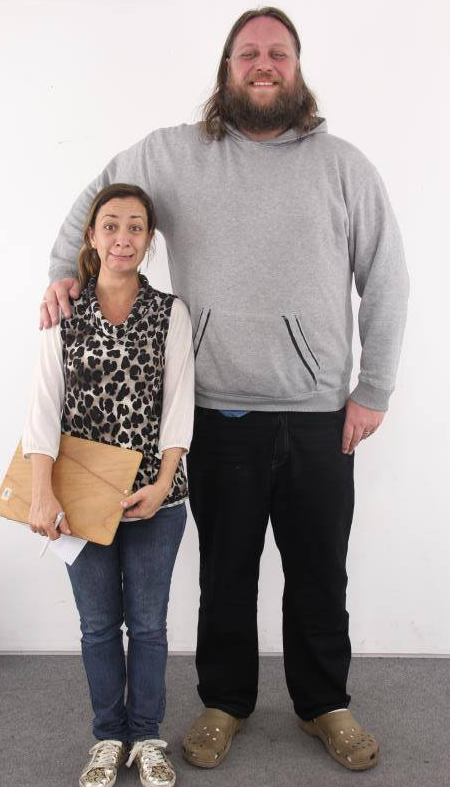 Fyrstikken! The true Norwegian Viking!
Fyrstikken is a remarkable person with so much knowledge of cryptocurrency and life experiences. he also had a contest long ago and watch the awesome video with @mrviquez shitcoins HERE Check his Soundcloud version which is amazing HERE MrViquez is a great Artist and I love his music! He would be in Steem Speak often as well. You can see how much fun it was for me to be a small part of that time. I appreciate that I was there then and I really miss it as well. I wish we could go back there with all the Steem O.G's in there again!
T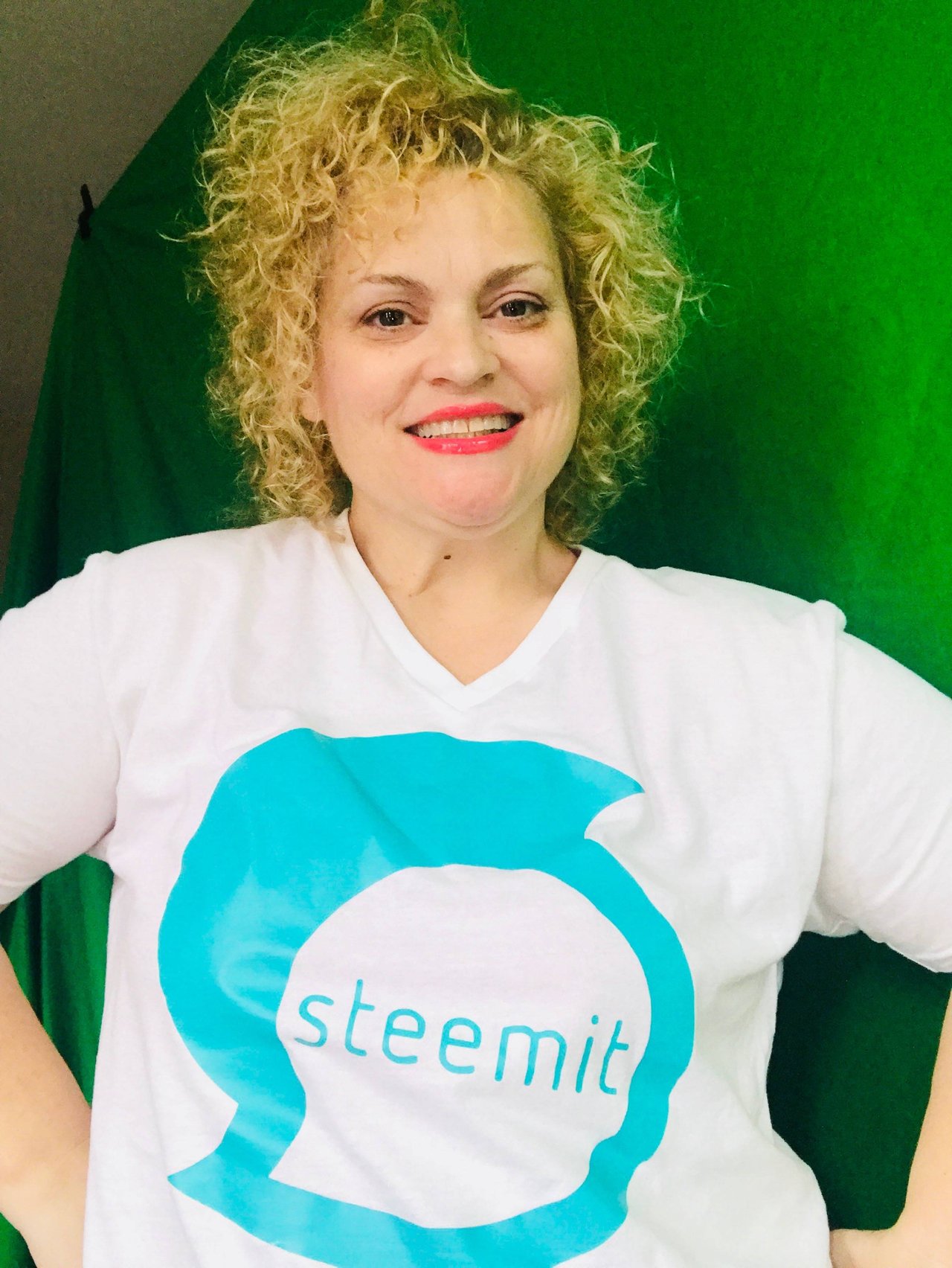 This was my favorite Christmas present ever from my son David. I still love Steemit and use it daily! When I curate for Steem Monsters I use Steempeak, that way I never get them mixed up.
I also listened to @ackza rave about how awesome Steem is and he was so passionate talking about everything like how he helped get so many people into it by making people aware of it. Sometimes he would get on Fyrstikken's nerves and that would be very funny at times. It was a great time though as they are all wonderful people and I am glad to have been there then. He also sent me an upvote with $11 on it and I was so happy as my posts back then would only get .01 or .04 literally. I did not quit though. I did get discouraged but would never quit and never stopped posting!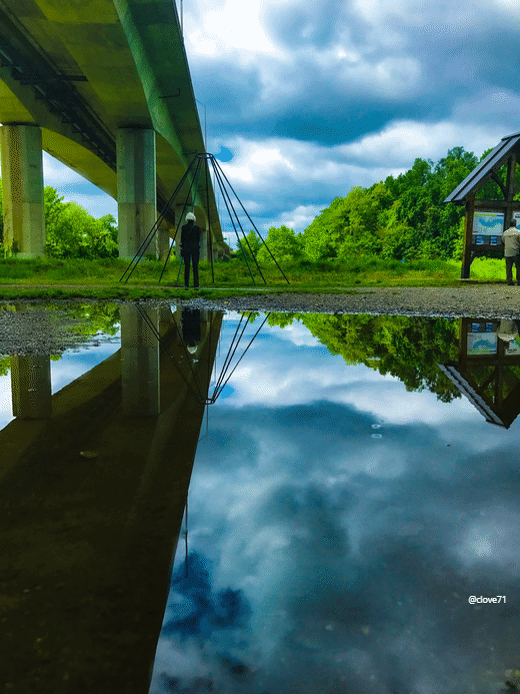 The James River After A Storm on Belle isle. in Richmond, VA USA
I really loved listening to @seablue as well. He would talk about his life, how he learned as he got older to be wiser and make better choices in life and crypto. I respected him a lot as he is a great person. I loved hearing about his day and his life. I usually learned something so that was always a plus. He also has a very calm and serene like voice. I would be listening to them all while I was making my Steem posts which took some time.
I also loved @whatsup and listening to her talk about her experiences with crypto and more. I noticed there were a lot more men in crypto than women and thought it was awesome to see such a great woman know so much about crypto. She is also extremely nice and I enjoyed listening to her experiences and thoughts. I am happy she is still here on the Steem blockchain and involved in so many things here. She is a true inspiration to women everywhere!
Another amazing person in Steem speak at the time was @mughat. He was very knowledgable in crypto as well as philosophy and life. He was always questioning others and debates often took place with his involvement. His way of life made you think about everything. I love the quote on his Steem wall. "I swear by my life and my love of it that I will never live for the sake of another man, nor ask another man to live for mine." -Ayn Rand
This is simply true mughat style.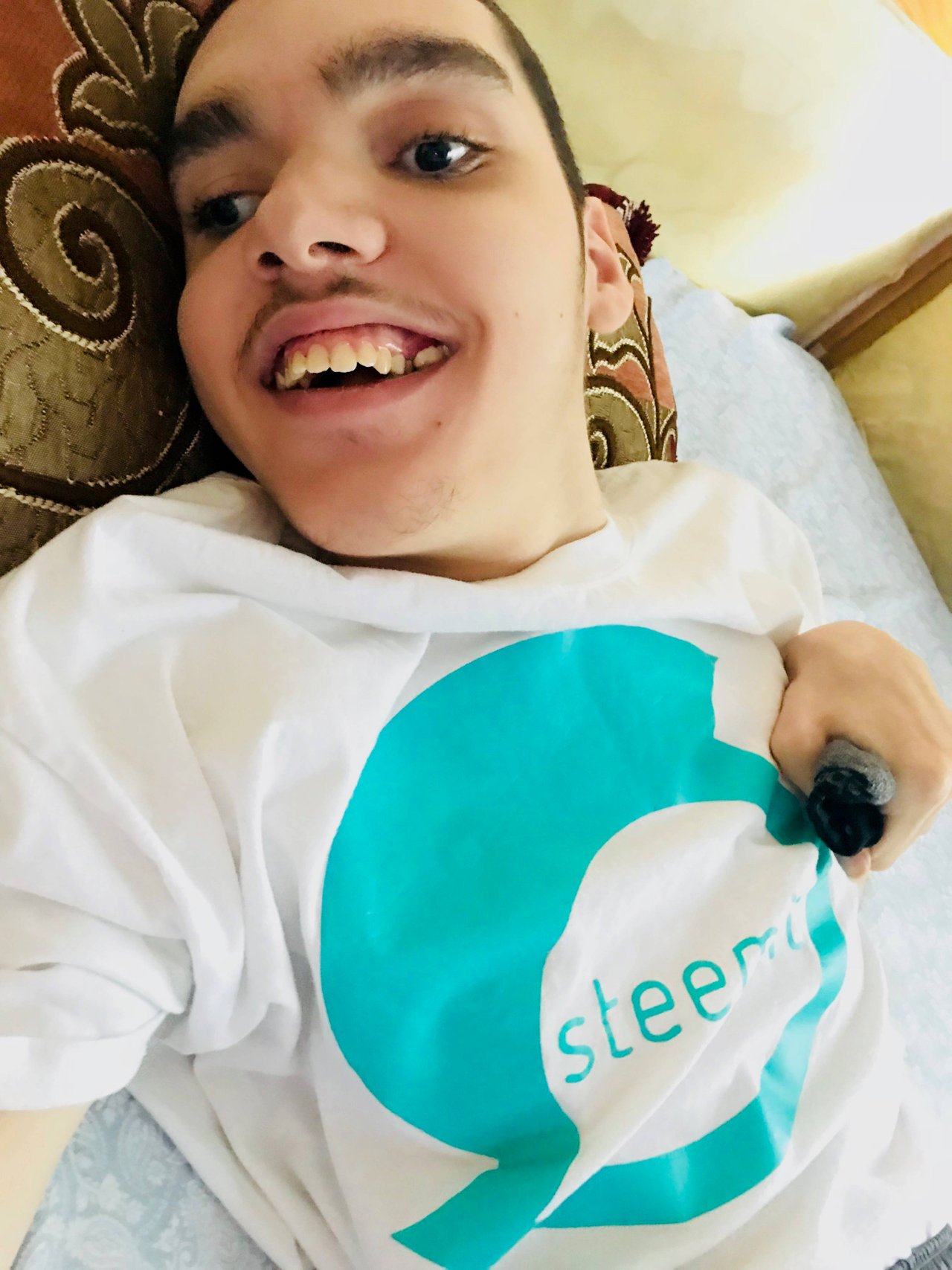 My son Adil even loves this Steemit t-shirt as much as I do!
Eventually, I created a Discord myself trying to get new people from Steem together in a group, if you have not discovered Discord please do so today! There are so many Steem communities like Steem Speak, Splinterlands, palnet, @Adsactly and more to go check out! You can learn from others and even make life long friends and connections. I changed Steem Life into Splinterlands Tournaments Discord back when tournaments were manual and we all had to meet up there for the tournament. It currently is not being used perhaps I should change it back to Steem life, lol! There are just so many Discord groups already to keep up with.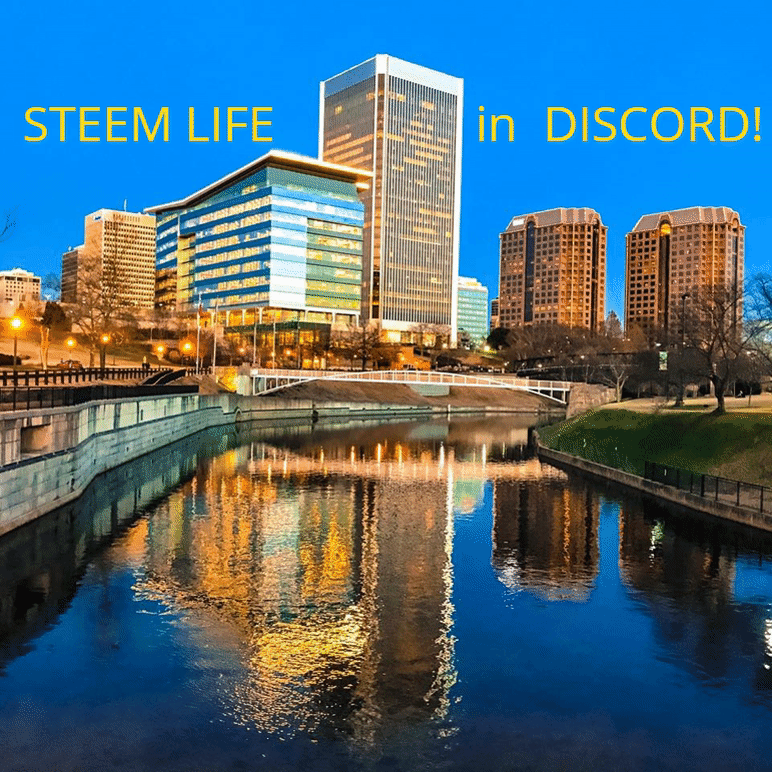 Steem For Life!
I started manually curating a few months ago for the Steem Monsters account and I love it! I love searching for awesome Splinterlands posts on the Steem blockchain and giving them nice upvotes! I can only imagine the people who have never received anything posting and to now have a nice $4 or $5 upvote. If your Splinterlands post is awesome, some of them will get a full upvote around $8 or so. Many people use this to power up their Steem account and also to buy more Splinterlands cards. I love being apart of this amazing game that has so many benefits for its players. If you ever see this gif below it means you have been curated by me! I do love the Exploding Dwarf, he is a mad man!

Enjoy your upvotes!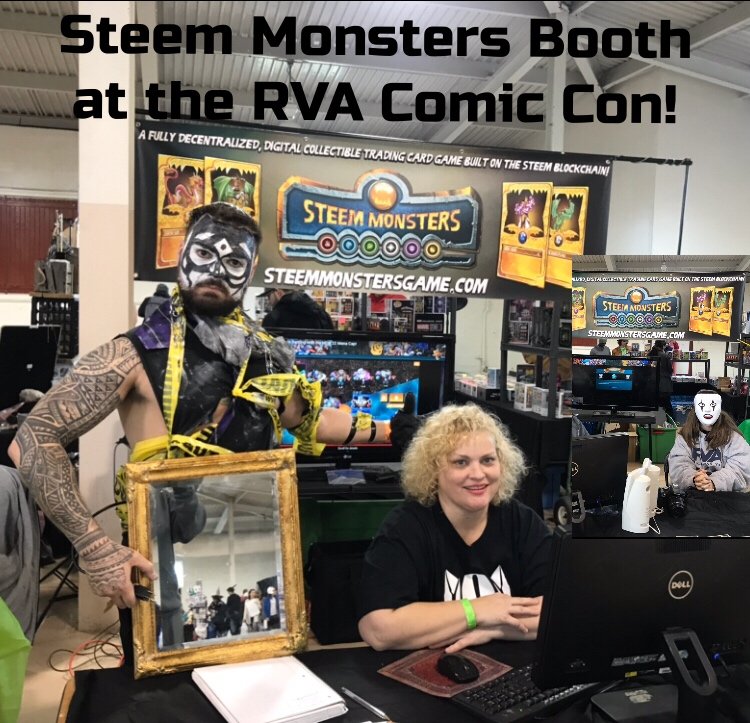 This was a fun time at the Richmond Comic-Con last year! This is my son David @cushcoast as the Skeleton Warrior! It was a great time. My daughter Layla is also pictured here to the right and always hears about my daily Splinterlands rambles! I love this game so much. I just want to share it with the world, mass adoption is on the way!
My daughter Layla and I below at the Steem Monsters Comic-Con booth! She enjoyed handing out Splinterlands cards and even had a dance-off with David! We drew some attention to the Steem blockchain that day and Steem Monsters.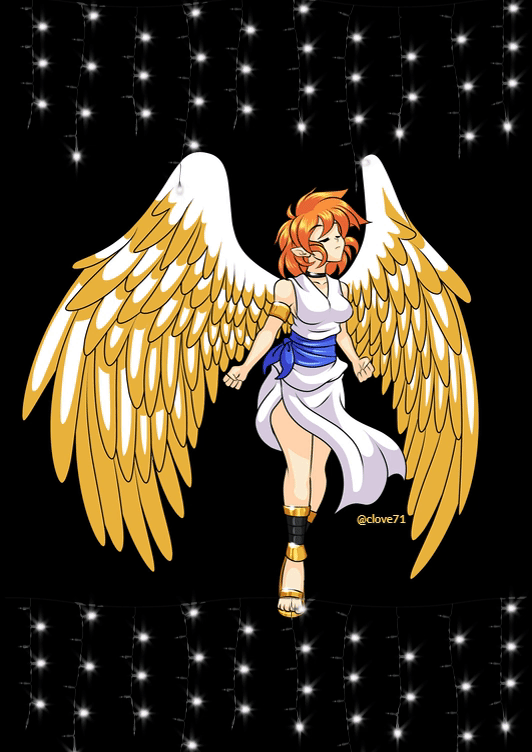 This is my son, Adil. He is 24 years old and was born with severe Cerebral Palsy. He is the same age right now that I was when I had him. He is my entire world, to say the least. I tried to get him and my daughter and older son @cushcoast into Steem Monsters AKA Splinterlanlands but it seems I am the only Splinterlands addict! They are all on Fortnite and Madden! I am happy that my better half @ty2nicerva does play his daily Splinterlands quest most of the time, lol!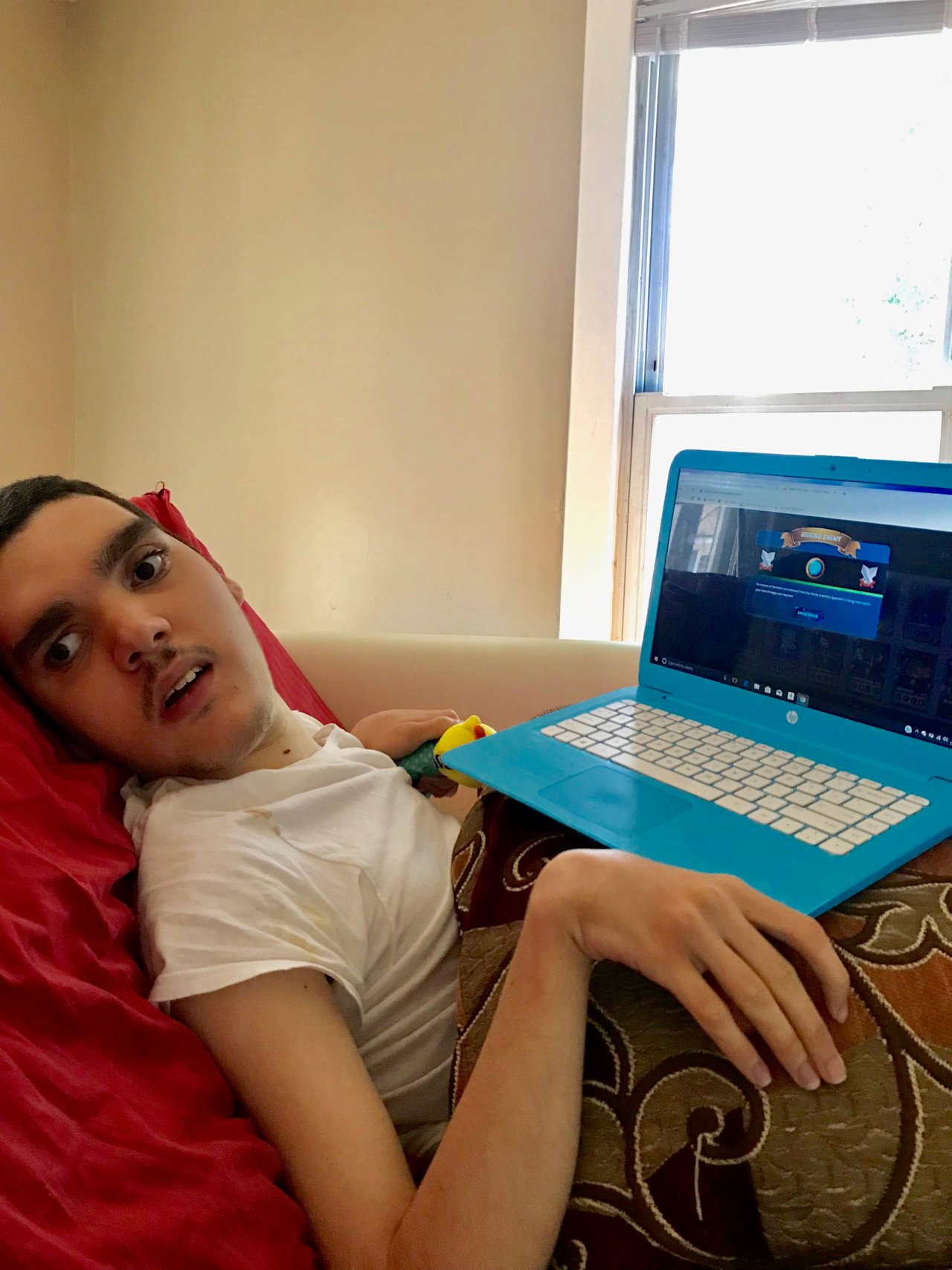 My son David and I, the family that does crypto together, stays together!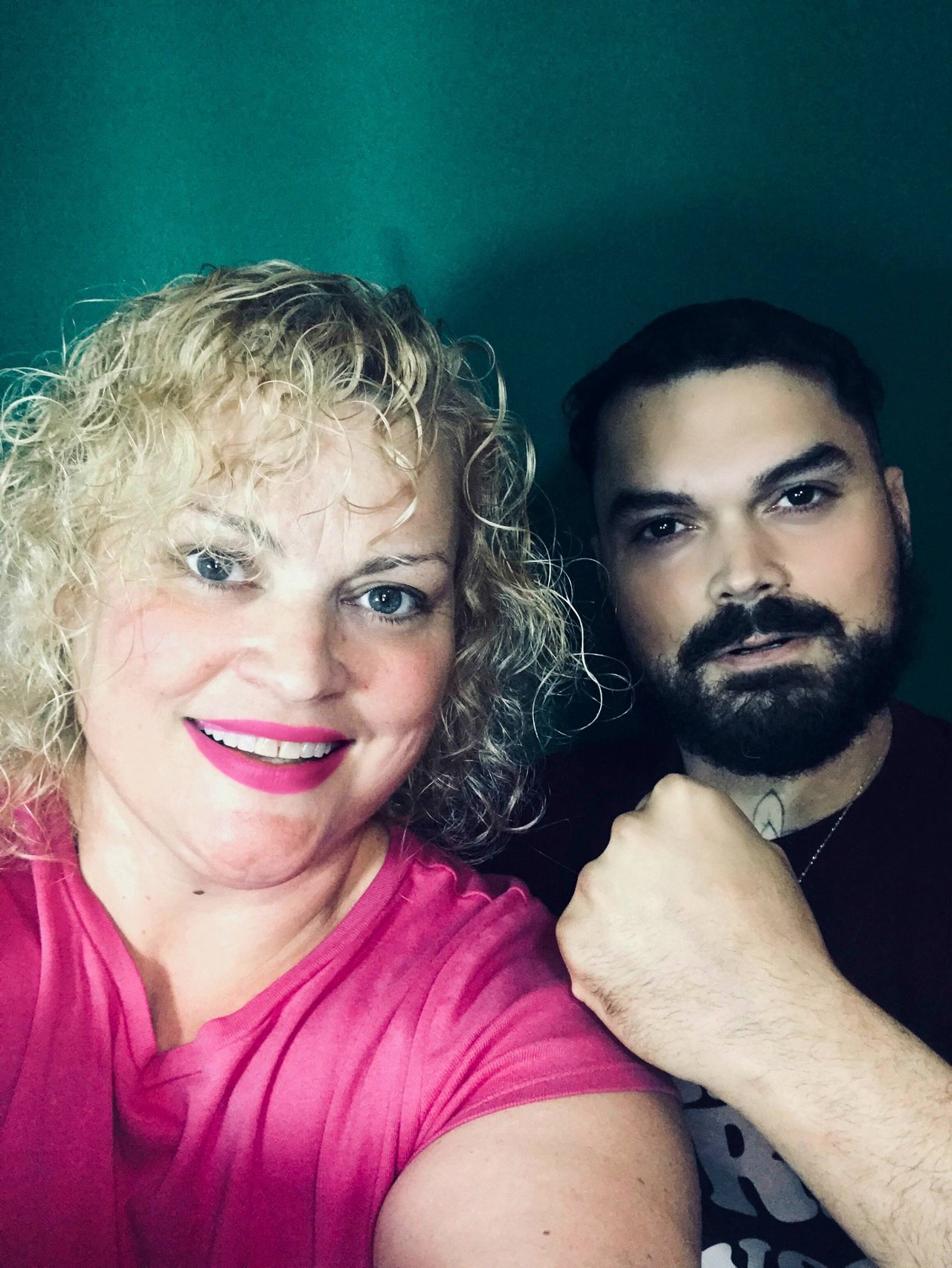 This fabulous Steem Monsters t-shirt from the awesome Splinterlands team member @reseller himself! I love this shirt and wear it all the time!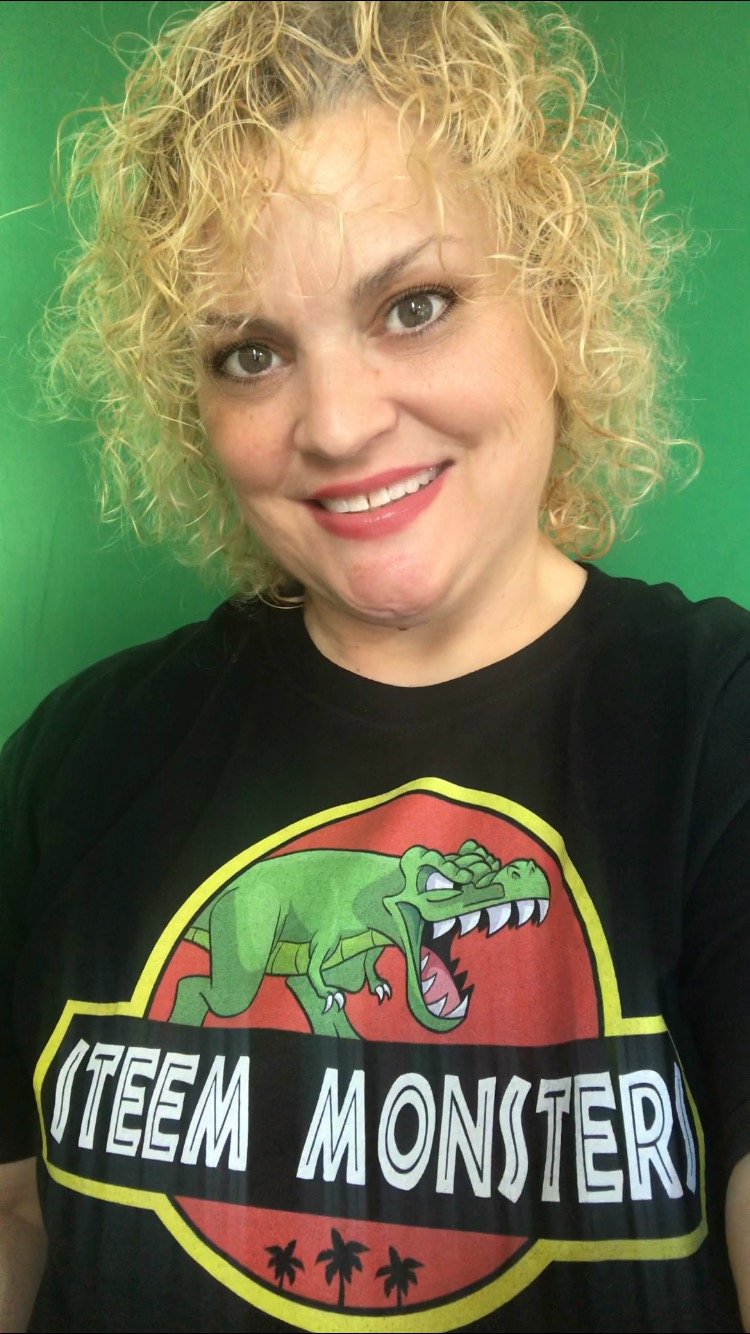 I hope I have gotten across to you how much I love and appreciate Steem. How much and how it has truly impacted my life in such a positive way! The financial reasons are awesome as well as the great people I have met and will meet. Each day I usually make a few daily videos of Splinterlands battles, news and topics currently going on.I post on @3speak and @Dtube as well as Youtube. I used to stream live on Dlive and was really upset when they left us. I still have a sad feeling when I think about that! They handed me out $100 upvotes for streaming music, Steem Monsters and crypto news! I do really appreciate all the wonderful support that I have seen lately on Steem. I think the new Steem is working out for the better so far. I am solely concentrated on Splinterlands though, I will admit this. I do not post my nature or city photography posts much anymore or recipes but vow to include them again on my blog! I just have to stop battling Splinterlands long enough to do so. I am not that far away from finally becoming a Dolphin as well! These are awesome things to be celebrated! I was once told if you are reading this right now, you are here at the perfect time. We are all early adapters. We are all here at the prefect time! Let's Go!
I hope you all have a wonderful day on the Steem blockchain!
Steem On!
Chris Love @clove71

Splinterlands Discord HERE
Facebook GroupHERE
Splinterlands Official Facebook Page HERE
Splinterlands Telegram HERE
Immortal Gods IG - HERE
YouTube Splinterlands Content - HERE
Splinterlands 3Speak Community - HERE
Splinterlands Dtube Content - HERE

I wish you luck in your battles and daily quest rewards!
I will see you all on the battlefield!
May the Monsters be with you.
Splinterlands Rep