Bozzlife: Toughest Monster Truck Tour
bozz
67
2 months ago
eSteem
7 min read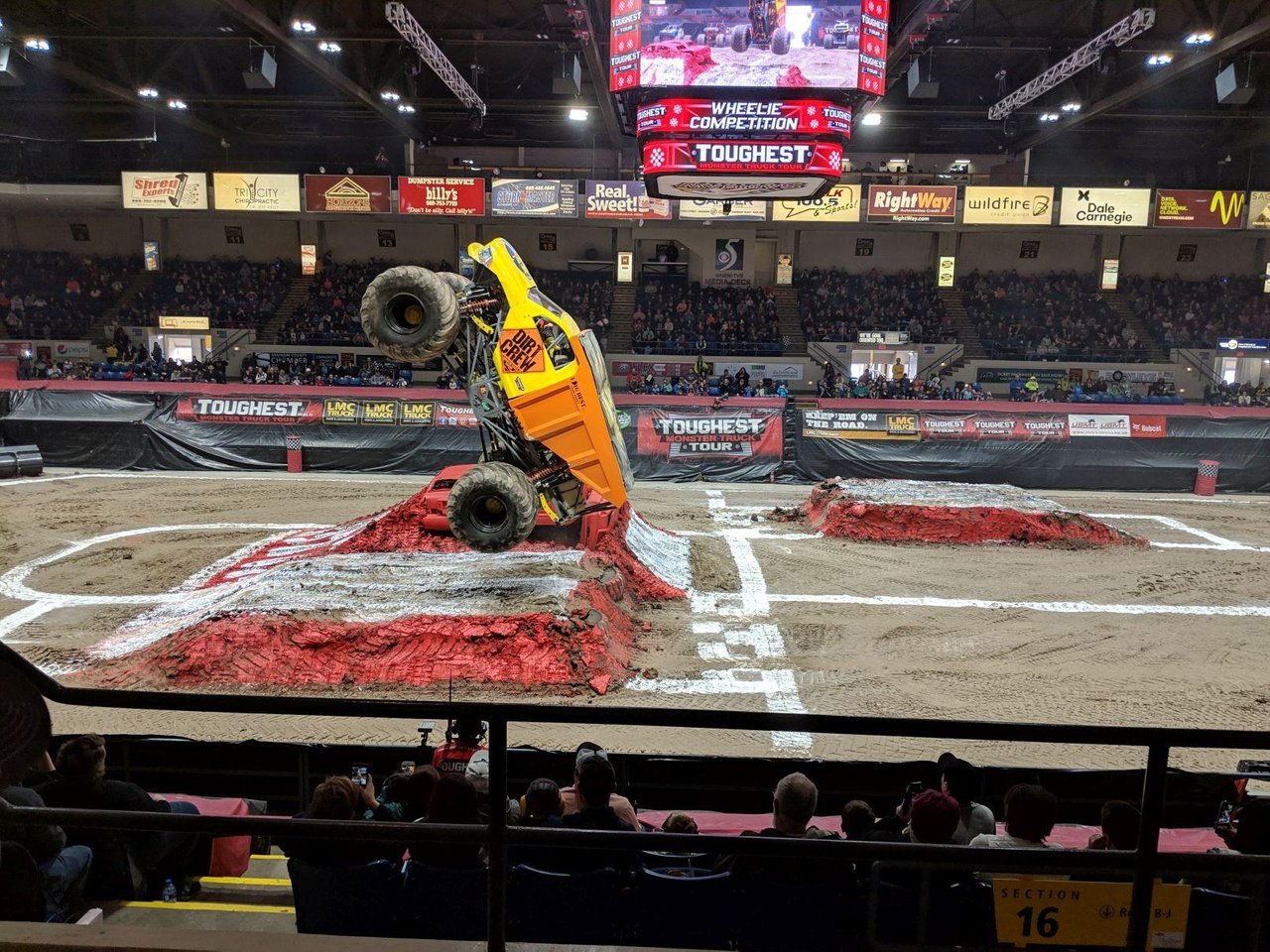 Not having any kids of our own besides our dog Jovi, @mrsbozz and I try to make it a point to spoil our nieces and nephews as much as possible.
I know it's not true everywhere in the world, but for the most part I feel kids in general these days have a lot of "stuff". Things they play with for a hot second and then instantly forget about, break, or lose.
Because of that, my wife and I have always tried to gift experiences rather than things. We have taken our nieces and nephews to concerts, plays, and on this occasion a monster truck rally.
Somehow(I am still trying to figure it out), @mrsbozz wiggled her way out of this event that is stereotypical of every boys dream and talked her father into taking her spot. It was just as well because the boys were excited to have "Pops" coming with us and quite honestly, at the end of the day I think he had as much or more fun than the kids did.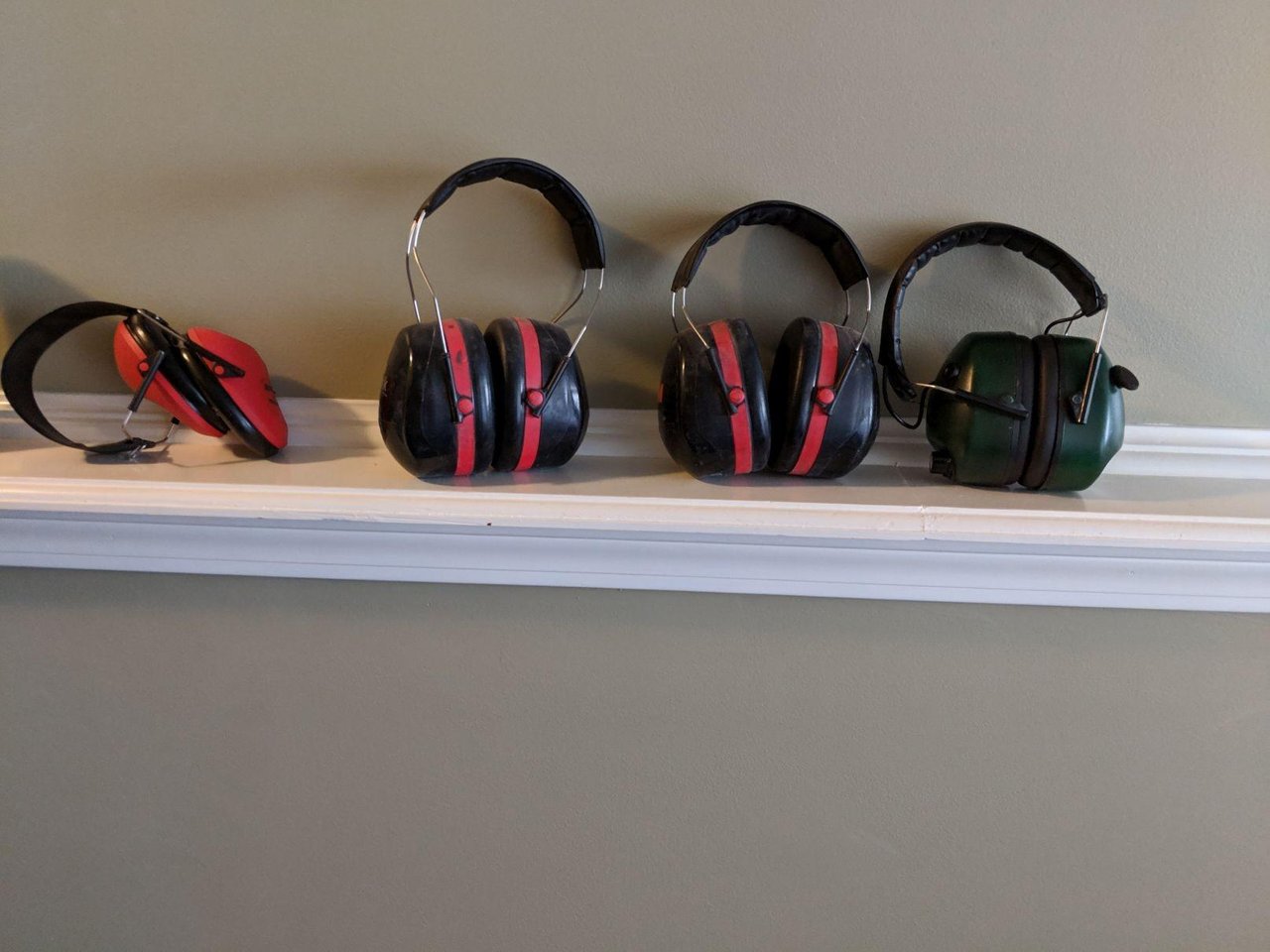 The venue where the event was being held is pretty small. They hold many events there, but it is most often used as the hockey arena for one of our local teams. Having talked to people who have been to similar events before, I knew it was going to be loud.
I reached out to my buddy Mike and my parents to borrow their hearing protection. I then had my own set of "shooting muffs"(the green ones) that I added to the collection. We were good to go for the big event!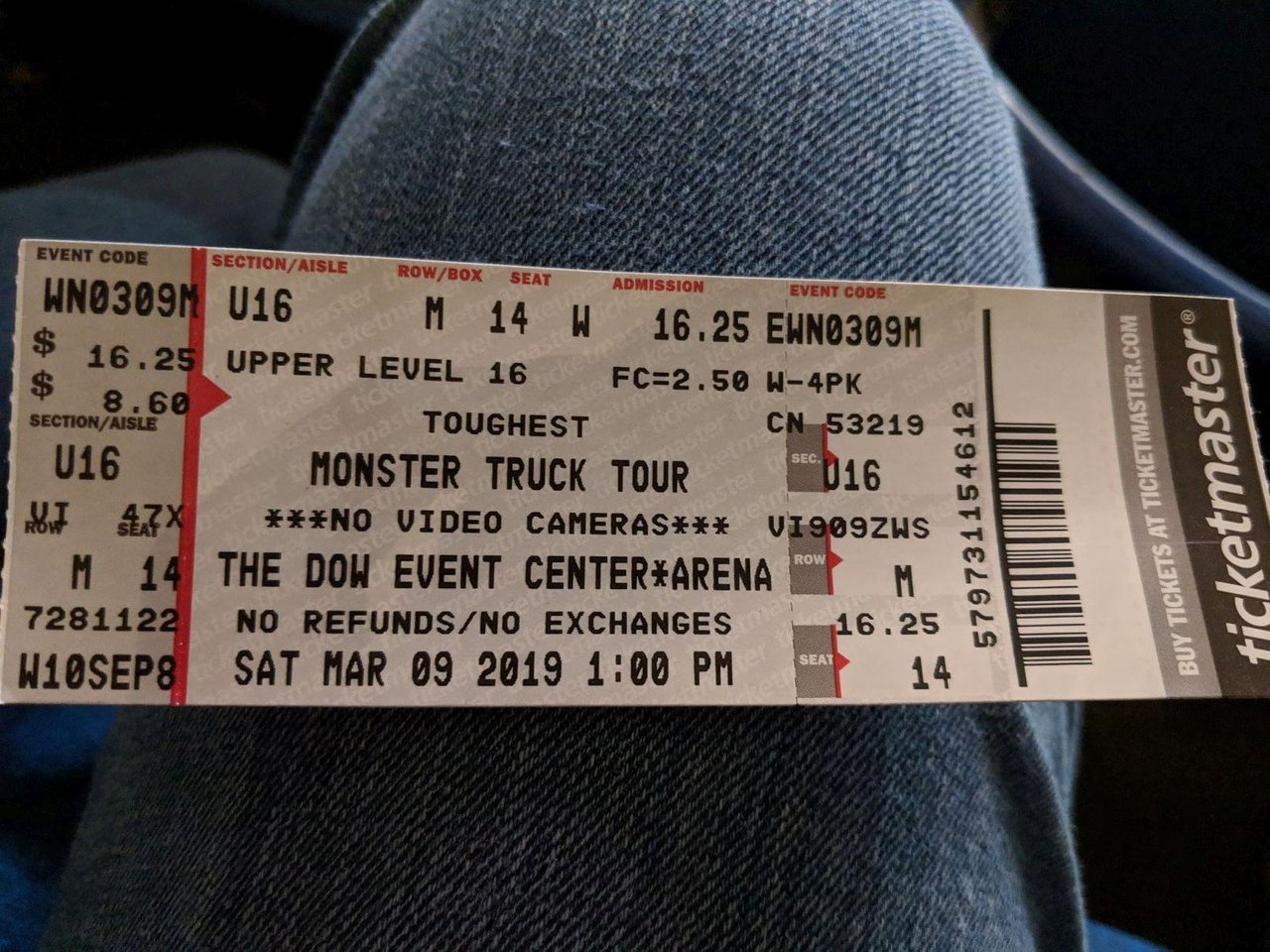 The tickets for admission weren't that bad of a deal. I actually sprung for the "family four pack" so we got a discount coupon for food or souvenirs too. I made the mistake of purchasing my tickets early because it apparently wasn't sold out and in the days approaching the event they were advertising significantly discounted ticket prices.
There was another big monster truck even happening about two hours down the road at Ford Field on the same day as this one. I think a lot of people(including some of our friends) opted to visit that one instead. Apparently, because of the venue it is much bigger, quieter, and not as smokey(because of the vehcile exhaust).
I remember as a kid coming to The Dow Event Center(back then it was called the Saginaw Civic Center) to see the monster trucks, so I didn't really mind that my nephews first trip would be to the same place.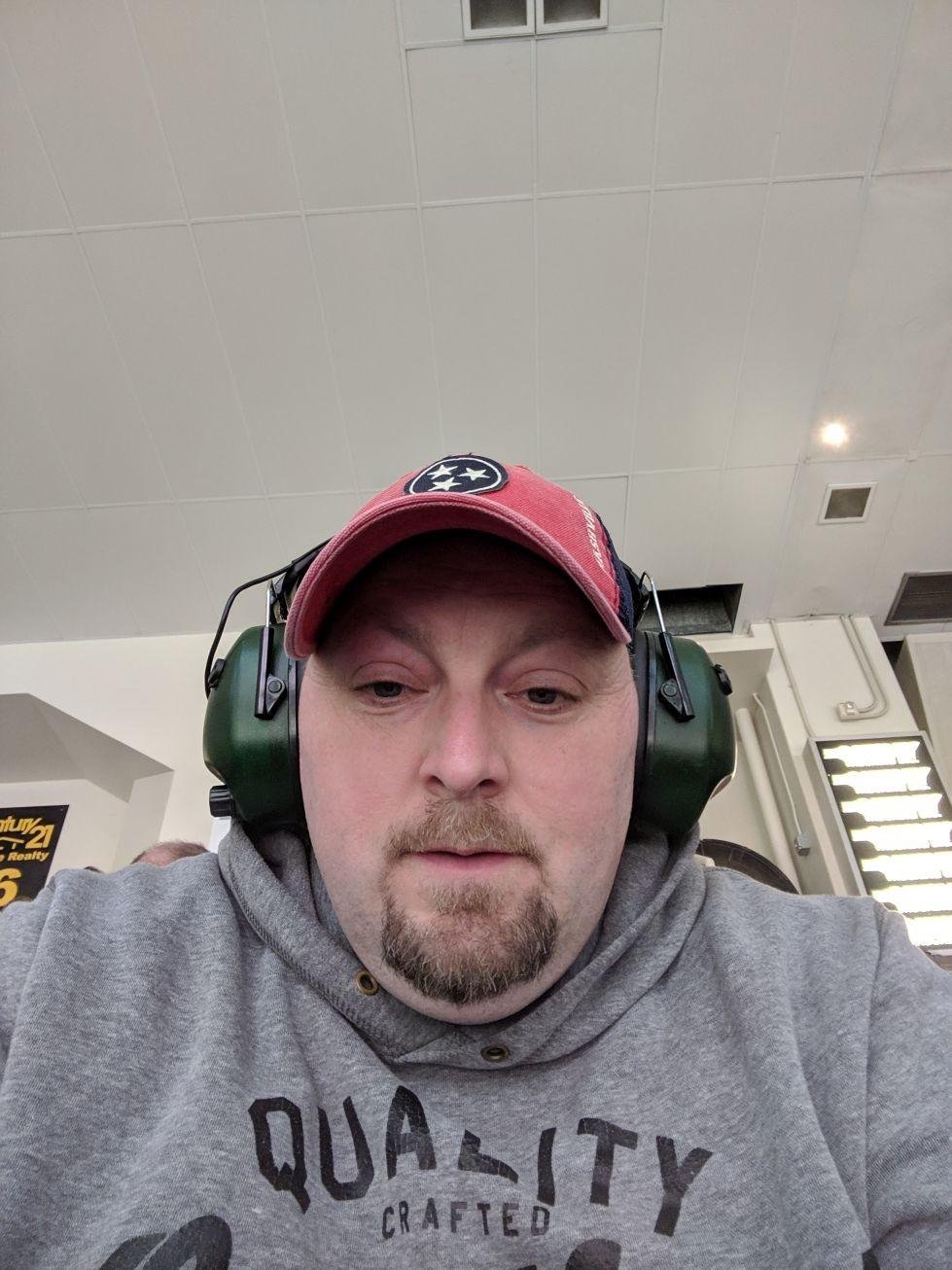 We got to the venue probably a bit earlier than we needed to, but I wanted to make sure we got a decent parking spot so Pops and the boys didn't have to walk too far. Plus I figured it would be a good idea to get settled and have our food out of the way before the event started.
They kids can be picky eaters, so one of them opted for a soft pretzel while the other just wanted popcorn. Pops and I both got a decent but soggy hotdog which we scarfed down pretty quickly so we could attend to the kids.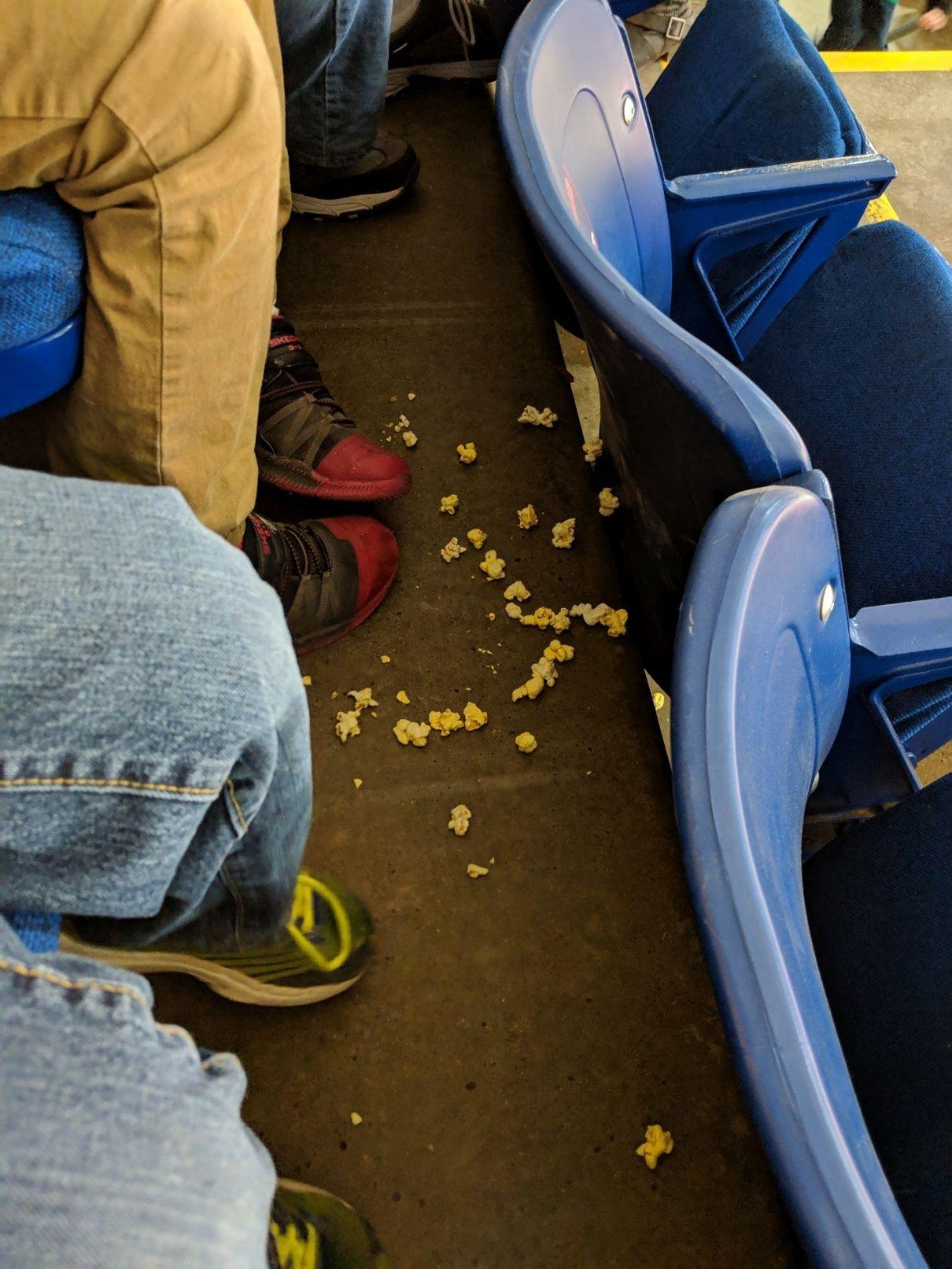 It ended up being a lesson in futility though because... boys
It was actually a pretty big box of popcorn so even though it looks like a lot here the loss was minimal.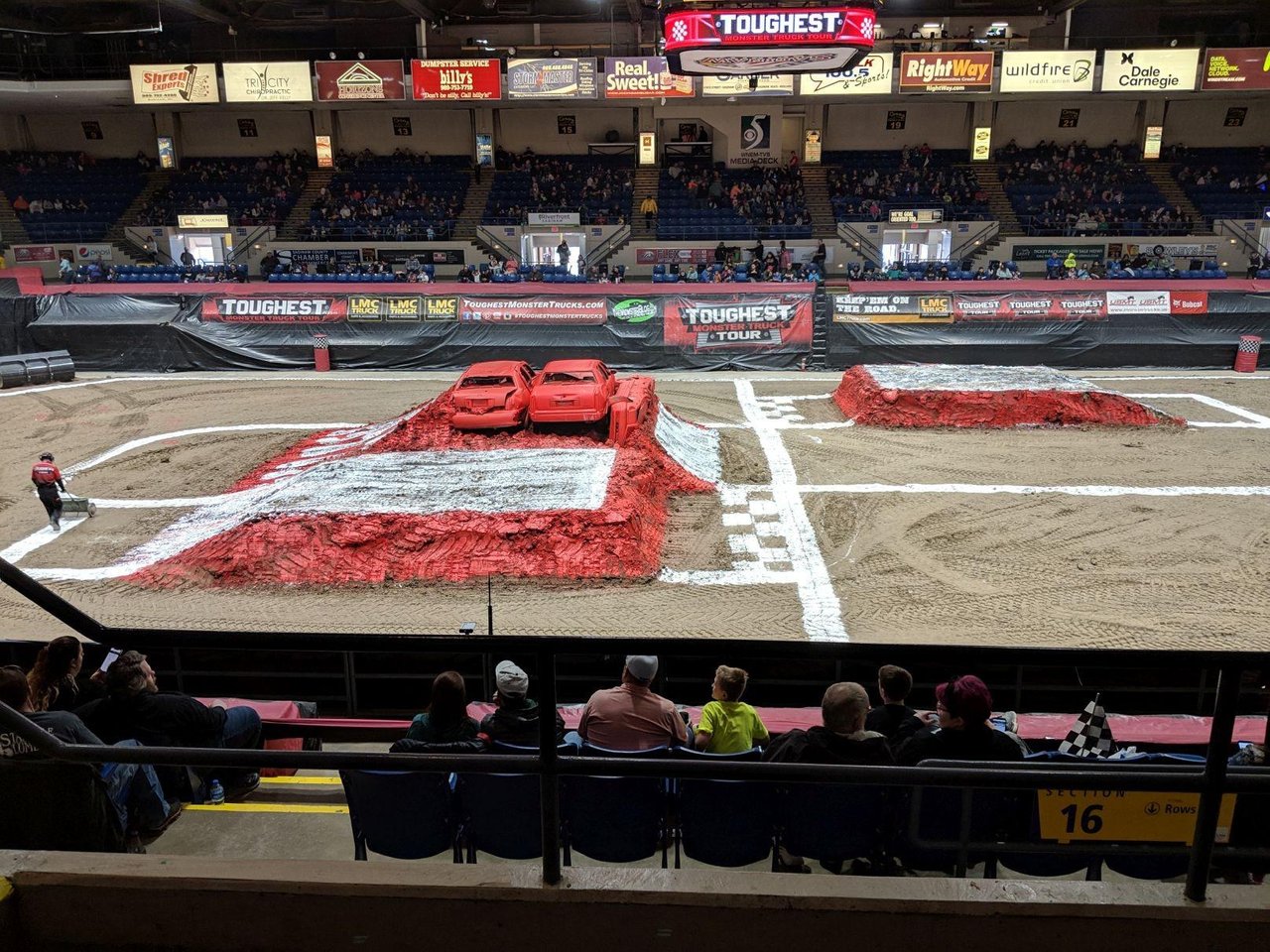 This was the basic setup for the event. As you can see it really isn't that big of a venue and it makes you wonder how they are going to really be able to manuever at all. I seriously remember it seeming much larger when I was a kid :)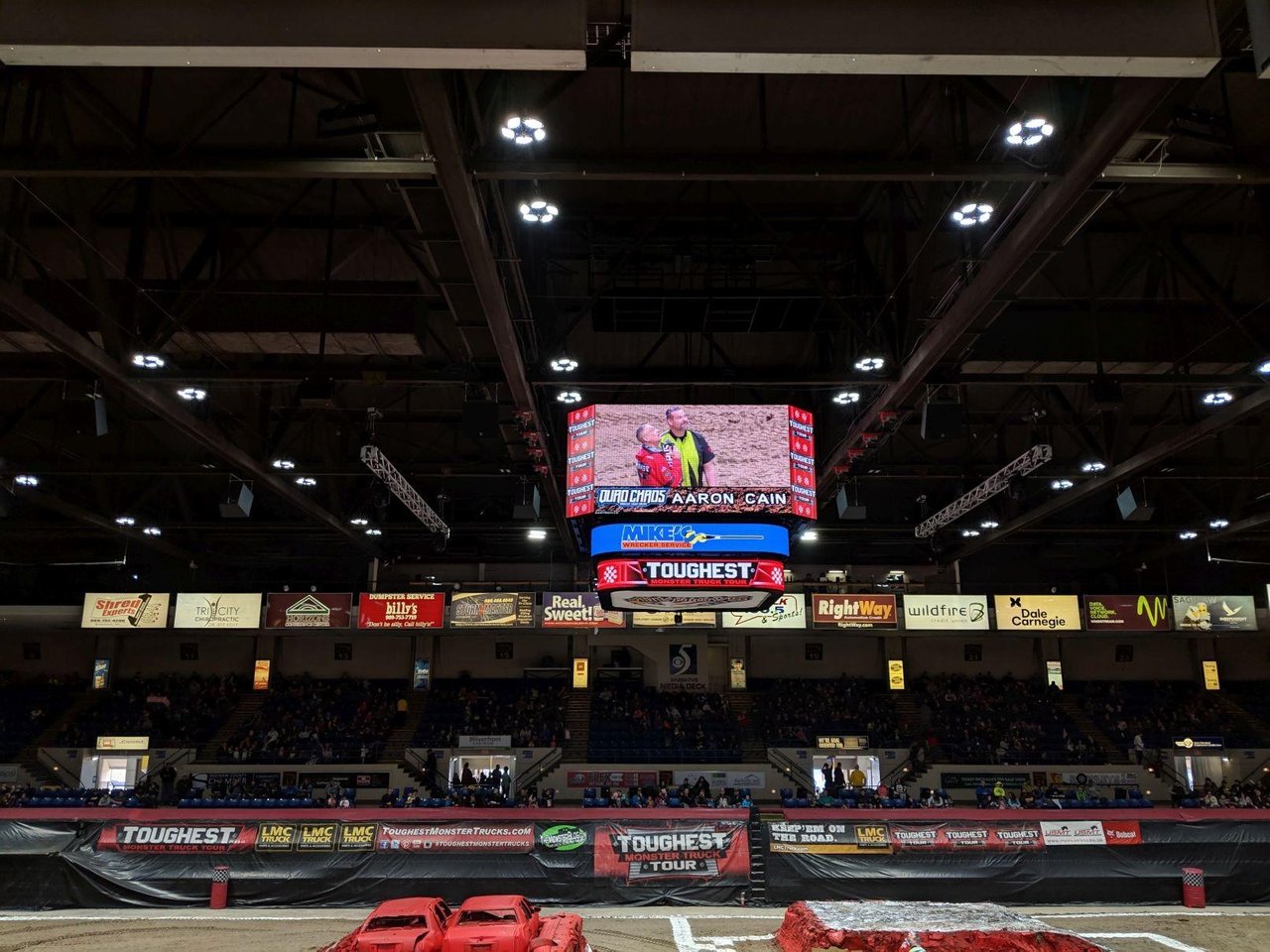 The announcer was trying to hype up the crowd for the 15 minutes prior to the event. He interviewed some of the drivers and worked to get the crown involved and excited.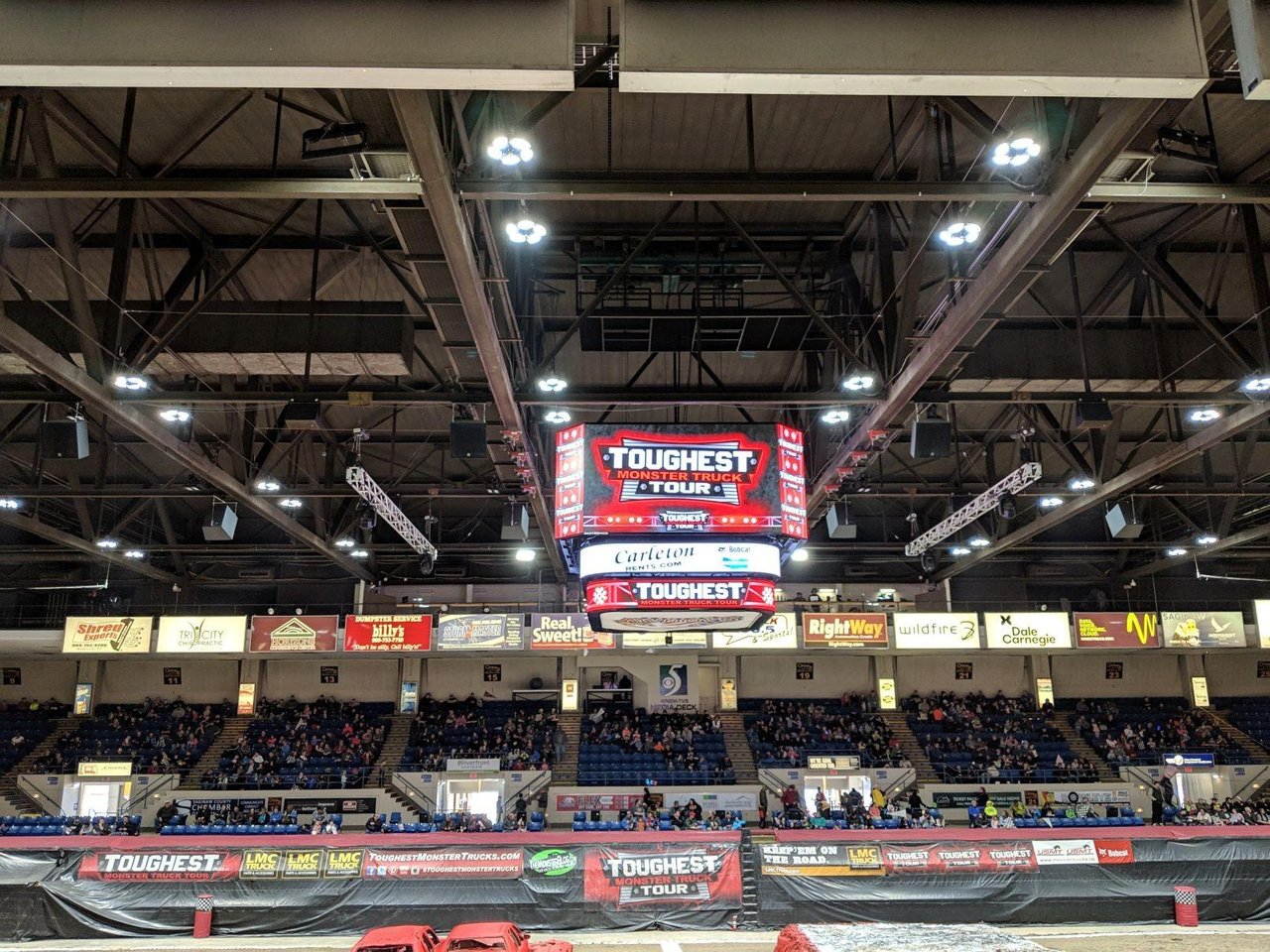 This is just another view of the center display with the tour logo on it. I really spent very little time looking at the "jumbotron". The seats we had were very good and you could easily take in everything that was happening in the arena from our spots.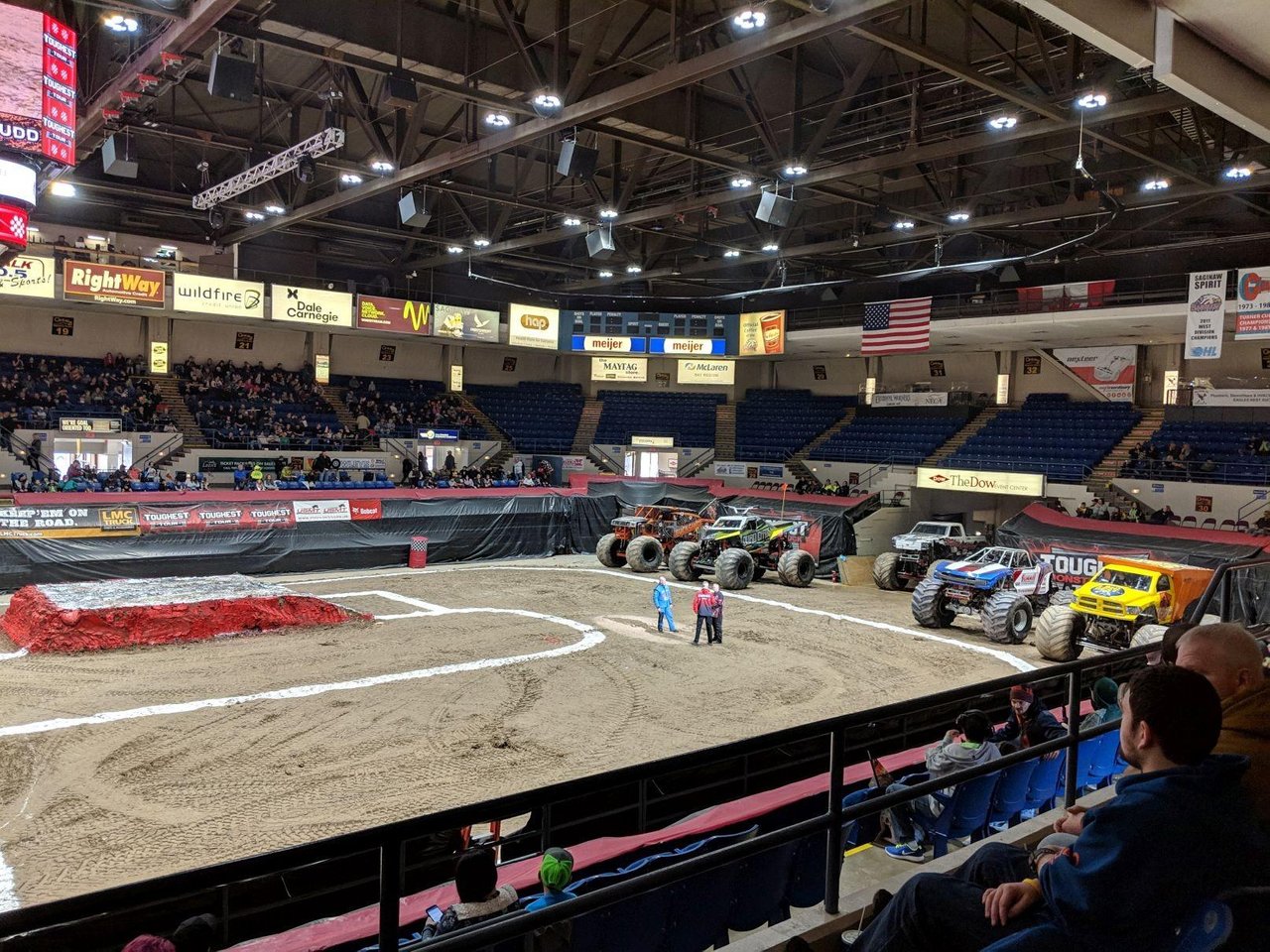 Though still big, I feel like these trucks are a smaller version of the monster trucks I remember from my youth. I am guessing part of that is just because I am an old man now, but I also think over the years they found that scaling things down a little bit probably allowed them to have more trucks running at once.
There were a couple of guys running small remote control monster trucks around the course before the event started. I have a feeling they were still probably $200 or $300 trucks and a far cry from the RC toys most boys are familiar with.
I just noticed I am already at 800 words, so I am going to start throwing more pictures your way and less commentary!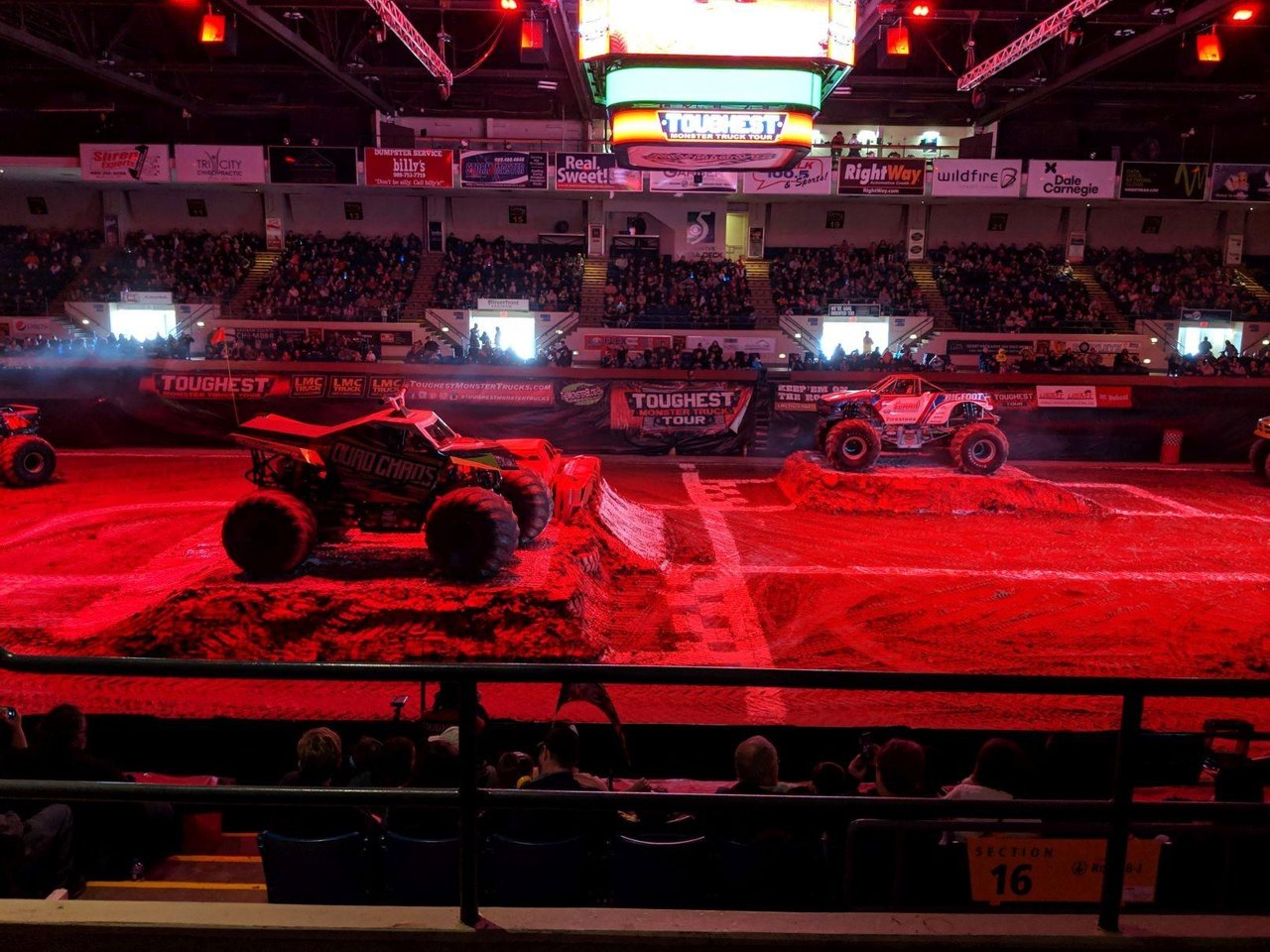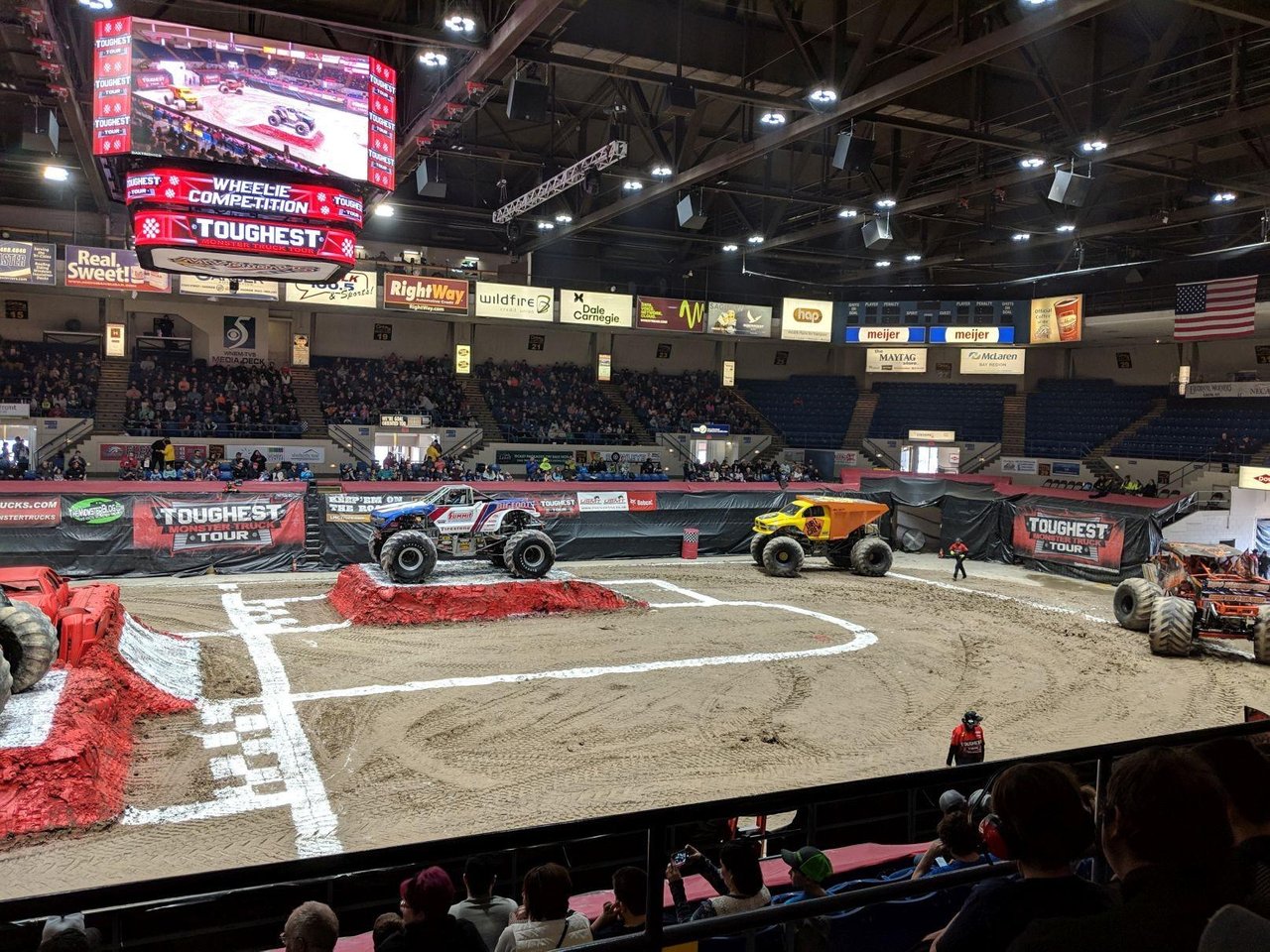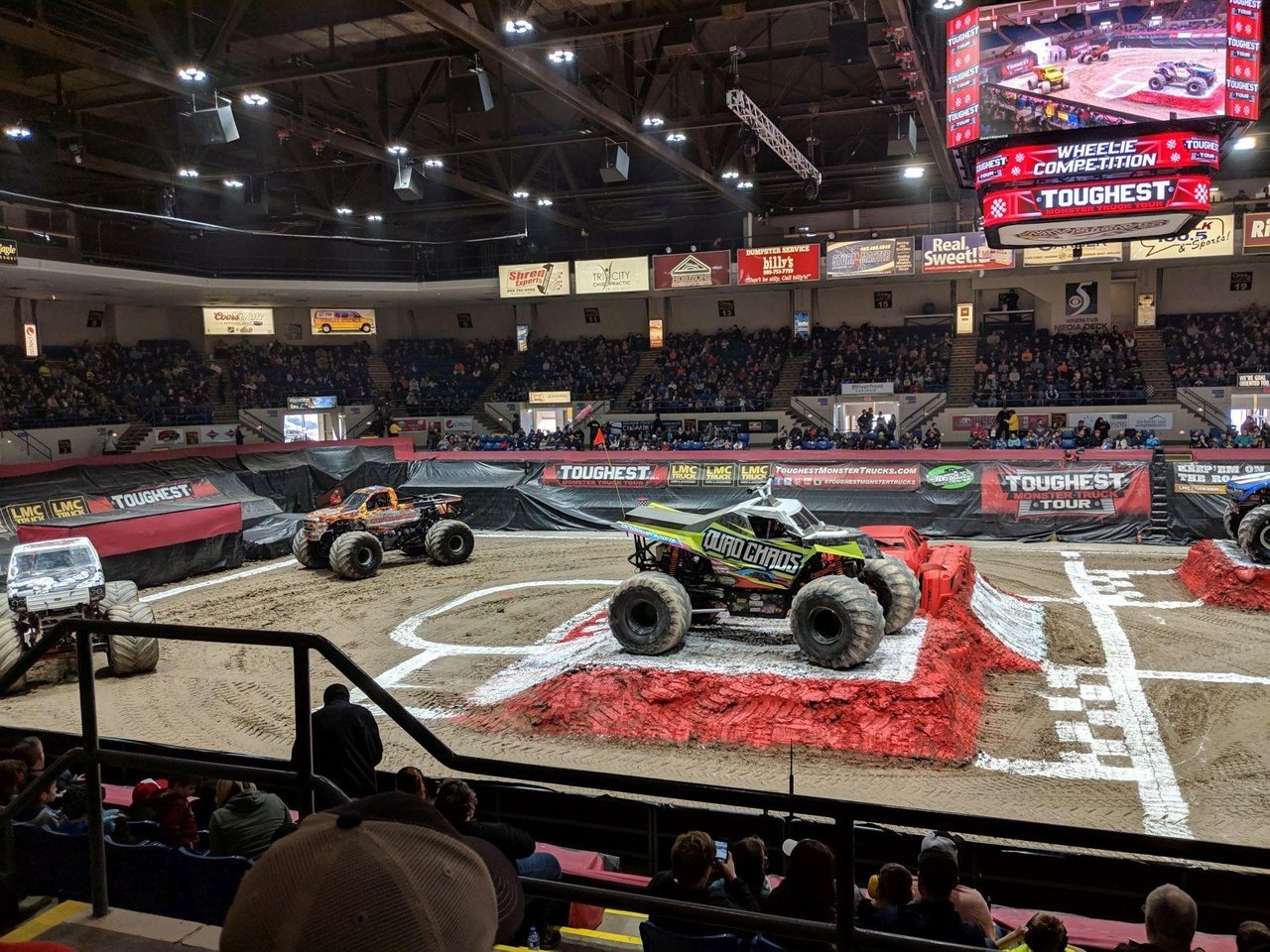 This is actually a circuit that the drivers compete on apparently. Each year they have a "season" and points are added up from each event so that an overall winner is awarded at the end of the season.
Each event is split into three categories, the first being "jumping" or "wheelies".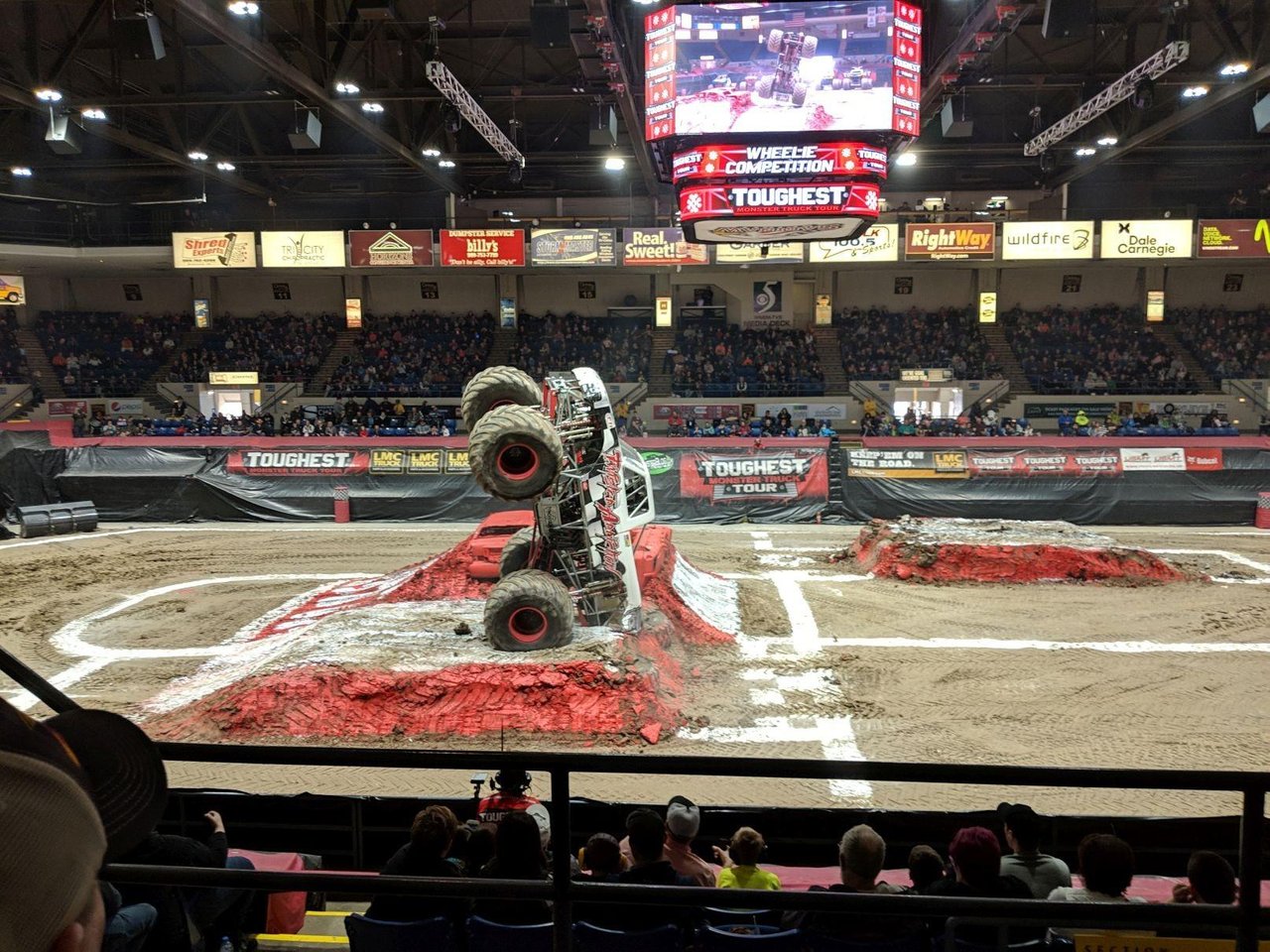 The opening picture is another example from that round.
The second round is the longest and consists of one-on-one races. They start with the group of eight and eventually work down via bracket to two finalists. The annoucer called it "Chicago Style".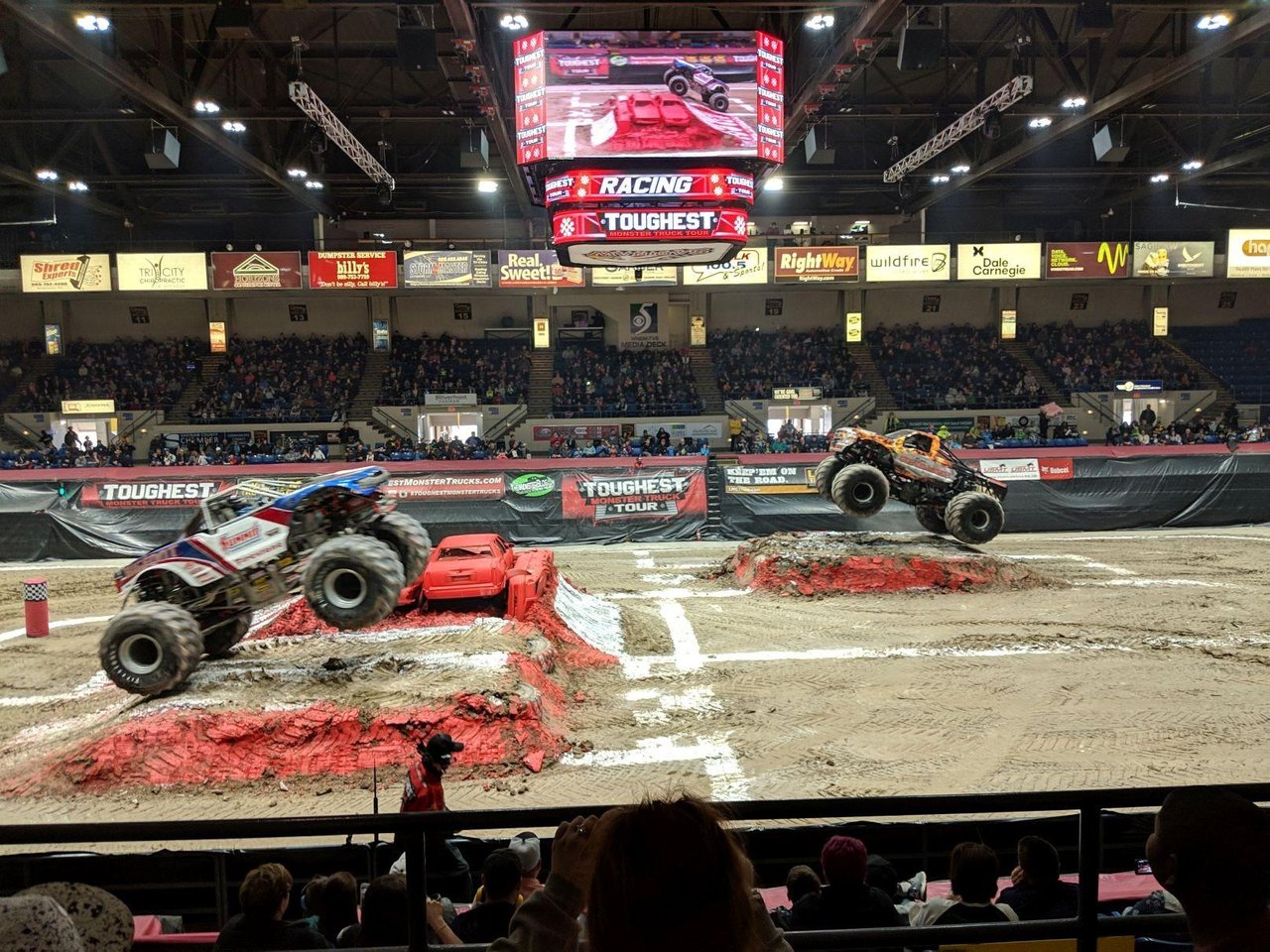 In between rounds they needed to clean things up. I grabbed a picture of the Bobcat grooming the course.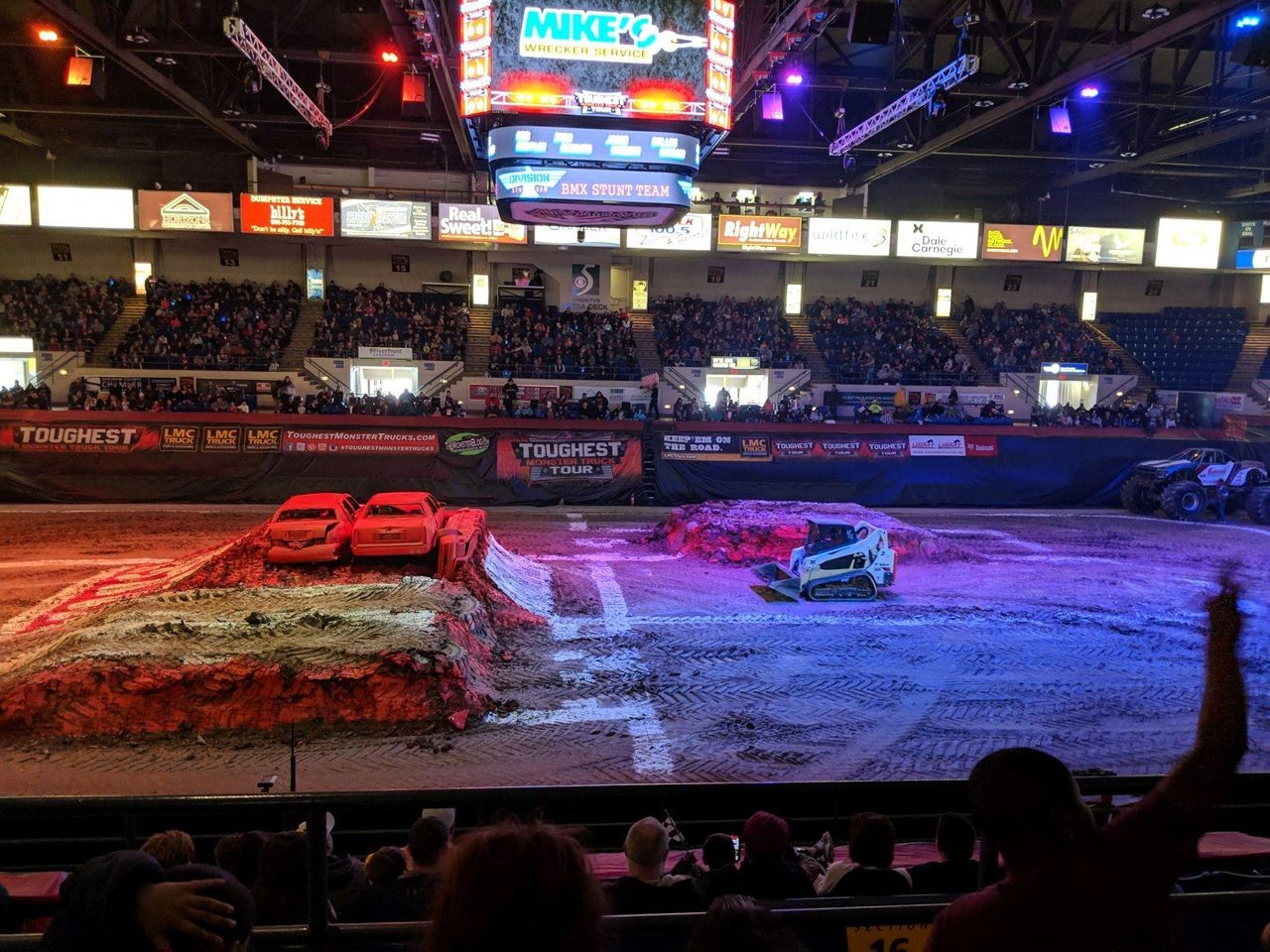 It was about this time we were 45 minutes or so into the event and my youngest nephew saw the cotton candy vendor walking through the stands. His concentration was immediately destroyed and his focus soon became fixated on where in the stands the cotton candy was as opposed to what the monster trucks were doing.
Trying to bring him back to the event, I broke down and bought a bag of cotton candy for him and his brother to share. It worked for a while until he saw the snow cone vendor.
Not wanting to go overboard I simply told him no and ignored him until he fell asleep. No lie! I think had we been in a bigger venue with less downtime between rounds it might have been able to hold the boys attention longer... live and learn.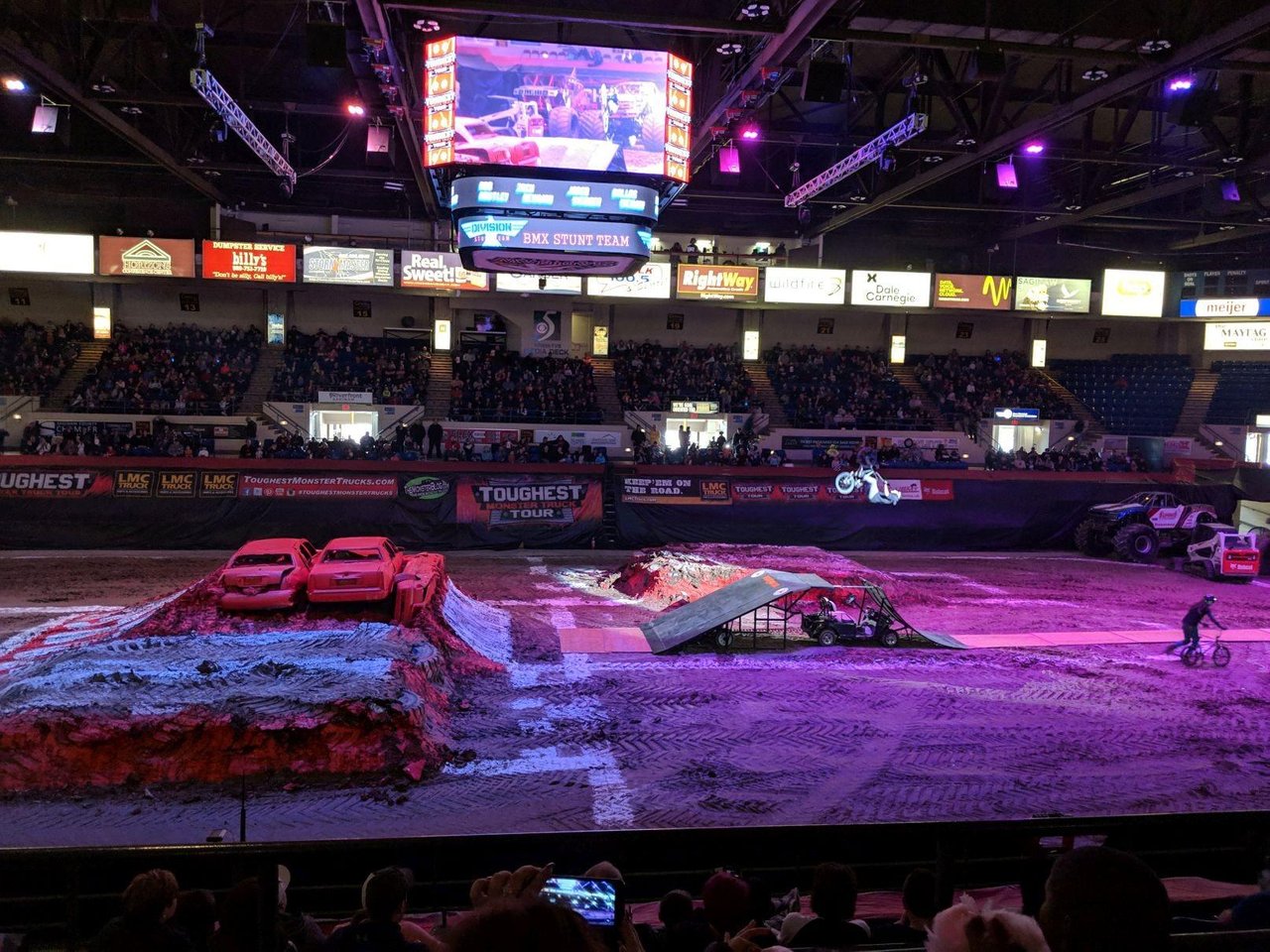 During one of the intermissions they had a BMX squad come out and do some tricks for the audience. Many people took this time to hit the concession stands or bathrooms, but I found it really entertaining.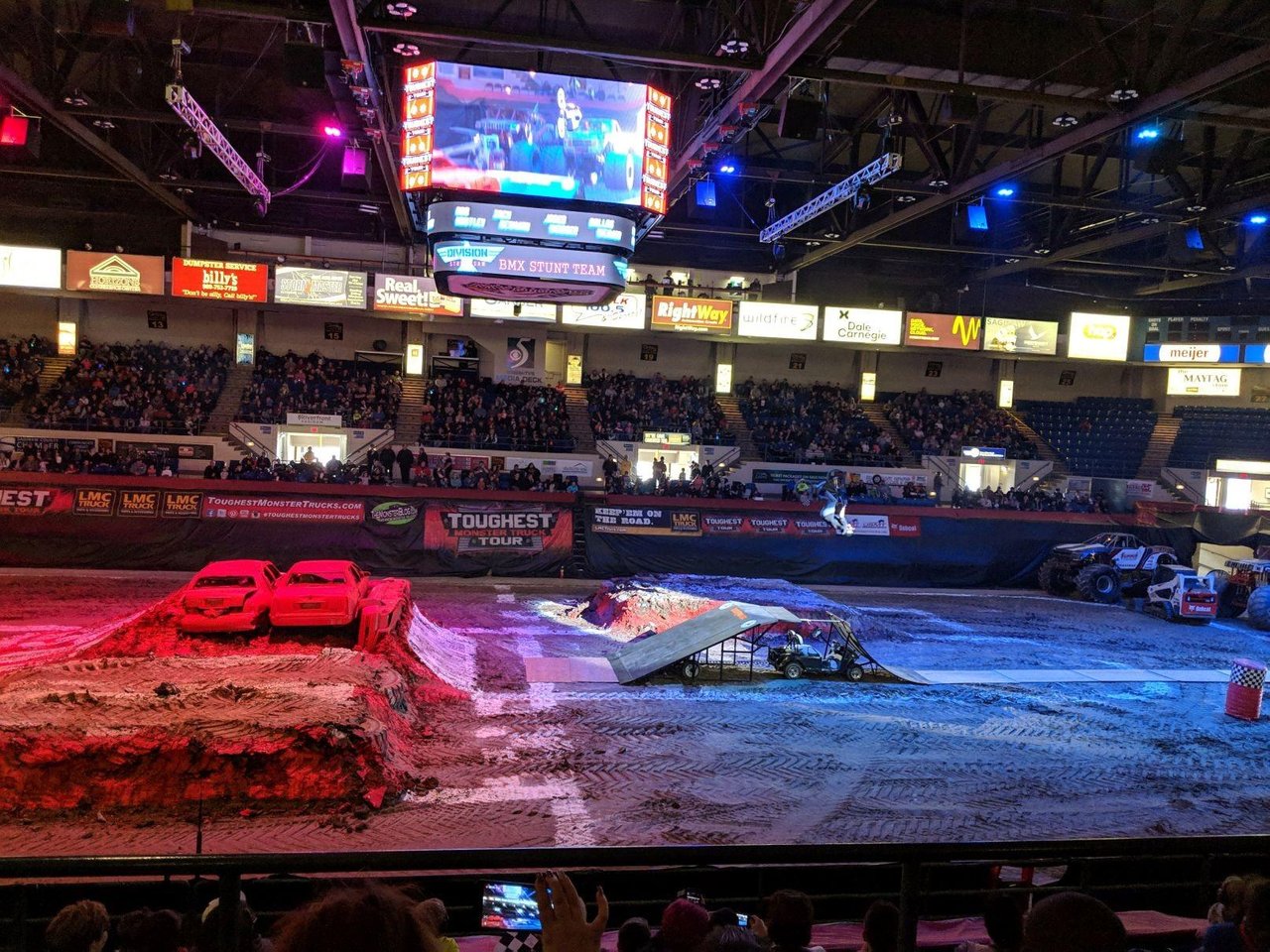 During another break they started moving some cars around and we knew the most exciting part of the event was going to be happening soon!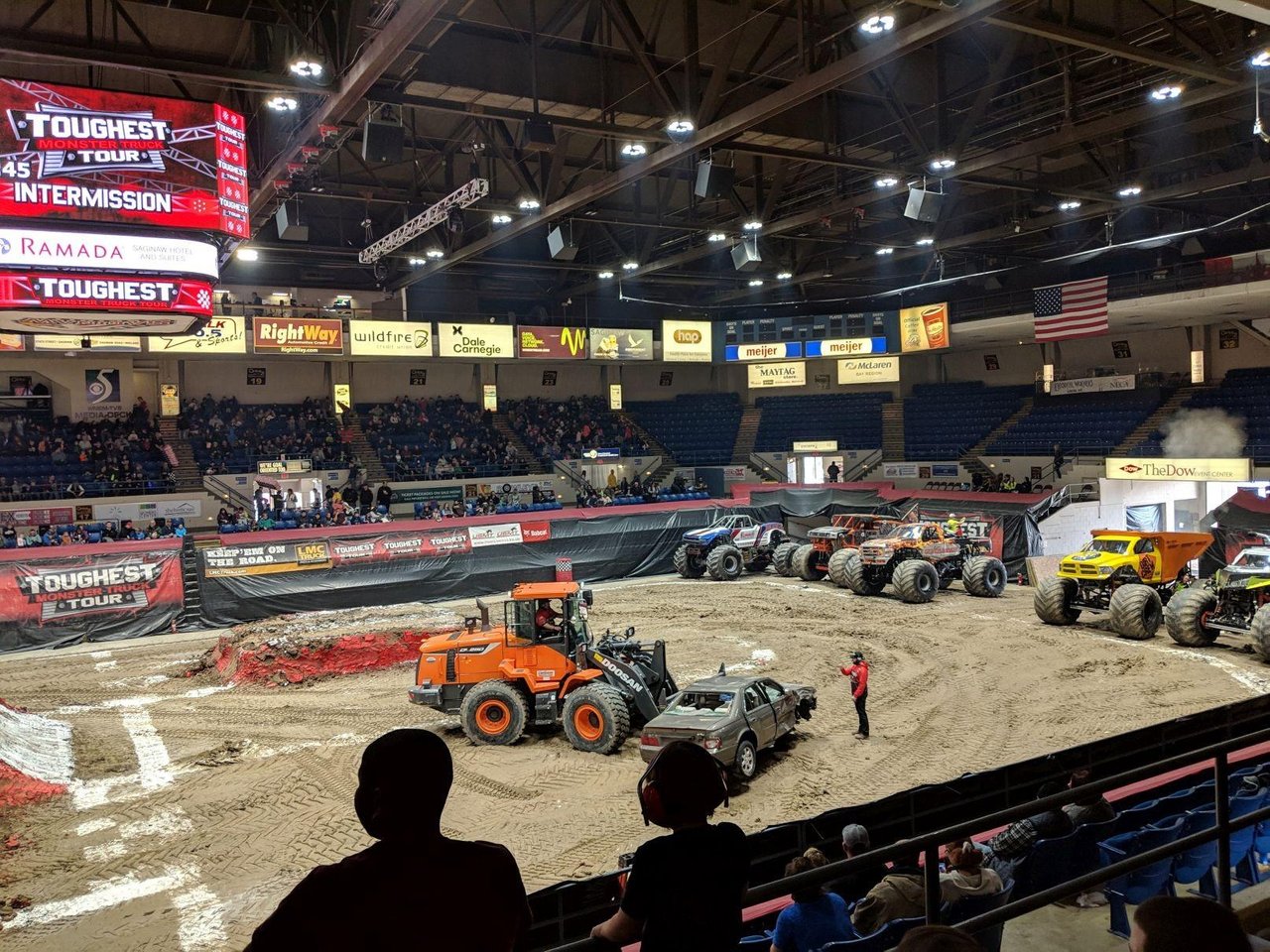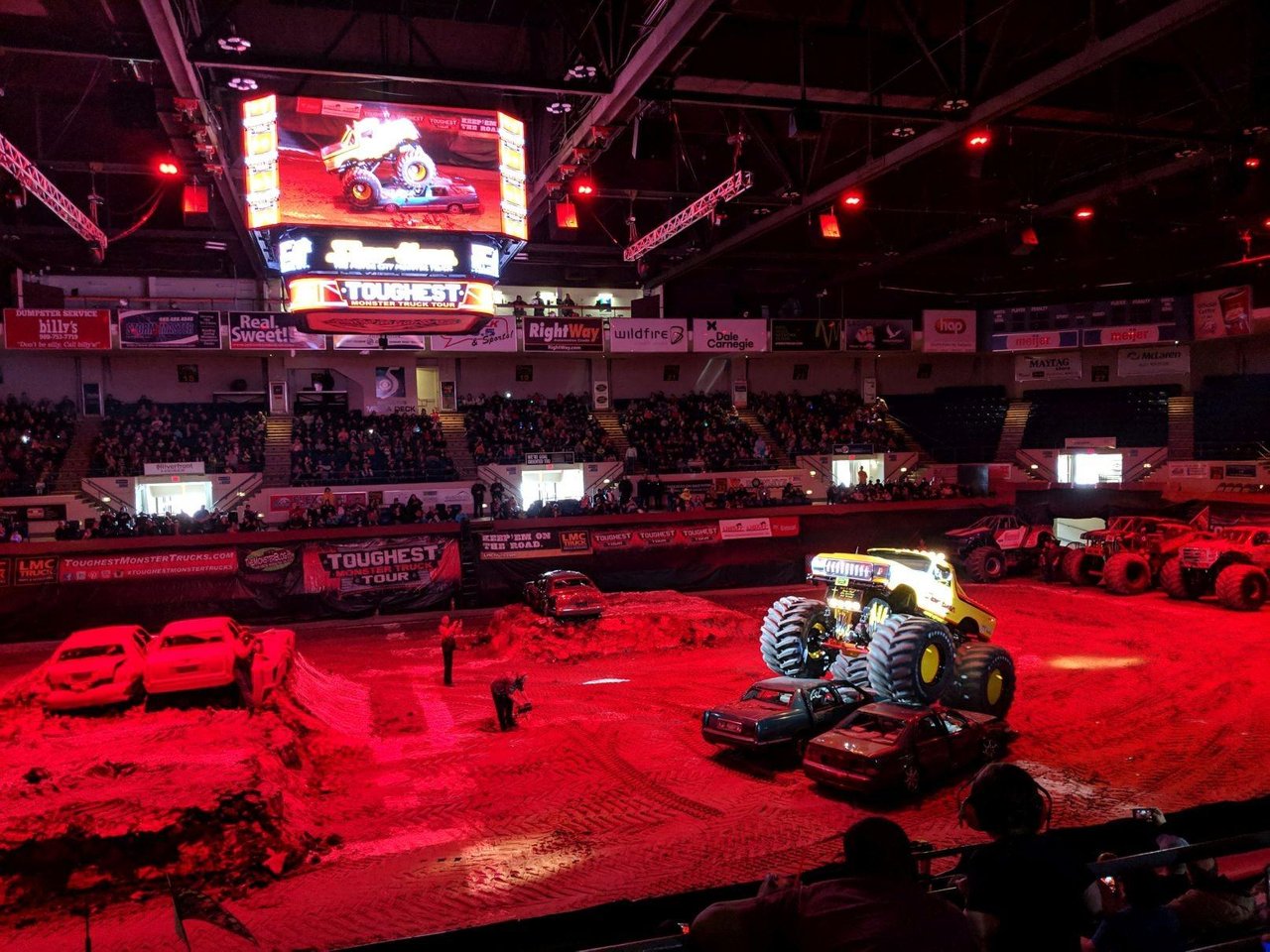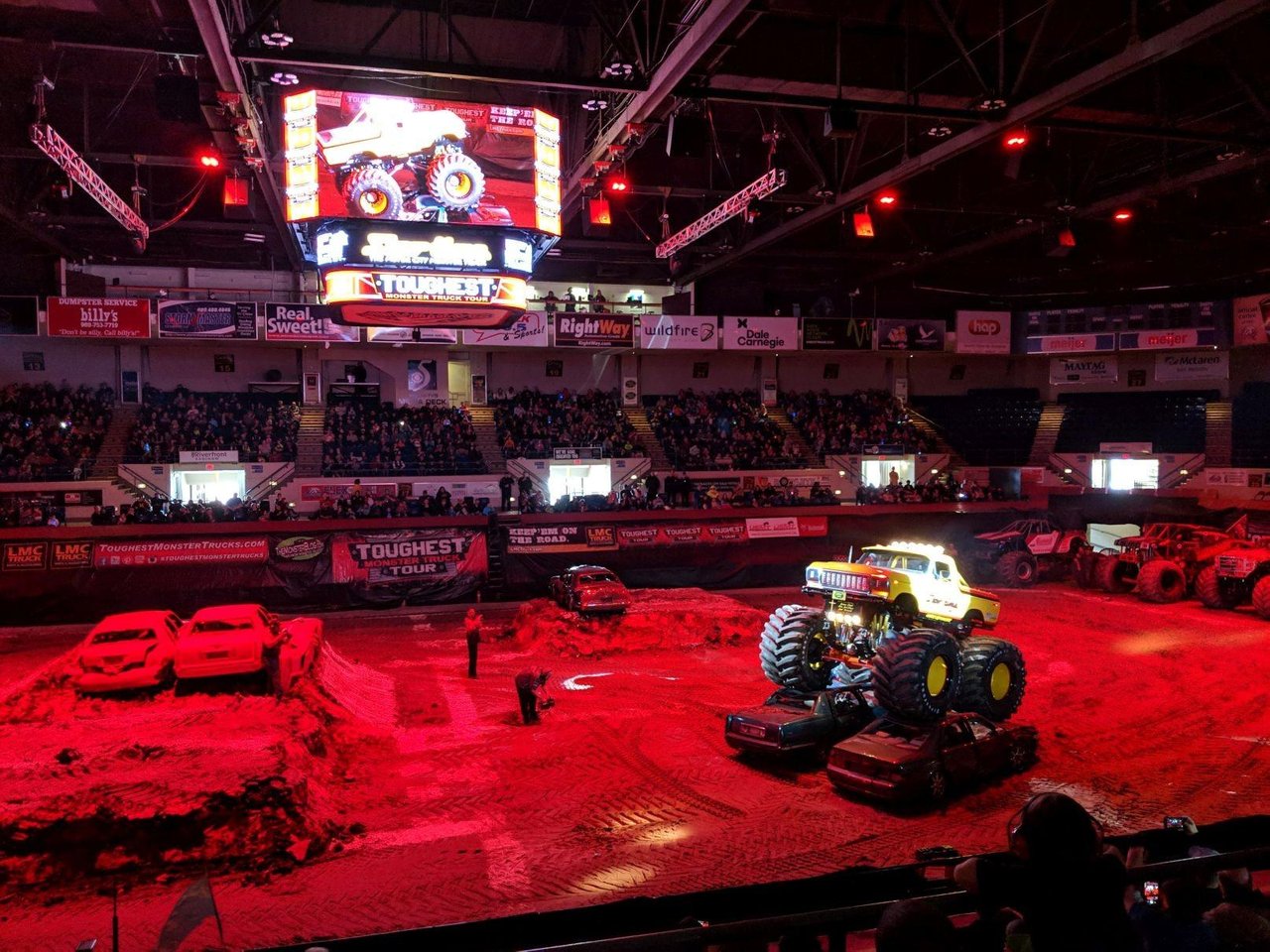 They had a "special guest" truck that someone had rebuilt to immitate one of the classic monster trucks of the 80's called "Showtime". They had restored it down to the exact same decals.
Finally, it was time for the freestyle round where the trucks get 90 seconds to do their best crushing and tricks.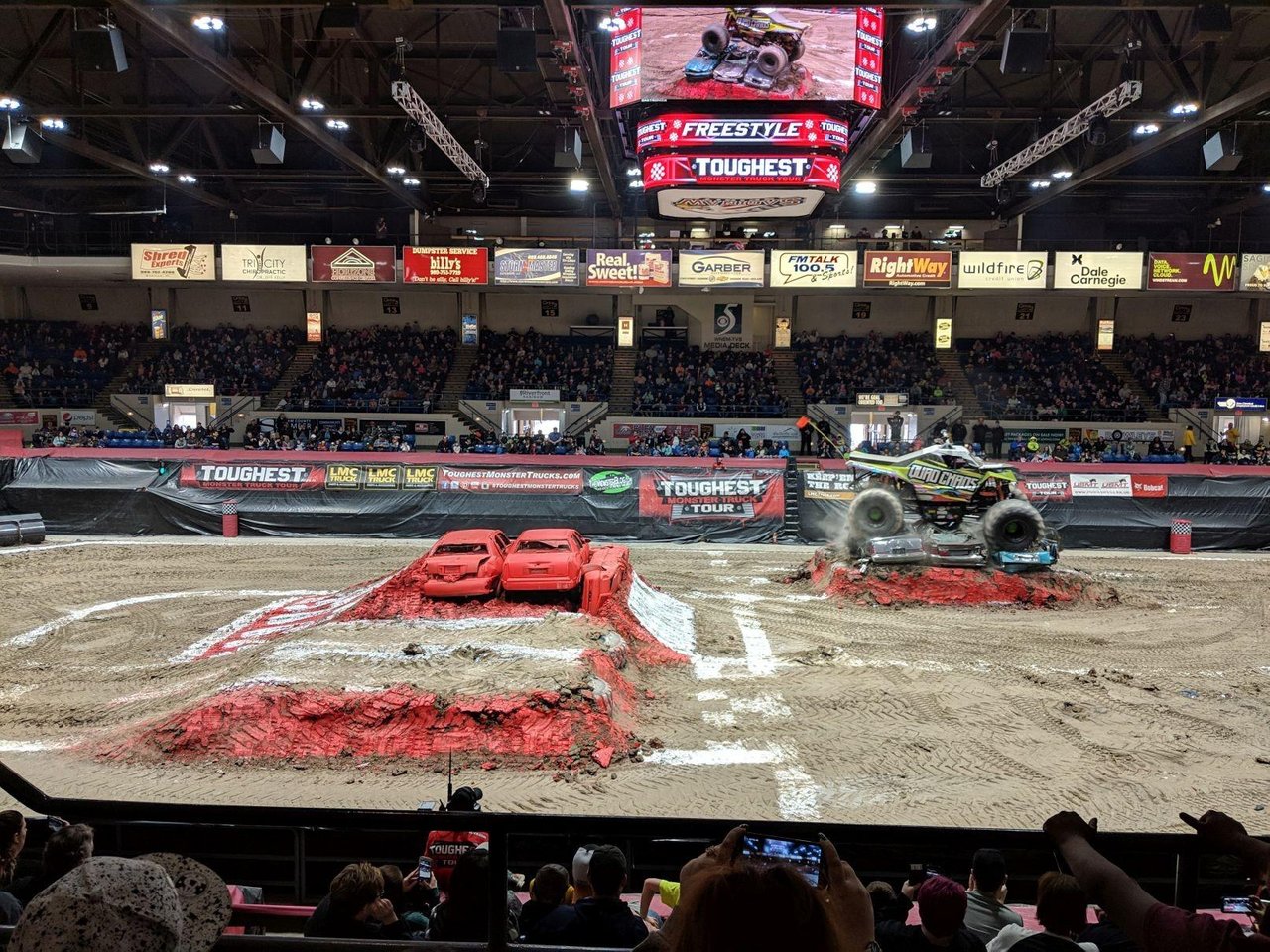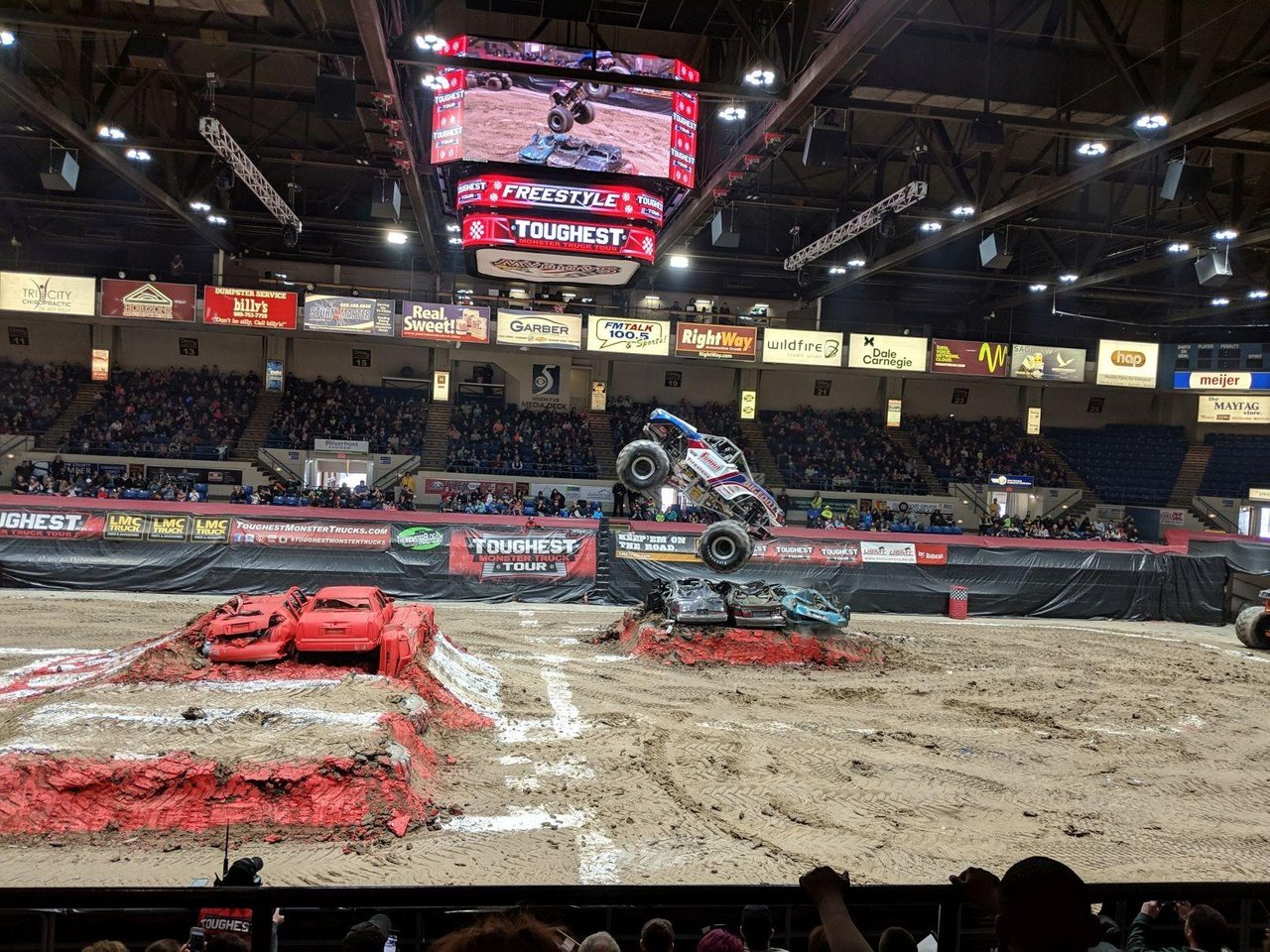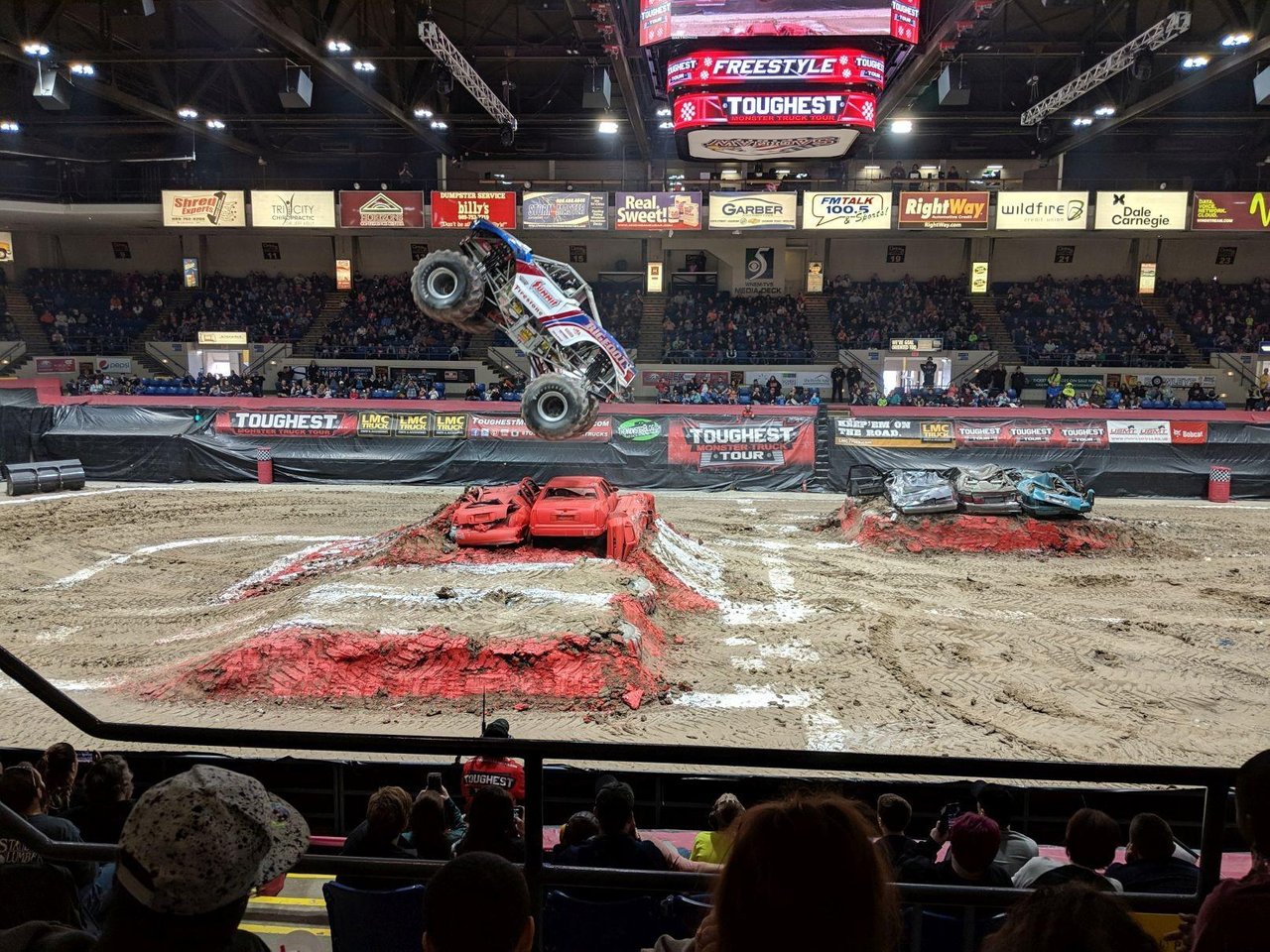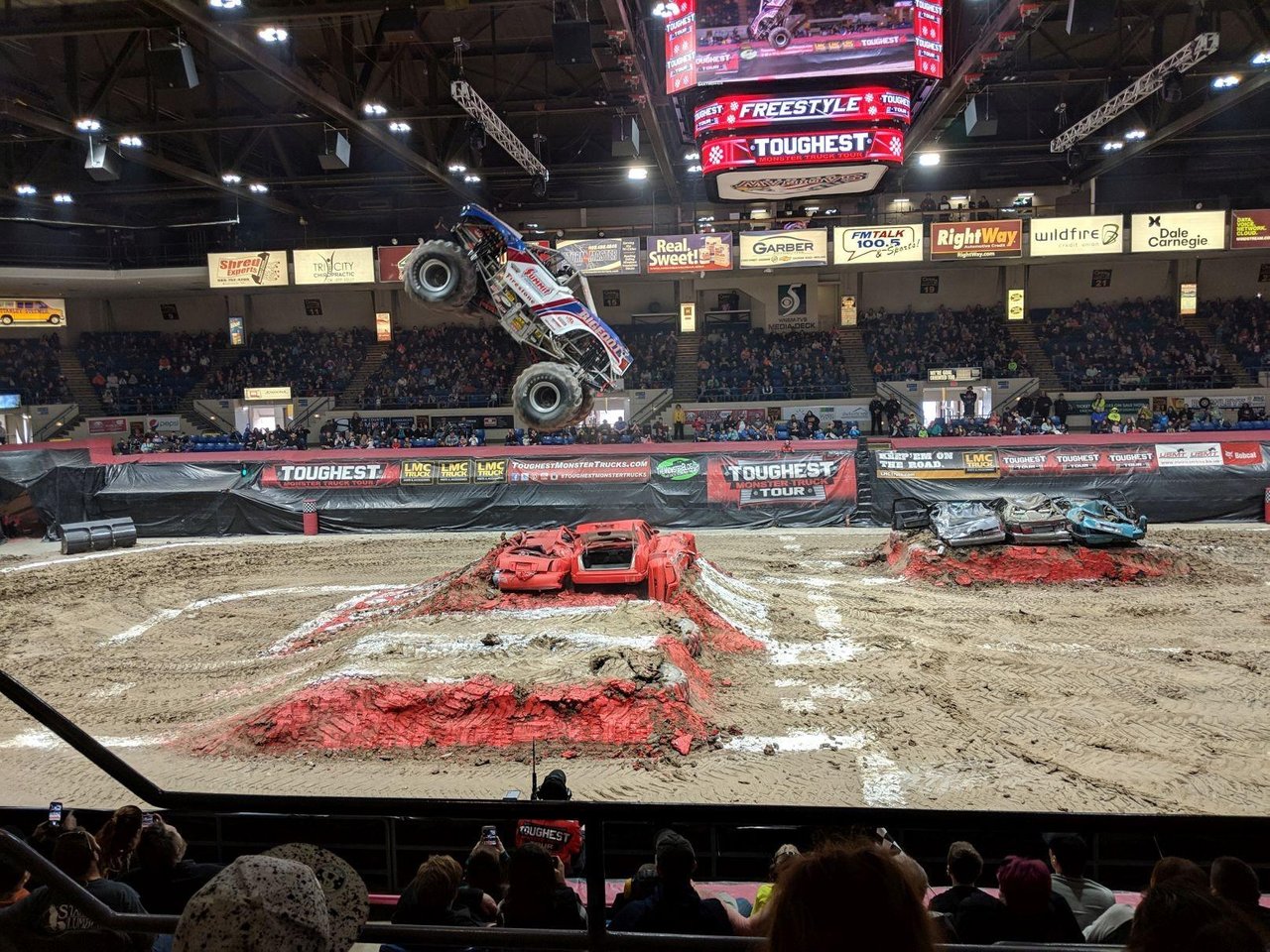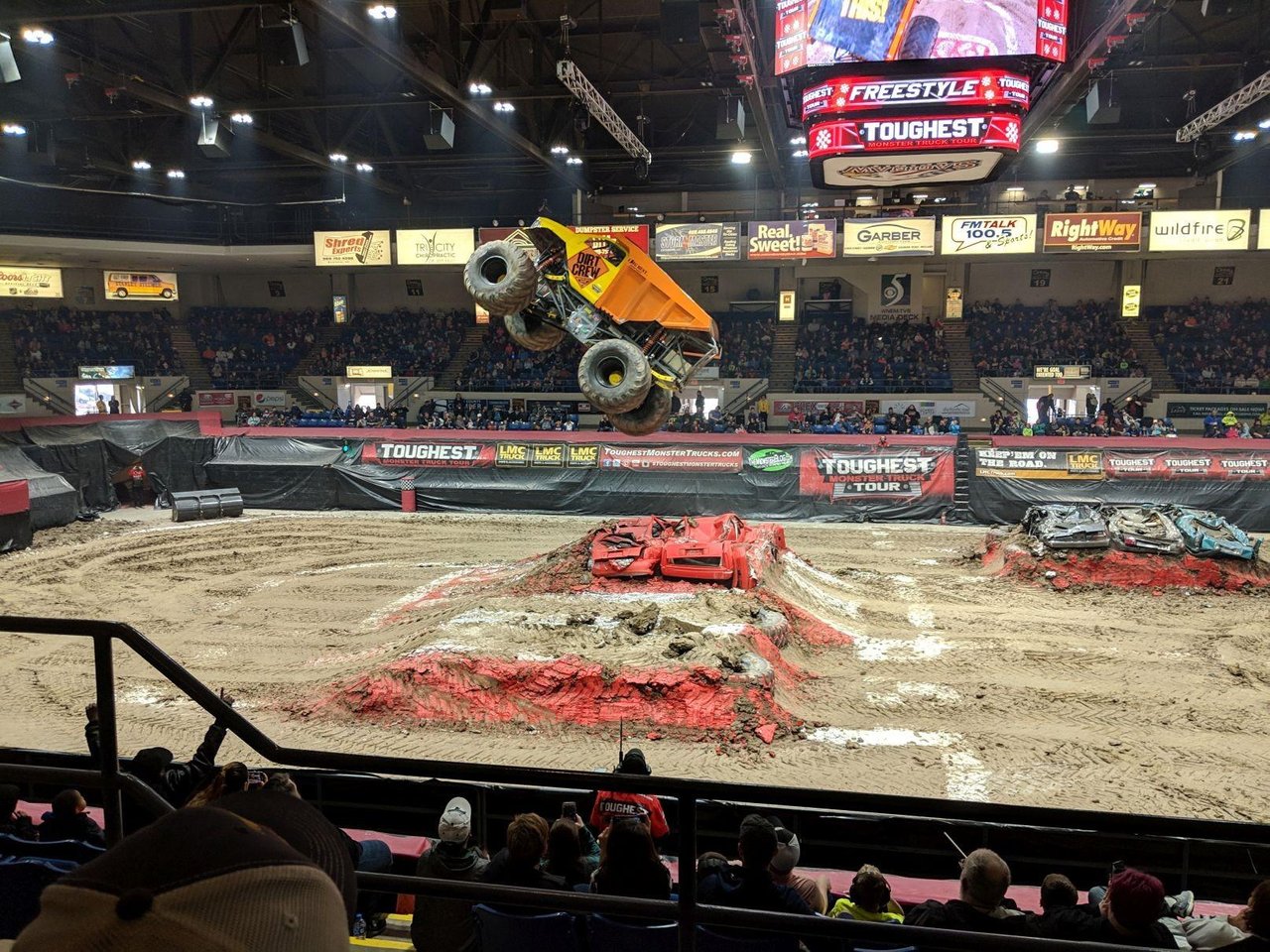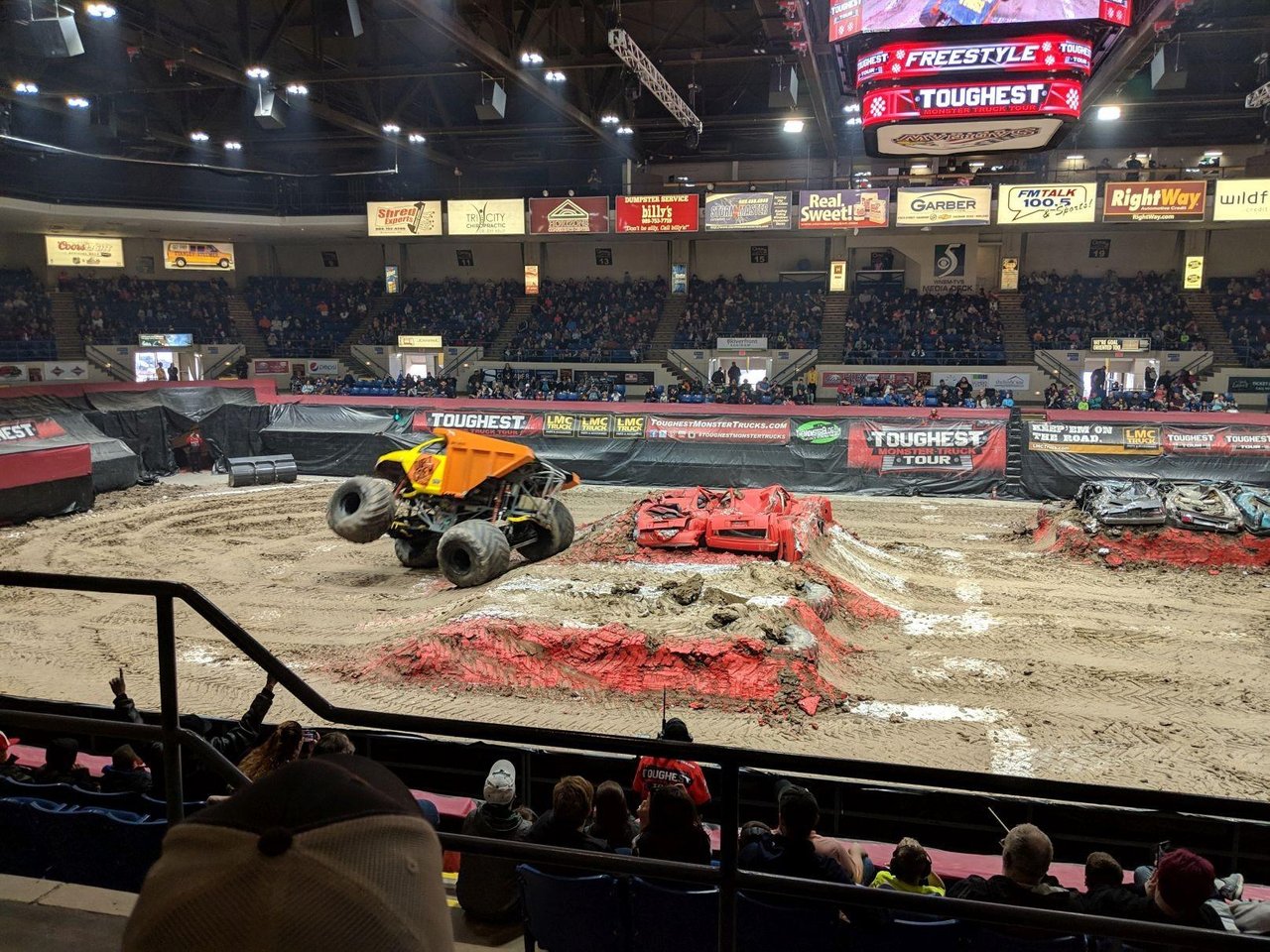 I took many more pictures from this event, but I didn't want to totally overwhelm you. Two of the trucks got damaged during the event and were not able to finish all three rounds.
It was a fantastic day spent with my nephews and my father in law. I was just about rolling on the floor laughing when Pops was excitedly telling Mimi(my mother in law) about all of the tricks the trucks and BMX riders did.
I resisted breaking down and buying the boys a snow cone, but I did end up buying them each a battery powered monster truck from the souvenier stand on the way out.
So much for gifting them experiences not things!