Bought 20 Plankton Tokens and Became a VIP (Very Important Plankton) in Their Discord and Got STEEM rains and Joined a Lottery!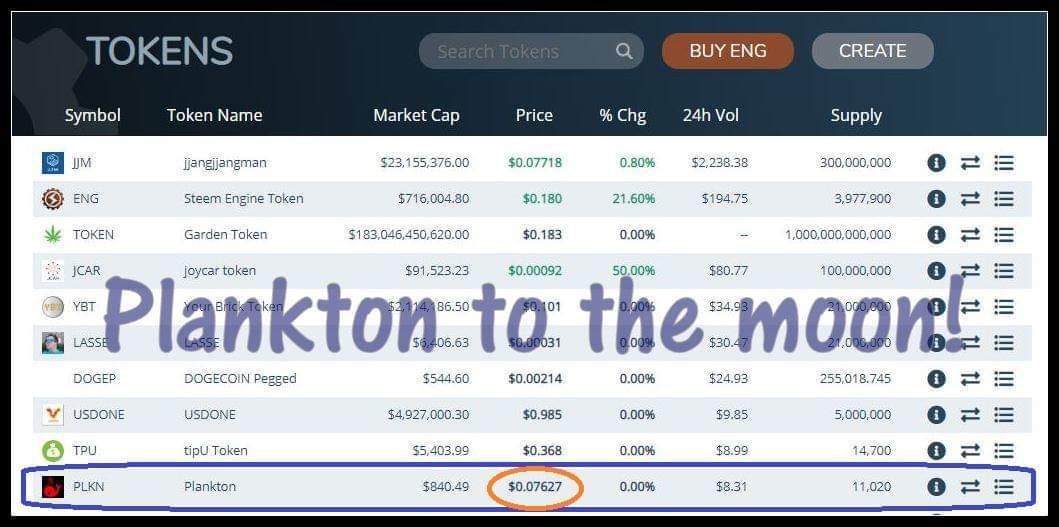 Last night, I explored the Steem Engine Dex for the first time and I was surprised to see I have tokens there from the gambling dapps I play here in Steemit and some tokens I got from airdrops by the owners. I thought this DEX was going to be too complicated but I was surprised it was too easy to navigate and with little instructions from the token owner Mermaidvampire, I was able to buy 20 PLKN tokens easily. I will share the steps with you below.
I logged in to my account with my posting key in Steem Engine. https://steem-engine.com then I deposited some Steems and converted them to Steemp, it has a 1:1 ratio. Then I went to the token list and clicked on the exchange icon for Plankton then I was directed to the PLKN trading page, https://steem-engine.com/?p=market&t=PLKN. There I set the price of 0.25 Steemp/PLKN then bought 20 PLKN. I got it in my wallet in an instant.
Then Mermaidvampire told me that they are testing their tipbot for future VIP Plankton Holders in Discord and she wants to invite me to testing. I was invited to their Discord server and there they were raining tips in Steem and some other currencies. I was able to catch some Steems and Goat. I am in their VIP room where all these rains happen because I hold 20 PLKN. Fortunately, I made the cut because I just bought 20 PLKN and I have some 6 PLKN more before that from Airdrops and Promotions.
I think they have a lot of things in store for their PLKN holders and I am excited for good times ahead for this project. It gives a different dimension to Steemit now that we have the Steem Engine Tokens. We have more things to explore. Before I closed Discord, I saw that they were testing a weekly lottery feature for all Planktons and I bought a ticket for 0.1 Steem (which I got from the rains) and I'll have to wait for 7 days to know if I won there. Wow!
I cannot wait to explore more tokens in Steem Engine. So far, Plankton is promising and I can see the hardwork invested by my Mermaidvampire and her friends there. Most of all, I decided to buy the Plankton Tokens because it will help many small fishes like me and they really have us small fishes in the heart of their project as seen in their objectives and plans.
What other tokens do you hold in Steem Engine, give me suggestions in the comments below. Thank you!
Posted using Partiko Android