Steemit Sandwich Contest Week #22: Gourmet Vegan BLAT (Bacon Lettuce Avocado and Tomato) Recipe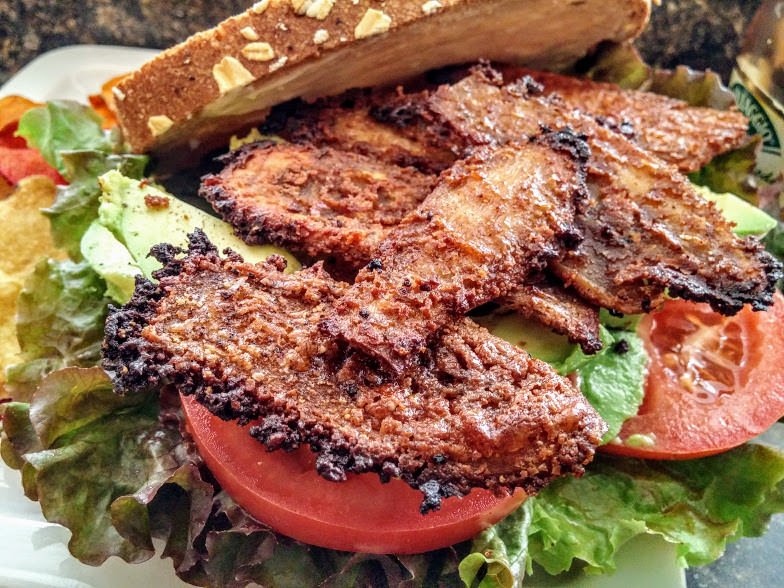 I have been giddy with anticipation since @Jaybird announced Vegan Theme Week for Week #22 of the Steemit Sandwich Contest. As a vegan, I had great plans for this contest. Like a general planning for his troops, I planned and plotted which sandwiches I would make. And then.....real life happened!
For the last week, I have been ill and, though my health is on the upswing, I spent very little time in the production kitchen for At Meme's Table. No matter, I mused, I can make up for lost time on Monday. Surely, I will be able to implement my sandwich plans and get the posts in on time. This would have worked if I wasn't as weak as a new born kitten. Without the stamina to work as I pleased, I find myself offering different sandwich submissions than originally planned. Even so, this is still one doggone good sandwich.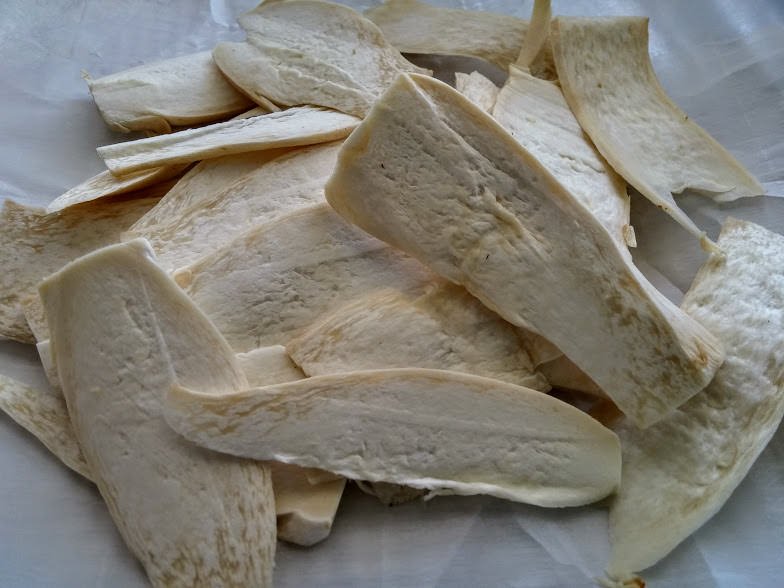 A great BLAT (Bacon, Lettuce, Avacodo and Tomato) starts with a great bacon. For my Vegan version, I used King Oyster Mushrooms for the bacon. These mushrooms are hearty, toothsome, have a great texture and will soak up whatever flavor you throw at them.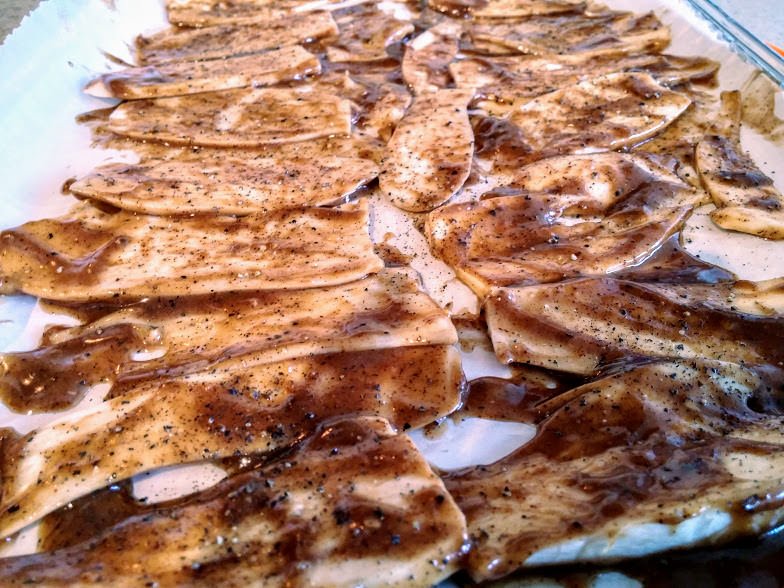 Here, I coated the thinly sliced mushrooms with a marinade of:
1 tbsp almond butter
1 tbsp mild olive oil (or organic, nonGMO canola oil)
1 tbsp maple syrup
1.5 tsp tamari
1 tsp liquid smoke
1 tsp Montreal Steak Seasoning
(All of the above was whizzed in the blender until well combined. Then it was poured over the sliced mushrooms which were on a parchment lined baking sheet. The mushrooms were sprinkled lightly with freshly cracked black pepper and allowed to rest for about 30 minutes. Then they were placed into a 400 degree preheated oven for about 15 minutes. In hindsight, I would reduce the oven temp to 350 and cook for longer as needed.)
This was a super simple recipe for mushroom bacon. Though I really enjoyed this recipe and the taste was delicious, I think I preferred my other recipe which I use when I'm not short on time or energy. This alternative recipe can be found on my blog at: https://www.atmemestable.com/bombdiggity-vegan-bacon/
While the bacon was cooking, I thinly sliced a ripe tomato and one-half of a ripe avocado. These I placed on bread spread with a vegan garlic mayo and topped with fresh leaf lettuce.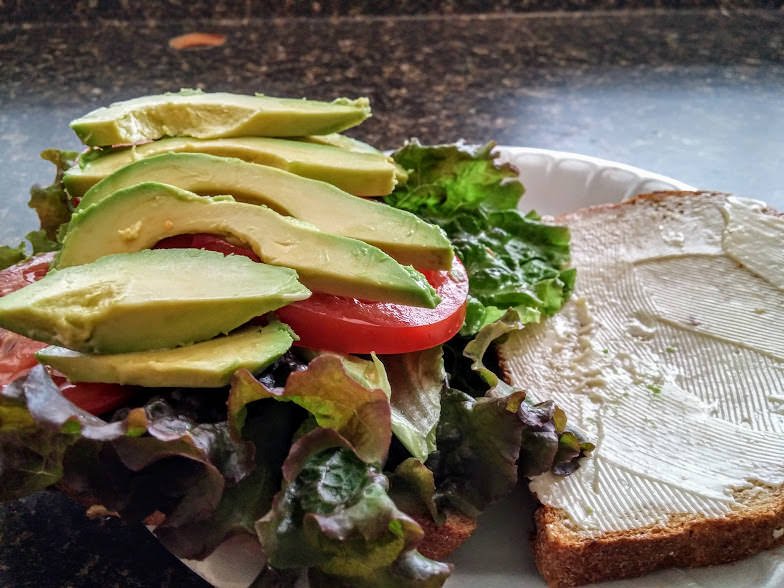 Then drizzle with a good balsamic vinegar.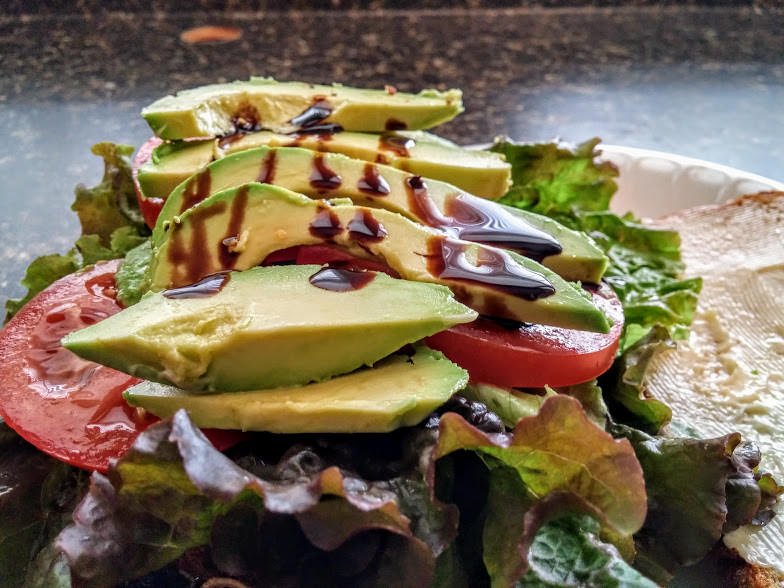 Once your bacon is out of the oven, pile it on!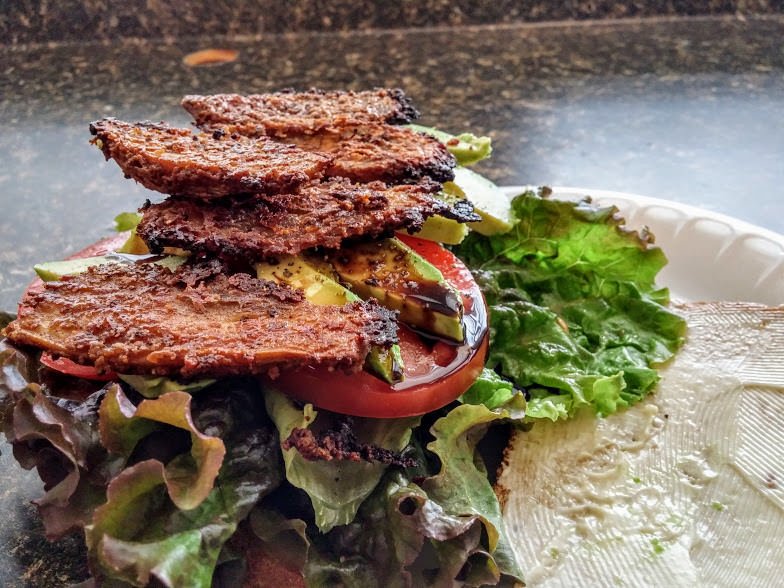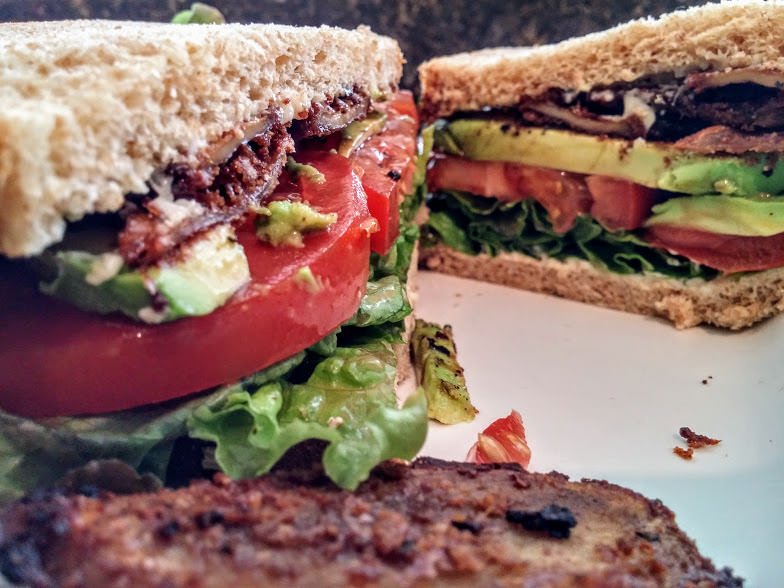 And, before I forget, here is my validating photo (I forgot to take this picture and had to hastily reassmble my sandwich for a quick photo! )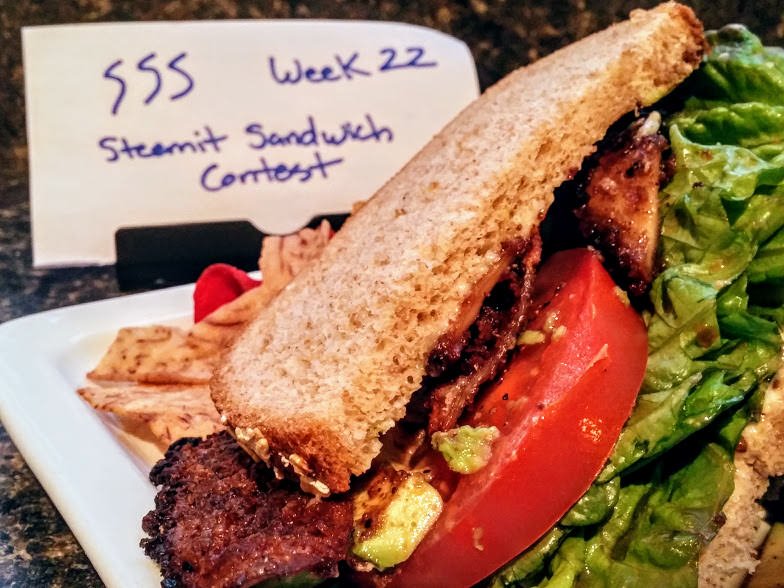 Enjoy!!!
Until tomorrow, all the best my fellow Steemians!


Hi, I'm Benita G. You may also know me as, or call me, @AtMemesTable.
Hope you loved this post. Now, make me a happy girl and upvote my post and follow me.
I would love to have the opportunity to talk to you and to get to know you and you me. Check me out later! 'Cause you'd best believe that I'm going to be checking you out! Find me @AtMemesTable.
See you tomorrow!