# **Fruits and Vegetables Monday: Wood Ear Mushrooms**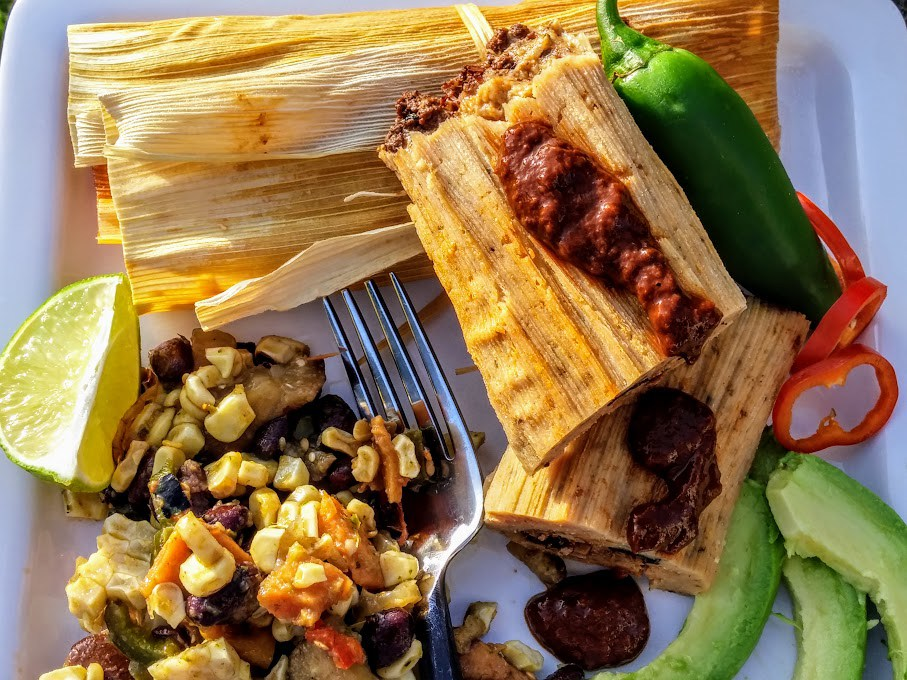 Christmas Tamales stuffed with Vegan Chorizo featuring Woodear Mushrooms
I know that this may sound a bit odd,but I love Monday's. Maybe because its a bit like a fresh start. A new day. A new week. A fresh, new chance at life!
One other reason that I love Monday's is because today is #FruitsandVeggiesMonday initiated by @lenasveganliving! And I'm all about sharing information about #fruitsandveggies with the world.
Now, you might not be able to guess it by looking at my lead photo, but the veggie that I'd like to share with you today is the Woods Ear Mushroom which is also known as the Judas' Ear or Tree Ear Mushroom. In fact, the above-photo is a delicious Christmas Tamale filled with Vegan Mushroom Chorizo..featuring...you guessed it...Woodear Mushrooms!

Big Pile of Woodear Mushhrooms
I first encountered the Woodear Mushroom during a meal at a local Chinese restaurant. At the time, I was studying with Rouxbe.com to become a Plant-based Culinary Professional and was tasked with exploring the cuisines of the world. I was looking for something a little different so I ordered a Black Fungus (another moniker for Woodear Mushroom) in Vinegar as an appetizer. The Black Fungus in Vinegar dish is but one example of cuisine from the Sichuan province of southwestern China. It actually had very few ingredients: wood ear mushrooms, sesame oil, soy sauce, cilantro, salt, vinegar and hot red peppers. My research indicates that the predominant flavor profiles for the Szechuan, or more properly, Sichuan, cuisine are complex. Its not just about tongue numbing chilies (fresh, dried and pickled). Spices such as cassia bark (cinnamon), black cardamom, Sichuan pepper (a berry of the prickly ash tree), Ginger, garlic, scallion and other aromatics , fermented chili bean paste, and wine are but just a few of the many ingredients layers of ingredients used to create the signature flavors of Sichuan cuisine.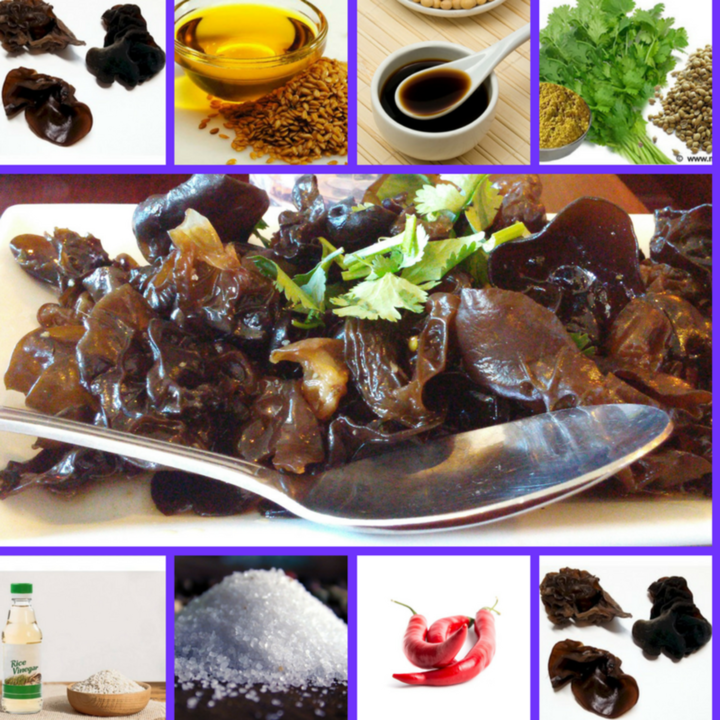 My appetizer looked a bit like an artfully arranged plate of tiny little ears, marinated in a spicy, vinegary pepper sauce. The texture was a bit like chewing on cartilage and they smelled....well, just a little "funky". These black mushrooms were a vast departure for the run of the mill button mushroom. They were chewy in texture and the vinegar sauce had a pungent, peppery bite. I quite enjoyed this dish.
While I've got to admit that this dish was an acquired taste, I was immediately intrigued.
(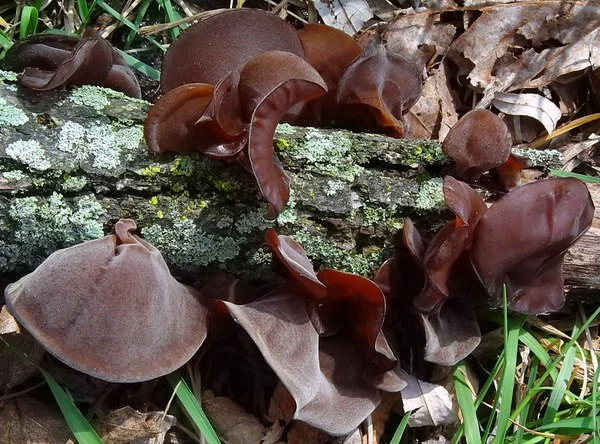 )
Photo Credit: backwaterbotanics.files.wordpress.com
What the Heck Is a Wood Ear Mushroom (Or Whatever Name You Choose To Call It)?
I simply had to find out more about this odd-looking vegetable! Now, I know that because they have no leaves, roots or seeds and don't need light to grow, it can be argued that mushrooms are not a true vegetable. Technically considered fungi, the scientific name for Wood Ear Mushroom is "Auricularia polytricha".But, the U.S. Department of Agriculture does classify mushrooms as vegetables because they provide many of the nutritional attributes of vegetables. So, in my kitchen and on my table, I'll just call it a vegetable.
This type of mushroom that resembles a large ear when it is fresh. When it's dried, it resembles a tiny wrinkled ear. Fresh, it can grow as large as half a foot. This is one big ear!!
The surface of the mushroom is purplish-gray in color. In fact, it can range from a dark purplish gray to almost black. It is certainly not your run- of-the-mill mushroom. It has been said that the Wood Ear Mushroom has very little flavor. Personally, I like to think that this provides a blank canvas for flavor-infusion. It is used mainly for its firm, gelatinous, almost rubbery texture and for the color.
Let's Talk Nutrition
Sometimes it's nice to cook with an ingredient just because it tastes good or because it adds a "little something..something" to a recipe. However, it's an added bonus if a chosen ingredient is a nutritional powerhouse. And, the Wood Ear Mushroom is certainly that!
What, exactly does the Wood Ear Mushroom bring to the table?
It's High Protein and Low-Calorie
A 1-cup serving of wood ear mushrooms has only 80 calories and a negligible amount of fat -- less than 1 gram -- per 1-cup serving. This odd little "vegetable" has 2.6 grams of protein per 1-cup serving.
It's Rich in Dietary Fiber
A 1-cup serving of wood ear mushrooms has 19.6 grams of dietary fiber. This is more than half the minimum recommended dietary intake for adults. I would certainly call this a powerful punch!!
The Wood Ear Mushroom is even more proof that you don't have to consume animal flesh to get your iron consumption.
A 1-cup serving of wood ear mushrooms has 1.7 milligrams of iron, which is between 9 and 21 percent of the daily recommendation.
Helps Protect Against Stress, Aging and Free Radicals
A 1 cup serving of Wood Ear Mushrooms contains .24 milligrams of vitamin B-2 (the recommended daily allowance is between 1.1 and 1.6 milligrams) and provides 15 to 22 percent of the RDA of vitamin B-1. The "B's" help support the immune system, helps the body deal with stress, promotes healthy hair, skin, eyes and liver function, protects from damaging free radical build-up, and helps in the fight against cancer, heart disease and premature aging.
That's All Well and Good But, Show me the Money....A Recipe for Vegan Chorizo Tamale with Four Pepper Chile Sauce:
One way that I've found to use Wood Ear Mushroom is with this recipe that I created for Vegan Chorizo Tamale with Four Pepper Chile Sauce. Though I'm relatively new to making my own tamales, I plan to make them a new Christmas Eve holiday tradition.
***I first shared this recipe on my blog, https://www.atmemestable.com/vegan-chorizo-tamale-four-pepper-chile-sauce-tailgating-101-part-3/
But, I am sharing the recipe, in full, here today. It take a bit of work and time, but IT IS WELL WORTH IT!!*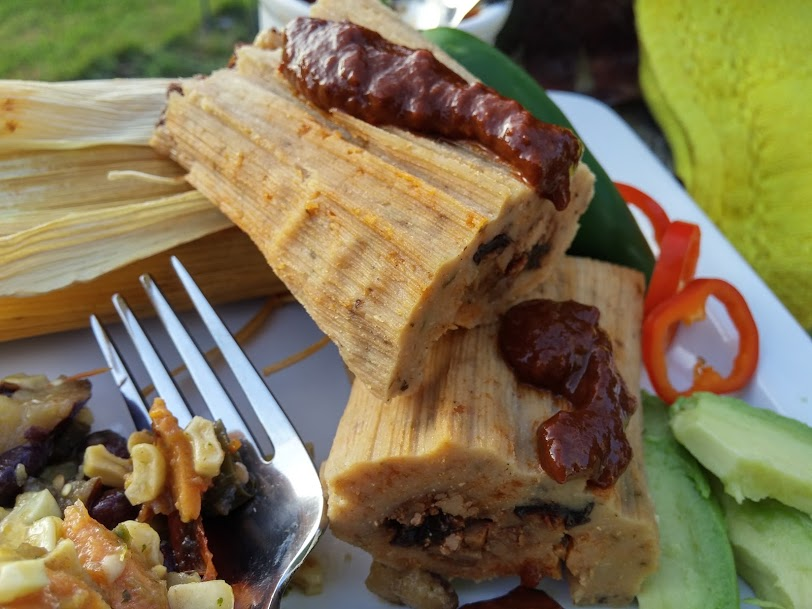 I just love putting a Vegan spin on country, Southern cooking. But, for today's tailgating meal, I'm heading a little further South than the Carolinas. We're going South of the Border, baby. And, I don't mean that little tourist attraction just across the border of South Carolina. I'm talking about bringing a little Mexican flavor to the table.
Smoking!
Hot!
Tamales!
And, once you and your guests get a bite of these Vegan Chorizo Tamales with Chile Sauce, you'll make them a staple at table.
I grew up in a small town in central North Carolina and I didn't even taste a tamale until a few years ago. So, making tamales wasn't actually something I learned at my Meme's table.
Because they are portable and delicious, tamales make the perfect party food. But I won't lie to you. Making tamales can be labor intensive. But, good news..you can make them in advance and freeze them. So you can grab and go on game day.
Just reheat and eat!
There are just four basic steps to making delicious tamales.
First, make your filling and set aside. For these tamales, I made a Vegan Chorizo which was inspired by recipes from Dora's Table and The Vegan Caveman.
I sometimes toss together grilled sweet potatoes, poblano peppers, corn, kale and vegan pepper jack cheese as another tamale filling option. Maybe I'll share that recipe with you later.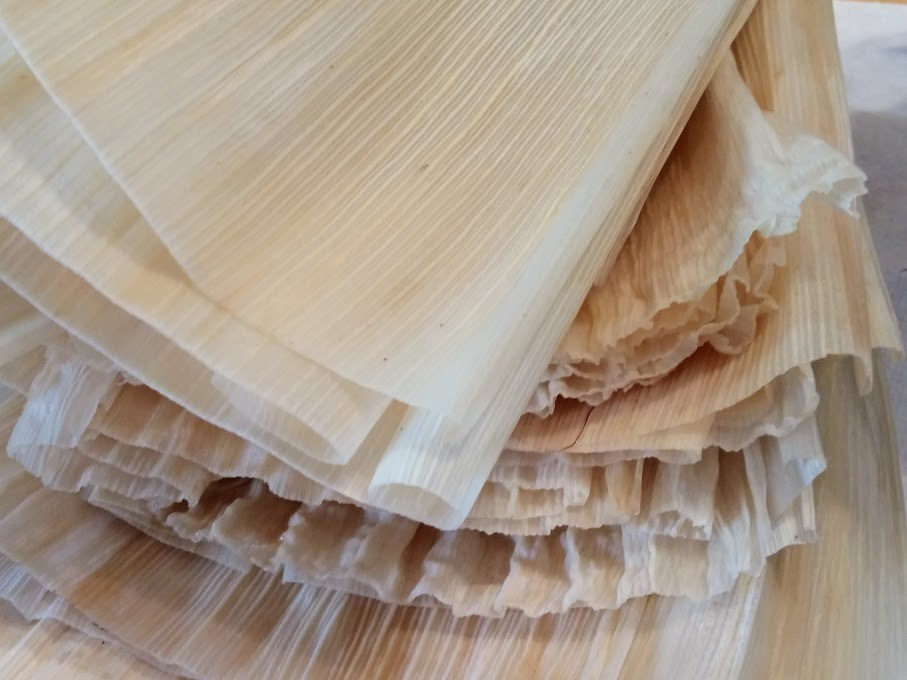 Corn Shucks for Tamales
Second, soak your corn shucks. A simple, but necessary step in making tamales.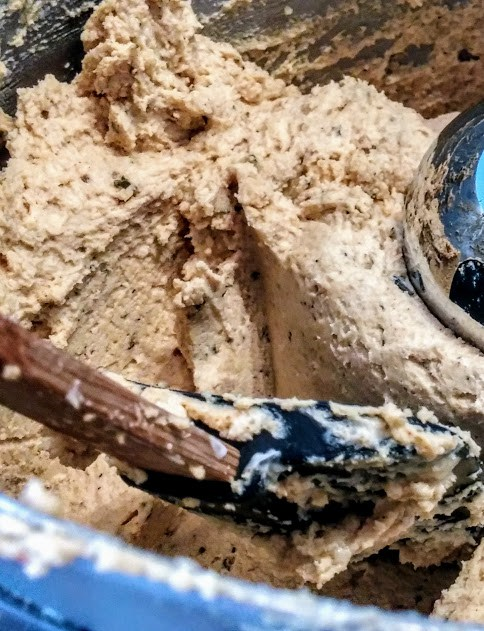 Third, make your masa and set aside. This is where you can really pump up the flavor of your tamales. I added some organic miso and assorted herbs for extra flavor.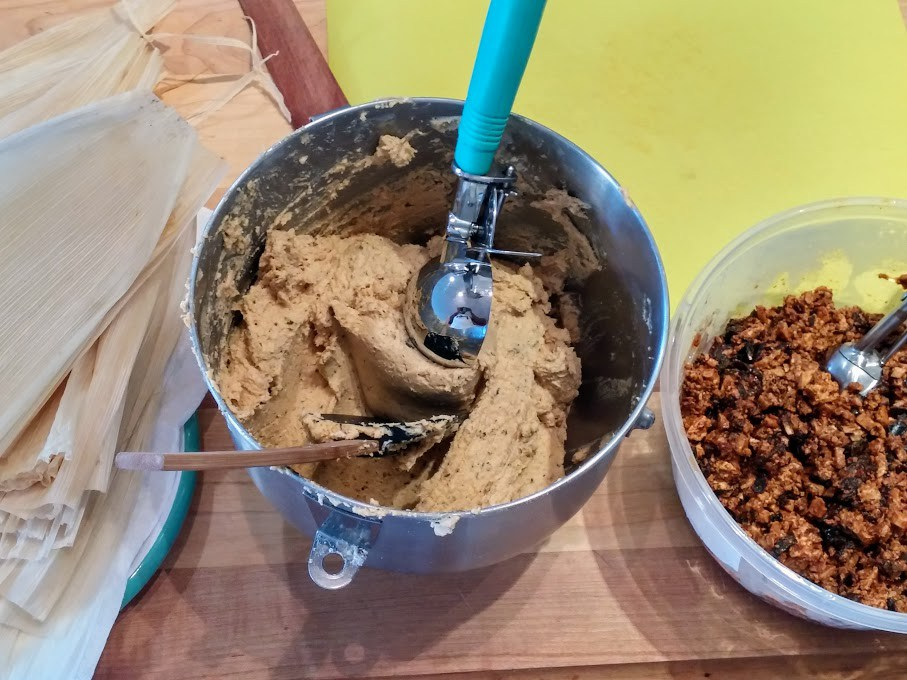 Tamale Assembly Line: Corn Shucks, Masa and Vegan Chorizo
Fourth, assemble all your ingredients and get ready to wrap and roll those tamales!
I found the above tamale wrap technique on YouTube. There are many ways to roll your tamales. Practice and do what works best for you. Personally, I use a combination of the plastic smash shown in the YouTube video and spreading the masa with my handy wood spatula.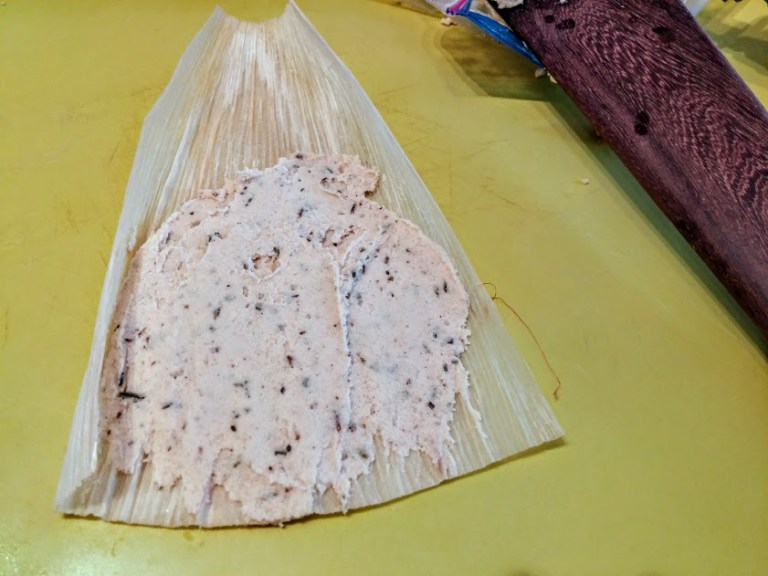 Smearing the Masa
Here, I smeared the masa on the prepared corn shuck.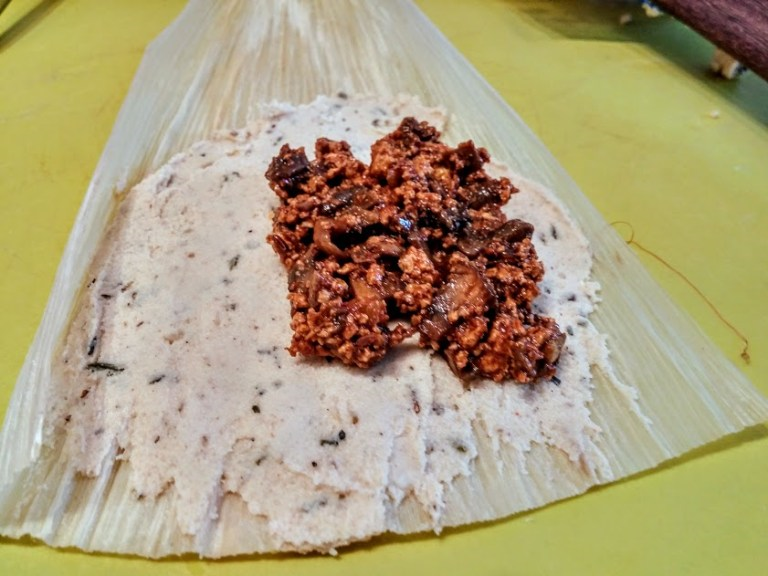 I added on a generous scoop of filling. Here, I used my prepared chorizo. But, believe me, the grilled vegetable filling was delicious too!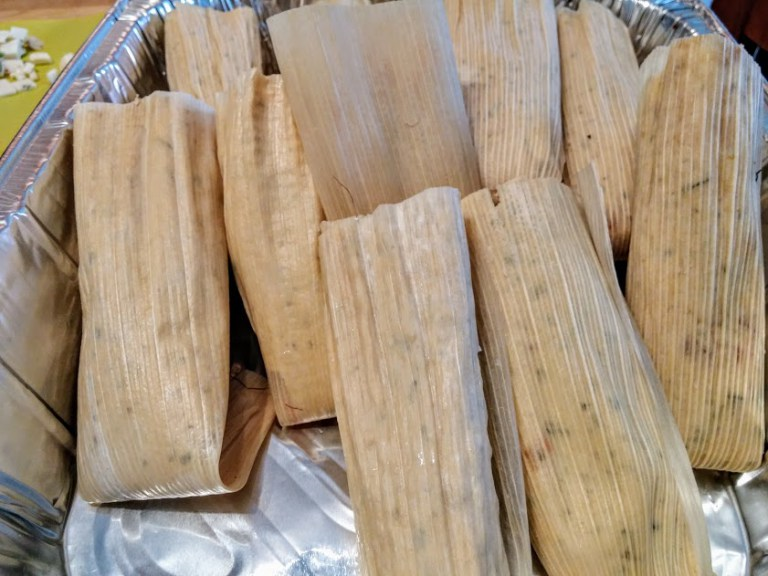 Wrapped and rolled tamales are just hanging out and waiting to be steamed.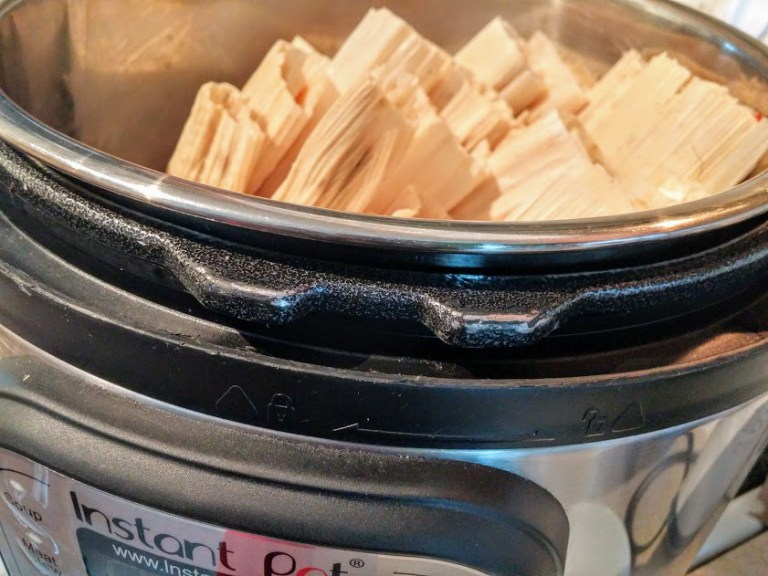 Using the Instant Pot for steaming tamales is super easy and a time saver.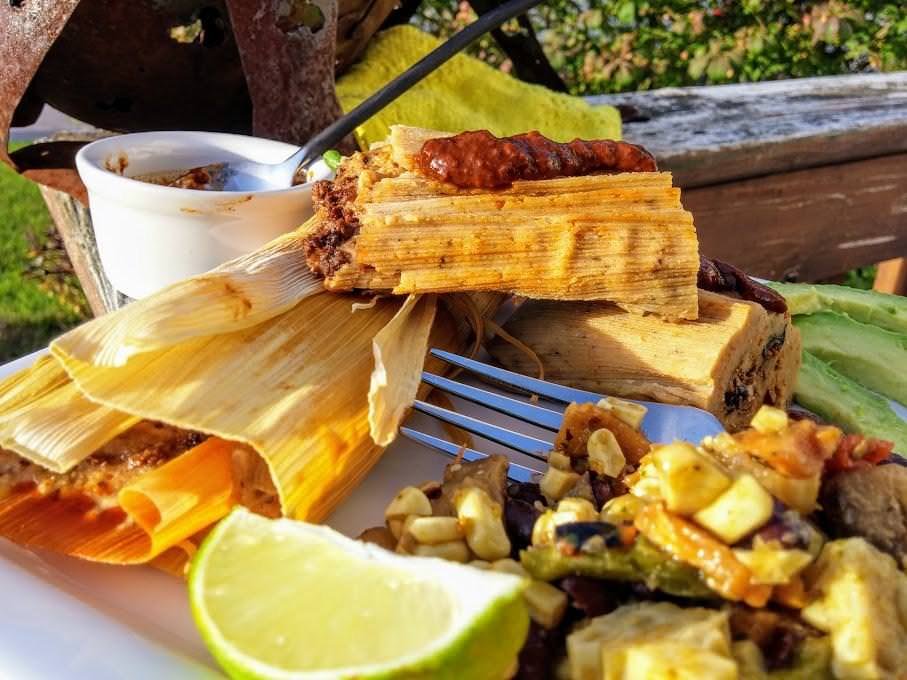 Now these Vegan Chorizo tamales are party ready!
And Now for the Recipes
Four Pepper Chile Sauce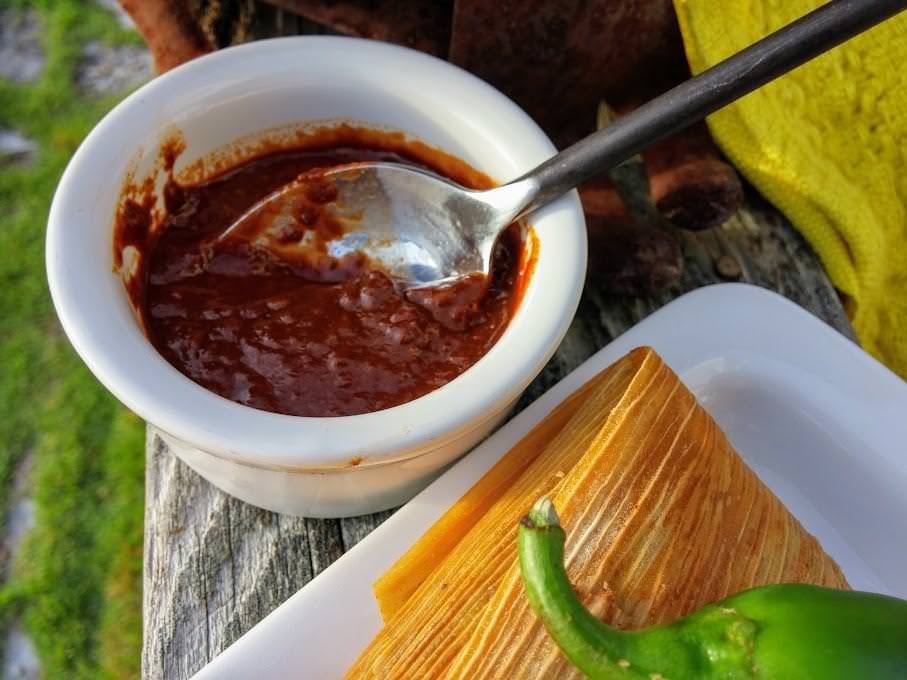 This spicy but deeply nuanced chile sauce is the "secret sauce" for making Homemade Vegan Chorizo. It also pairs perfectly with tamales or tacos. Or, use it instead of ketchup.
Author: BenitaG @MemesTable
Prep Time: 30
Cook Time: 15
Total Time: 45 minutes
Yield: About 3 1/2 cups
Cuisine: Mexican
Ingredients
6 Gualjilo Chile, dried and seeded
4 Ancho Chile, dried and seeded
4 Arbol Chile, dried and seeded
4 Pasilla Chile, dried and seeded
1/8 cup raisins
2 tsp. cumin seeds, whole
2 tsp. coriander seeds, whole
1/2 tsp. whole thyme
3 cloves, whole
1 1/2 TBL Smoked Paprika
4 cloves garlic, crushed
1/4 tsp. ground cinnamon
1/2 tsp. dried oregano
1 tsp. sea salt
1/2 tsp black pepper
2 TBL Olive Oil
1/4 cup Rice Wine Vinegar or Apple Cider Vinegar
Instructions
Bring a small pot of water to a boil. Carefully drop your stemmed and seeded chiles into the rapidly boiling water. Immediately, lower the heat to simmer and let the chiles steep for 15 minutes. Since the chiles sometimes have a tendency to float to the surface, I will occasionally use a long-handled spoon to make sure the chiles stay submerged in the hot water.
Add the raisins to the pot of chiles during the last five minutes of the steeping time.
Remove the chiles and raisins from the water and place in blender, along with 1/4 cup of the steeping liquid. Reserve the remaining chile soaking liquid. You will use about 1/4 cup more for making this sauce. Any reserved liquid can be frozen for use in soups and stocks. I usually freeze mine in ice cube trays for ease of use.
Process the chiles and raisins until smooth, adding about 1/4 more of the steeping liquid as needed. Set blender aside, for the time being, and prepare your spices.
Add cumin seed, coriander seed and whole thyme to small pan. Place over medium heat and cook for 8-10 minutes, stirring occasionally. They should smell fragrant, but not burned, when done. Watch carefully, because they can go from perfectly done to perfectly burnt in the blink of an eye.
Once the coriander, cumin seeds and thyme are done, crush with mortar and pestle. Or, if you can do as I do and grind the in your coffee grinder turned spice grinder.
Divide the toasted ground spices in half. Set one-half aside for later use (in this case, for use in the Chorizo recipe).
Grind the cloves in your spice grinder or your mortar and pestle.
Mix the remaining toasted ground spices with the cloves, oregano, smoked paprika, cinnamon, salt and pepper.
Add the mixed spices, garlic, oil and vinegar to the chile mixture in the blender. Process until the mixture is completely smooth. If needed for processing, may need to drizzle in a bit more of the reserved steeping liquid.
Taste for seasoning and adjust as necessary.
Notes
Toasting the coriander, cumin and thyme give this spicy sauce a wonderful complexity that is missing with untoasted spices. It only takes a few minutes to toast spices so try not to skip this step. The world won't stop if you skip it, but I think you'll like what toasted spices brings to the table.
Vegan Chorizo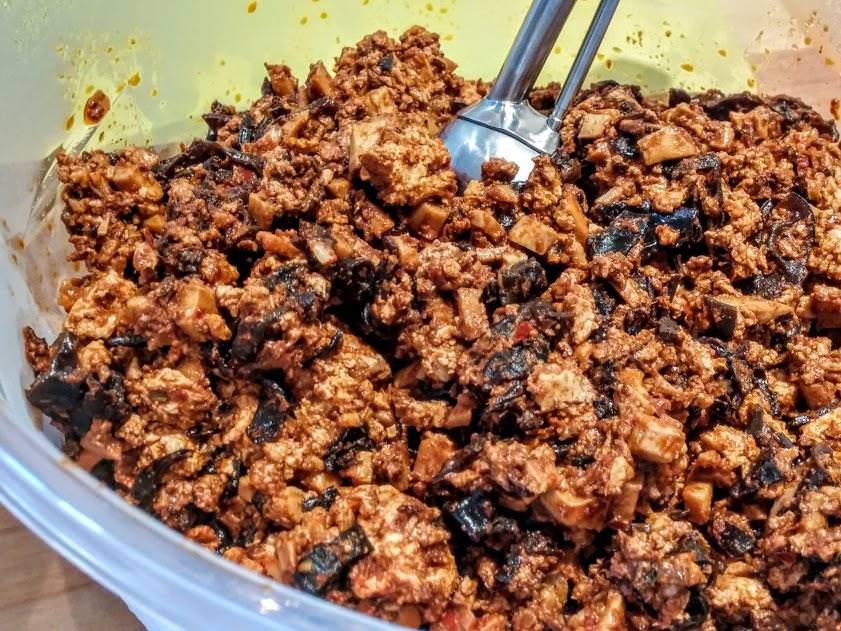 Recipe by: BenitaG @AtMemesTable
This Vegan Chorizo has a flavor that's deep, warm peppery and will make your taste buds sing with satisfaction. It's texture and flavor make it perfect for tamales, arepas or as a base for a spicy pasta sauce.
Prep Time: 30
Cook Time: 25
Total Time: 55 minutes
Yield: 8 cups
Ingredients
1 block extra-firm, organic tofu
1 medium onion, finely diced
1/2 pound Wood Ear Mushrooms, cleaned and finely diced (See note below)
1/2 pound King Oyster or Portobello Mushrooms, cleaned and finely diced
2 TBS olive oil , may be omitted if you choose to dry saute your onions and mushrooms
2 cups Four Chile Hot Sauce
Salt and Pepper, as desired
Instructions
Drain and press your tofu for about 30 minutes. Or, sometimes, when I've been extra industrious and have planned ahead, I use tofu that I have previously frozen and thawed. I use the method describe here. According to The Spruce, " Freezing tofu removes excess moisture, making the tofu more able to soak up marinades or sauces in a stir-fry dish." Using previously frozen tofu also gives it a nice, chewy texture that I like for some dishes…like Chorizo.
Crumble tofu and set aside.
Heat a large frying pan (I use my trusted cast iron pan) to high heat and add 1 tbsp. of oil, if using. Once the oil is hot add the finely chopped mushrooms and continue to cook until the mushrooms begin to brown, about 8-10 min. Do not overcrowd your pan. If necessary, do this in batches to facilitate browning. Remove mushrooms from pan and place in a large metal bowl. Set aside.
Add onions to pan and fry for 7-10 minutes. No need to clean the pan after removing the mushrooms. Put onions into bowl with mushrooms.
Using the frying pan you used for the mushrooms and onions, add about 1 tbsp. of oil. Add the crumbled tofu. Cook, stirring constantly, until the tofu is crispy. This can take about 10 minutes. Do not overcrowd your pan for best results….and crispy tofu.
Once the tofu is crispy, add the mushrooms and onions back into the frying pan.
Add the 2 cups of Four Chile Hot Sauce and stir to combine. Cook on medium low for 5 minutes to marry the flavors.
Taste for seasoning and adjust as necessary.
Remove from heat and enjoy!
Notes
You can find Wood Ear mushrooms in most produce sections of Asian markets. I really like using them for this dish because of their umami, unique texture and visual interest. Don't be put off by the funky smell of these mushrooms. They're supposed to smell this way. They are so delicious and so unlike any other mushroom. I predict that they will soon go on your list of favorite mushrooms.
Not sure how to dry saute? Well, no worries. Check out this article at www.theKitchn.com. great article on how to dry saute mushrooms. And, be sure to also check out this article where Chef Chad Sarno, Vice President, Plant-Based Education at the Rouxbe Online Culinary School, explains how to dry saute onions.
If you're interested in delving deeper into plant-based cooking, check out Rouxbe Online Culinary School Plant-Based Professional Certification Program.(https://rouxbe.com/plant-based-certification-course/) I am a proud graduate of the Rouxbe Online Culinary School Plant-Based Professional Certification Program.)
Note: This recipe makes about 8 cups of Chorizo. I usually divide the recipe and freeze half for later use. (It's great as a base for a Spicy Pasta Sauce.)
Vegan Chorizo Tamale with Four Pepper Chile Sauce: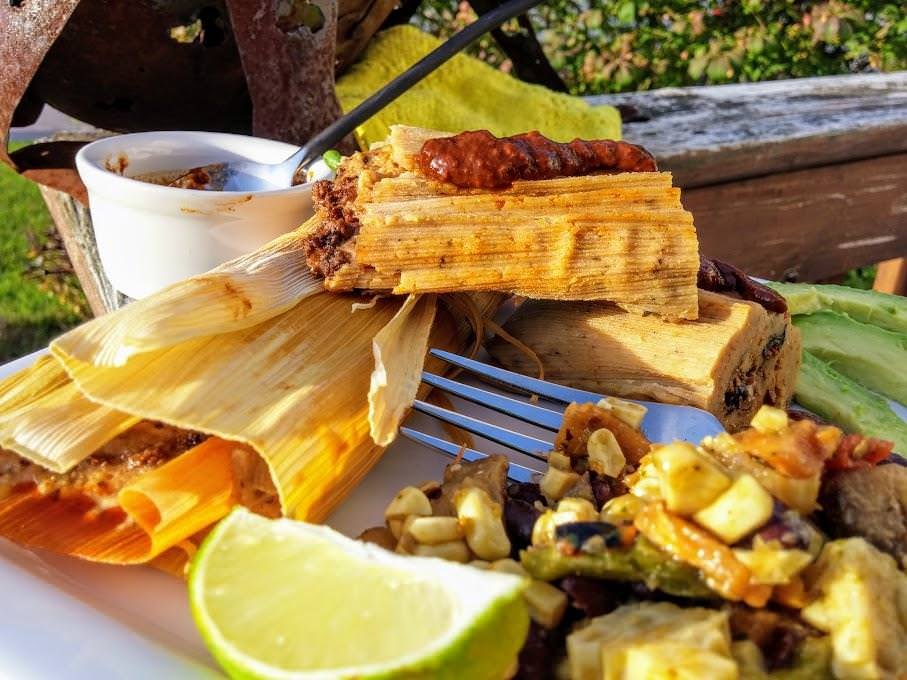 Vegan Chorizo Tamales with Four Pepper Chile Sauce require a few steps and take a little time to make. They are a labor of love but they are SO WORTH IT! Spicy, juicy and rich with flavor. You'll wonder why you didn't try these sooner.
A word to the wise: Making tamales is not hard, but it is a very time consuming process. It can take the greater part of a day to prepare a large batch of tamales. To save time you can prepare the dough and fillings on one day and wrap and steam them on the next. Or, you could throw a Tamale Party with your friends and family and share the love.
Recipe Developed by: BenitaG @AtMemesTable
Ingredients
2 – 3 dozen dried corn husks (No, you don't have to pick them from the cornfield. Just pick a pack up at your nearest Latino market…or for that matter, your local Kroger or Walmart)
3 cups prepared Vegan Chorizo (Yes, I expect you to make your own. This is too important for you to whimp out! See my note below.)
1 cup organic shortening (I usually use which I get from my local Whole Foods store. However, if you can't find it locally, you can certainly order it on Amazon. And, yes, I know that Amazon and Whole Foods are one and the same company. Just work with me here!)
1 Tb Organic Miso (I'm partial to Miso Masters myself. But, use what you've got on hand)
1 Tb Salt (No, this is not a typo. But, if it suits you, use less salt…I'm not here to judge you. So don't you go judging me. Deal?)
2 tsp baking powder
3 1/2 c. masa harina
2 1/4 to 3 cups warm vegetable stock or water (Or, if you're feeling extra spicy and adventurous, you can use the leftover soaking liquid from steeping your chile peppers for the Four Pepper Chile Sauce.)
2 TB Oregano
1 TB Thyme
1 tsp Smoked Paprika
1 tsp Garlic Powder
1 tsp Cumin, ground
1 tsp black pepper
1 cup Chile Sauce for dipping your tamales
Instructions
Place the corn husks in a large pot or large metal bowl. Carefully pour hot water over them. Place a plate over them. This will help weigh them down so that they will stay covered by the water. Let the corn husks hang out in the water for 45 minutes to an hour.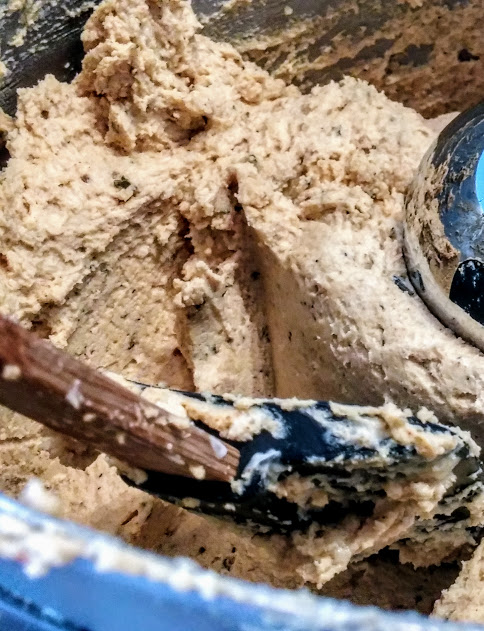 Taste masa mixture for seasoning and adjust as necessary. (See note below for tip on making a lighter tamale)
Remove the corn husks from the water, rinse and pat dry with paper towels. Reserve the largest husks to wrap the tamales and the small ones to line the steamer.
Set up your "mise en place" (that's French y'all for "get your stuff organized"): Your cornhusks in one bowl. Your masa mix in a second bowl. And, your Vegan Chorizo filling in a third bowl.
Using the technique shown in the video above (or any other method you find most comfortable and efficient, fill and wrap your tamales). Three different methods for wrapping tamales are shown here.
For each tamale: You should plan on using about 3 TBL of Masa and 1 1/2 TBL of filing per corn husk.
As you fill and wrap each tamale, set aside until all tamales are "wrapped and ready"!
If using an Instant Pot to steam your tamales:
Pour 1 cup of water into Instant Pot, and insert the steamer rack. If desired, line the steamer rack with extra corn shucks. Arrange the tamales, open-side-up, vertically in the Instant Pot. Lean them against the sides of the pot and prop them up against each other to maximize your capacity. But, you'll want to leave a small amount of empty space to ensure that the pot will reach proper pressure. Close the lid and set the vent to sealing position. Press "Manual" and adjust the time to 25 minutes. Let the tamales come to pressure and cook. When the timer alarms to indicate cooking is complete, press "Cancel" and wait for the pressure indicator to release naturally before carefully removing and serving.
If using a pot: Find a large lidded pot with a colander or metal strainer. It needs to be large enough to fit your tamales. Put the colander or metal strainer (steaming basket) in the pot.Fill the pot with water until just below the colander (or steaming basket). Be careful that the water doesn't touch the basket because you don't want your tamales to get in the water. This could make them soggy and tasteless..and no one wants that! If desired, line the steamer basket with spare corn husks. Stack the tamales inside your basket, standing up or leaning against the sides of the basket. The open end should be up. Don't lay the tamales on their sides.Turn the stove on high and bring the water to a boil. Then, lower the heat to medium-low and cover the pot with a large lid. Steam for about 1 1/2 – 2 hours. Carefully check the water level every 15 minutes and add water as necessary. Be careful not to let the water boil completely dry. Refill with water as needed.After 1 1/2 hours, carefully remove one of the tamales with your kitchen tongs. Let the tamale rest on a plate for 5 minutes. Then carefully unwrap the tamale. If the masa is mushy, carefully rewrap in the corn husk and return to pot. Continue cooking, checking every 15 minutes until tamales are firm and done and the masa doesn't stick to the corn husk when you unwrap it.
Serve cooled tamales with plenty of Four Pepper Chile Sauce for dipping!
Notes
Yes, you can buy vegan chorizo at most supermarkets. DO NOT DO THIS! It is so worth to make your own. I've found that the flavor and texture of homemade Vegan Chorizo has no match from store bought. It is so worth it to make your own. I've given you a recipe. JUST DO IT!
According to some sources, for lighter and fluffier tamales, you should let the dough rest for an hour in the refrigerator, then remove it from the fridge and beat it again, adding just enough liquid to regain it's original consistency.
Leftover tamales will keep well in the refrigerator for a few days or you can freeze them for up to 3 months in an airtight container.
You can even make your tamales in advance and freeze them prior to steaming. That way,when you steam your tamale it's freshly made.
***Okay, quit your gripping already! I know that this recipe is long, complicated and labor intensive. But, if you want to eat like the big girls, you've got to learn to cook like the big girls! So, put on your big girl panties and deal with it! These tamales are well worth the trouble. Make these and YOU. WILL. BE. THE. TAMALE. PARTY. QUEEN(OR KING)!
Enjoy!*
**

Hi, I'm Benita G. You may also know me as, or call me, @AtMemesTable.
Hope you loved this post. Now, make me a happy girl and upvote my post and follow me.
I would love to have the opportunity to talk to you and to get to know you and you me. Check me out later! 'Cause you'd best believe that I'm going to be checking you out! Find me @AtMemesTable.
See you tomorrow!