**Fruits and Vegetables Monday: Oyster Mushrooms**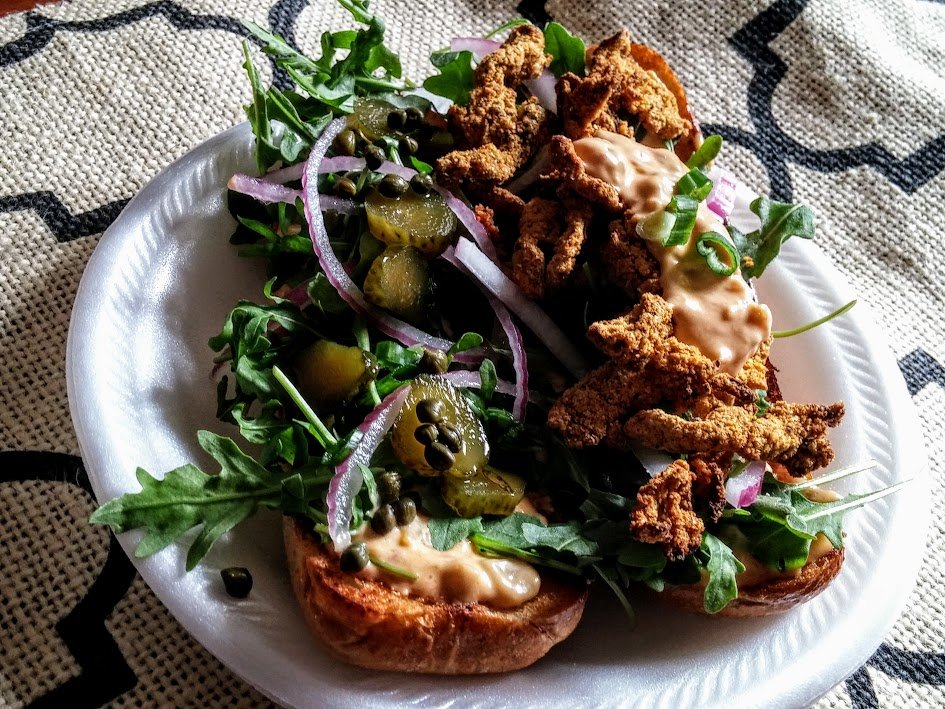 Carolina-Style Oyster Mushroom Po' Boy
It's Monday, Y'all! And if you've been around my blog for even a hot minute, you know that I get a kick out of Monday's because every Monday is #FruitsandVeggiesMonday initiated by @lenasveganliving! And I'm all about sharing information about #fruitsandveggies with the world.
As you've probably guessed by now, I also absolutely love mushrooms. Rarely does a day go by that I don't eat some type of mushroom. After all, there are so many different types and flavors from which to choose.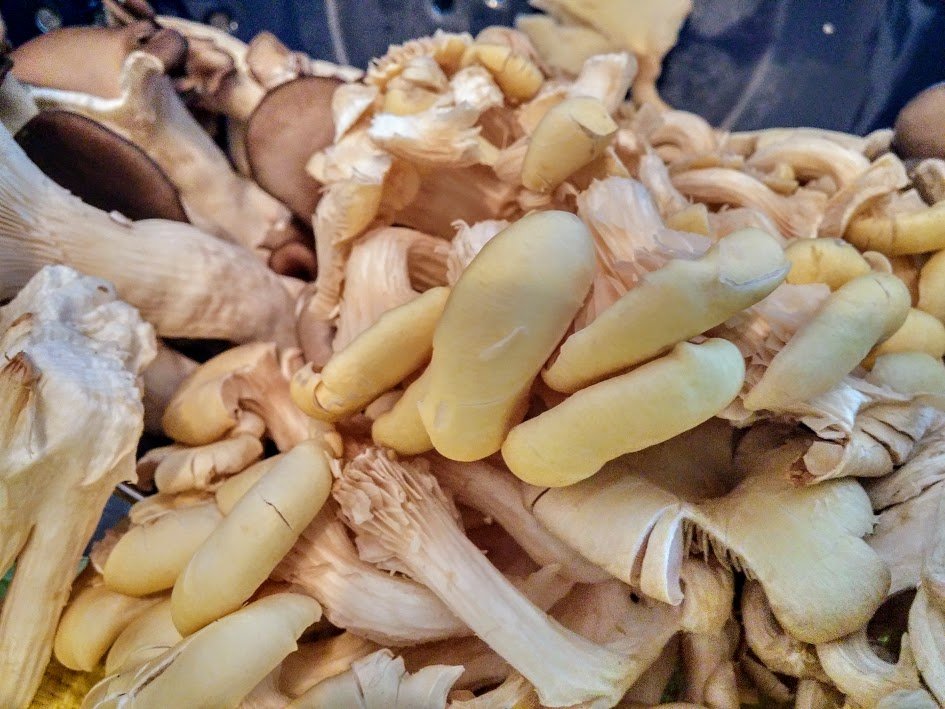 The mushroom I want to share with you today is the Oyster Mushroom. Sure, it's not nearly as dramatic as the Lion's Mane Mushroom or the Wood's Ear Mushrooms that I shared with you previously. (If you missed those posts, you can see them here: https://steemit.com/recipe/@atmemestable/recipe-lion-s-mane-mushroom-steaks-with-bonus-roasted-okra-recipe and https://steemit.com/fruitsandveggiesmonday/@atmemestable/fruits-and-vegetables-monday-wood-ear-mushrooms) But, these little mushrooms have a little star power all their own.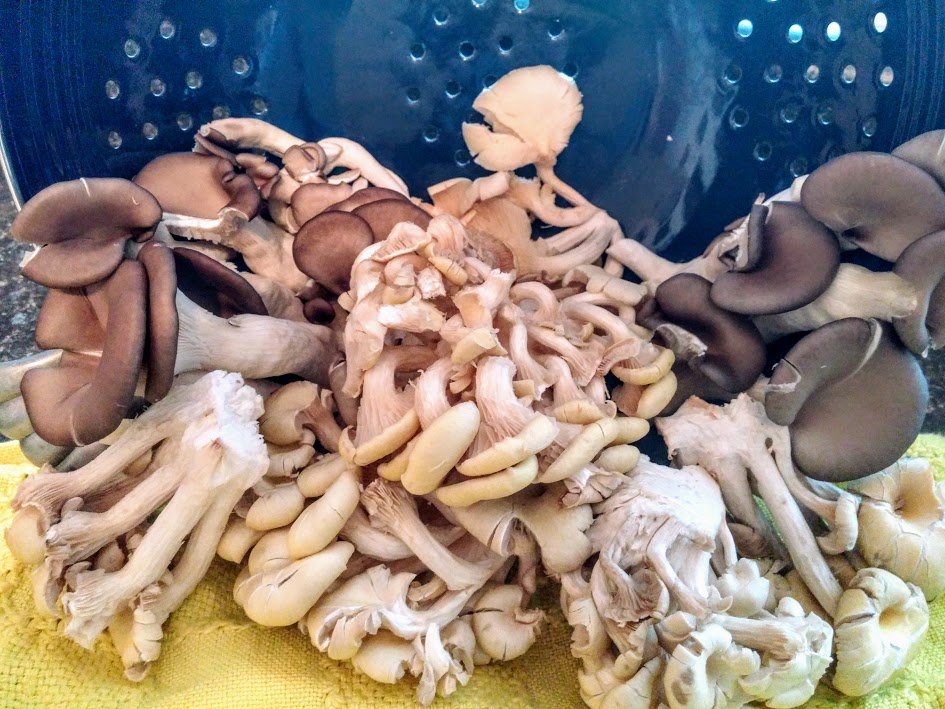 Let's Talk Nutrition
Though of course it will vary depending on how you choose to cook these guys, on its own, raw oyster mushrooms are naturally low in calories. They contain about 28 calories and 0.35 grams of fat in one cup of mushrooms. And, contrary to what some people might believe, oyster mushrooms contain 2.85 grams of protein and 2 grams of fiber. One cup of raw oyster mushrooms also contains 361 mg of potassium and Vitamin B6 and folate. It is naturally free from cholesterol, gluten, and is low sodium. The iron found in Oyster mushrooms is high in comparison to the meat.
Weird/Interesting Oyster Mushroom Facts
--Oyster Mushrooms feed on dead and decaying material, mostly hardwoods. But, they are being studied for possible usage in cleaning up oil spills and other environmental disasters. This is also known as mycorestoration which is " is the process of using mushrooms to decrease pollution levels in a given area. ...Oyster mycelium is ravenous! It will eat through wood, paper, coffee grounds, and even petroleum products. ...They secrete enzymes that break down the organic bonds in wood into smaller molecules. The carbon-hydrogen bonds in wood are similar to those found in oil and pesticides. Thus due to their love of wood, oysters are also efficient in breaking down the organic bonds in toxic chemicals....Imagine oil spills and pollution someday being decreased by mushrooms." (Source: http://www.mushroom-appreciation.com/oyster-mushrooms.html#sthash.eyrkTr3X.dpbs) I won't go into detail, but the Oyster mushroom will kill and eat nematodes (small roundworms) and bacteria, making them one of the few carnivorous mushrooms.(Source: https://kennettmushrooms.com/facts-about-oyster-mushrooms/).
Possible Medicinal Uses for Oyster Mushrooms
Great for Cholesterol! Because Oyster Mushrooms naturally produce compounds called statins, it is believed that they can help reduce LDL, or bad cholesterol.
Believed to fight cancer! As for cancer, research shows a possible anti-tumor effect from polysaccharides in oysters.
Other possible health benefits of eating Oyster Mushrooms include: helps maintain blood sugar levels, helps with skin problems, helps maintain brain health and function and provides energy.
And, the Main Event...Oyster Mushrooms Taste Delicious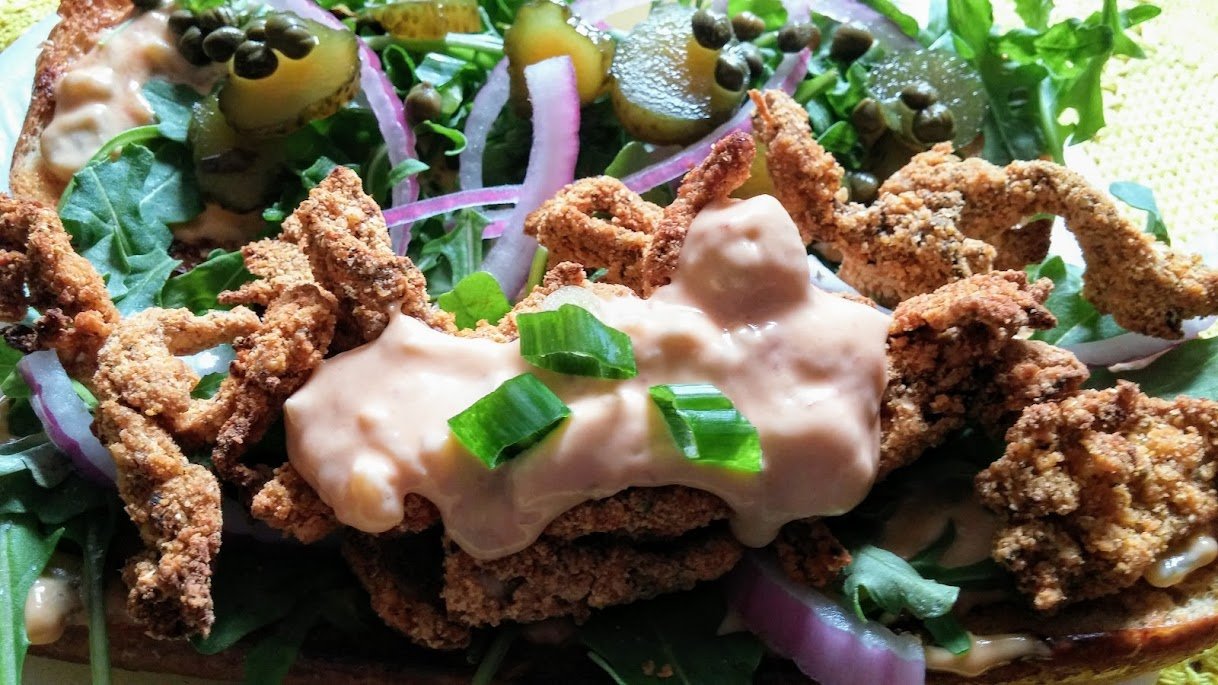 Carolina-Style Oyster Mushroom Po' Boy
Some people describe Oyster Mushrooms as having a unique scent that is often described as sweet like anise or licorice. Personally, I don't agree. I think they have a clean, earthy scent.
And, the flavor...oh, the flavor! The sweet, nutty flavor makes them perfect for a simple saute or for more complex recipes. One of my favorite ways to cook Oyster Mushrooms is to use it where others might use an animal-based sea food. Here, I've used it in a Carolina Style Oyster Mushroom Po'Boy.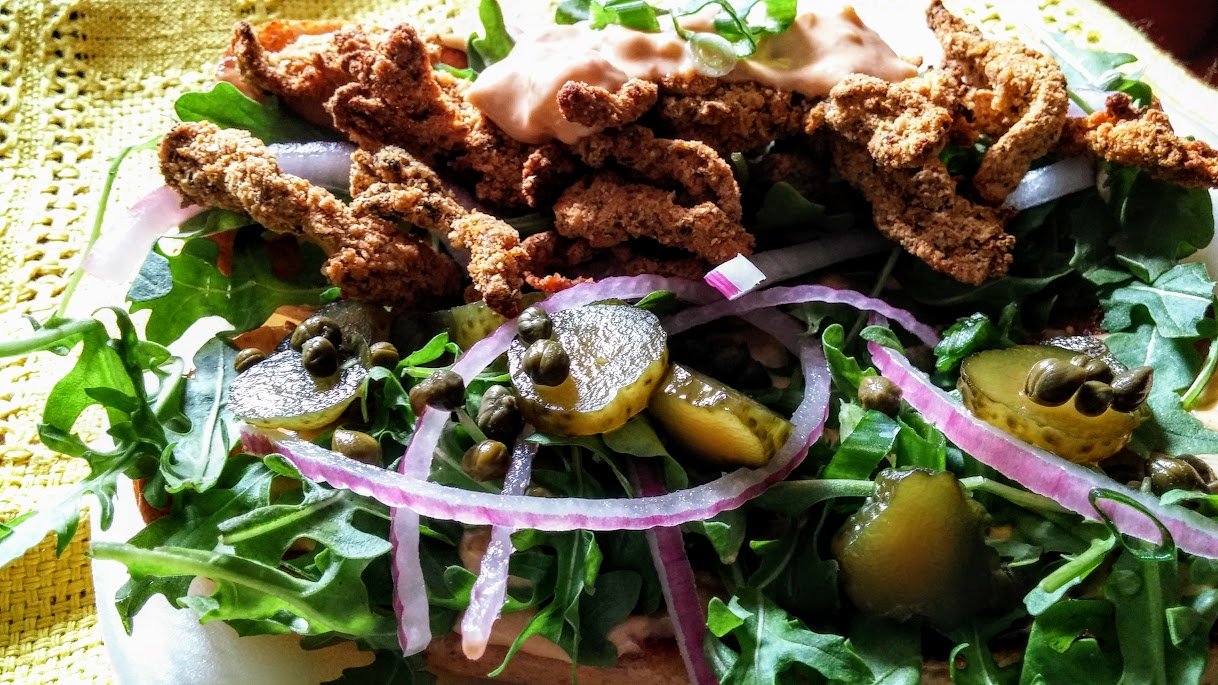 Crispy, sweet Oyster Mushrooms are piled high on a toasted sub roll which has been generously spread with a homemade remoulade sauce. Arugula, red onions, capers and pickles round out this Vegan take on the traditional Po'Boy.
It.
Is.
So.
Good!!!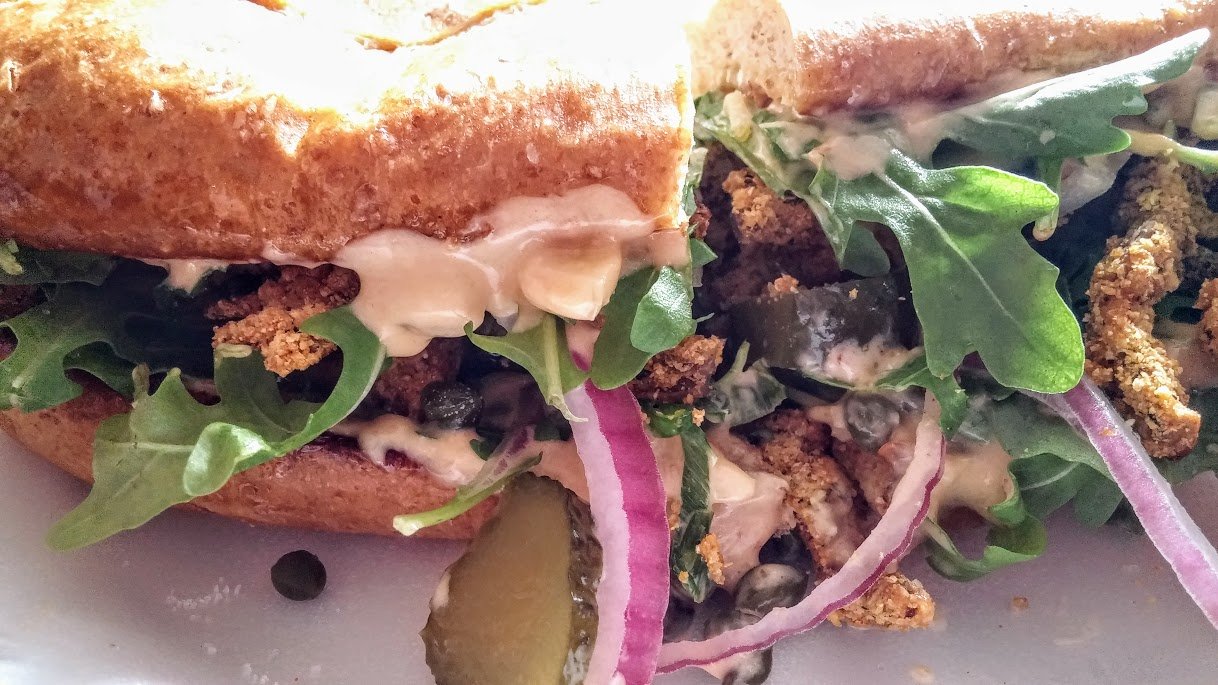 Carolina-Style Oyster Mushroom Po' Boy
This crispy classic sandwich is served piping hot with a spicy and tangy remoulade sauce. Everyone will be wanting a big ol' bite of this righteous sandwich. While your carnivore friends and family are busy drooling, just tell them "Heck yes, it's Vegan!" But, be nice, take pity on them and make sure you cook extra to share.
Prep: 30 minutes Cook: 30 minutes Total Time: 60 minutes
By: BenitaG @AtMemesTable
Makes 4 - 6 generous sandwiches
Ingredients for Dry Mix
1 -2 sheets Nori (blitzed in a blender or food processed until it's a fine powder)
2 TB Organic Kelp Granules
1 cup fine cornmeal
1/2 cup panko bread crumbs
1/2 cup all purpose flour
1 Tablespoon Old Bay Seasoning
1 tsp dried oregano
1 tsp dried thyme
2 tsp onion powder
1 tsp garlic powder
1 tsp smoked paprika
1 tsp sea or kosher salt
1 tsp black pepper
Ingredients for the Wet mix or Dip
2 cups soy or other nut milk
2 Prepared Flax Eggs (Recipes are all over the internet, but you can find out how to make a flax egg here: http://www.geniuskitchen.com/recipe/flax-vegan-egg-substitute-104832)
1 TB apple cider vinegar
Mushrooms
4 cups of oyster mushrooms, clean and cut away rough stems (you cansave the stems for use in broth later)
Organic Vegetable Oil for Frying (Like Canola Oil or Coconut Oil)(If you like, you can use an Air Fryer and decrease the oil to a minimal amount ..just a spray.)
Ingredients for the Spicy Vegan Remoulade
2 scallions, thinly sliced
3 loves garlic, finely grated
2 tablespoons fresh lemon juice
1 tablespoon prepared horseradish
1 tablespoon whole grain mustard
2 teaspoons Tabasco or other hot pepper sauce
2 teaspoons Vegan Worcestershire sauce
1/2 teaspoon celery seeds
1/2 teaspoon paprika
1 cup Vegan mayonnaise (If I don't make it myself, I use Just Mayo)
1/4 cup chopped fresh flat-leaf parsley
1, 4 oz. can of diced green chilis, drained
To Serve the Po' Boys, You'll Need:
4 sub rolls
vegan butter or olive oil, for toasting the rolls
1 small red onion, thinly sliced
2-3 scallions, sliced
2 TB capers
bread and butter pickles
Po' Boy Prep Instructions
It's best to prepare your mise en place (that's fancy for gather your ingredients) and have it all ready to go. These sandwiches come together pretty quickly.
In one large bowl, combine the dry mix ingredients. Set aside.
In a separate large bowl, combine all of the wet mix ingredients. Add the prepared Oyster Mushrooms to the wet ingredients and gently toss them around with your hands to make sure the wet mixture thoroughly coats the mushrooms. Toss a few times while it marinates for about 20 minutes.
Make your Vegan Remoulade
Thoroughly mix all the ingredients for the remoulade. Taste for seasoning and adjust as desired. Let mixture cool in fridge while mushrooms are cooking.
Now, cook those Oyster Mushrooms
Preheat a large (preferably cast-iron) frying pan over medium heat. Add about 1/2 inch of oil to the pan.
Using a slotted spoon, take out a handful of mushrooms, and letting a bit of the wet mixture drip off the mushrooms. Place them into the dry mixture and shake or toss with a spoon to coat, pressing dry mixture to any exposed areas.
.
Place the mushrooms into a single layer of your frying pan, taking care note to overcrowd them. Fry until golden brown and crispy, turning as necessary.
Transfer to paper towels and repeat the process with the remaining mushrooms. Repeat this process as needed until all mushrooms are cooked.
Toast your sub rolls
Split your sub rolls. Place a little vegan butter or olive oil onto the bread and place under hot oven broiler and toast until a nice golden brown. You'll need to watch these carefully. They can go from perfectly golden to charcoal fodder in a hot second.
To serve Your Carolina-Style Oyster Mushroom Po' Boys
For 4 Po' Boys: Spread the desired amount of the Vegan Remoulade onto the toasted sub roll. Top with 1/4 of the fried Oyster Mushrooms, top with arugula, red onion, scallions, capers, pickles and additional Remoulade. Put on that top sub roll and and dig in! Serve with the lemon wedges..just like we do on a Carolina Beach!.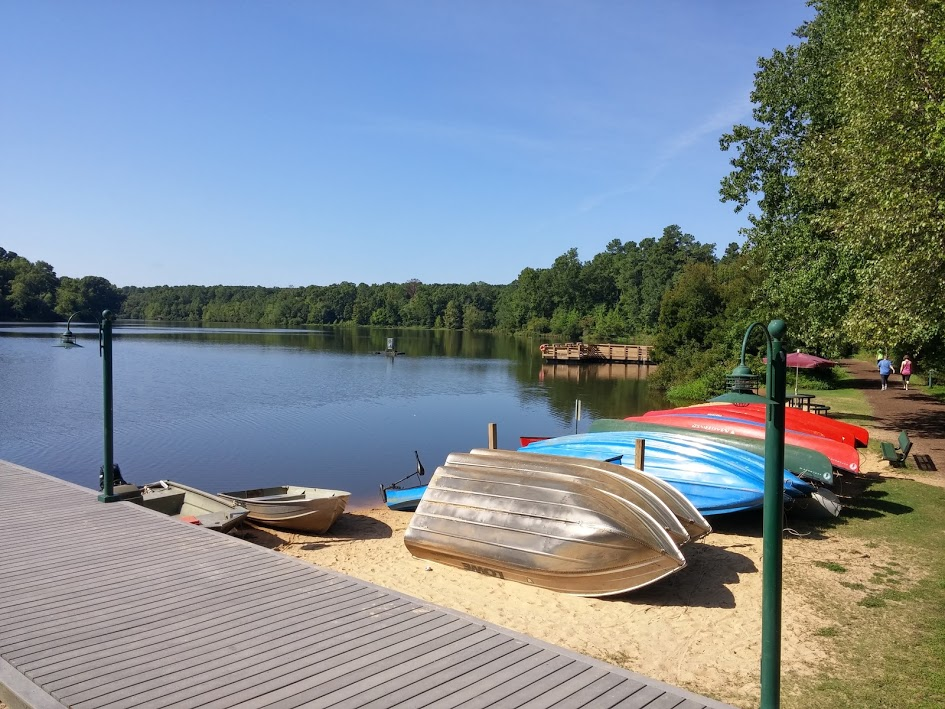 Enjoy!!!


Hi, I'm Benita G. You may also know me as, or call me, @AtMemesTable.
Hope you loved this post. Now, make me a happy girl and upvote my post and follow me.
I would love to have the opportunity to talk to you and to get to know you and you me. Check me out later! 'Cause you'd best believe that I'm going to be checking you out! Find me @AtMemesTable.
See you tomorrow!