# All-Jacked Up: Pulled Barbeque Sandwich(Steemit Sandwich Contest Week #20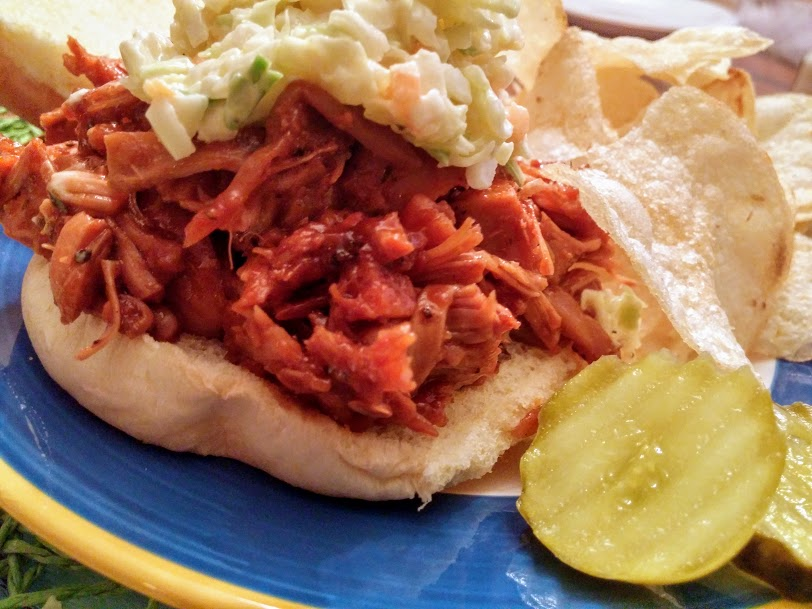 It's almost 9:30 pm on Christmas night. It's been a wonderful day! We're vacationing at the beach, but my family and I started the day by indulging in a decadent brunch and then attending (albeit online) a spirit-filled Christmas service. Then to work off a bit of that decadent brunch we went for a long walk on the beach.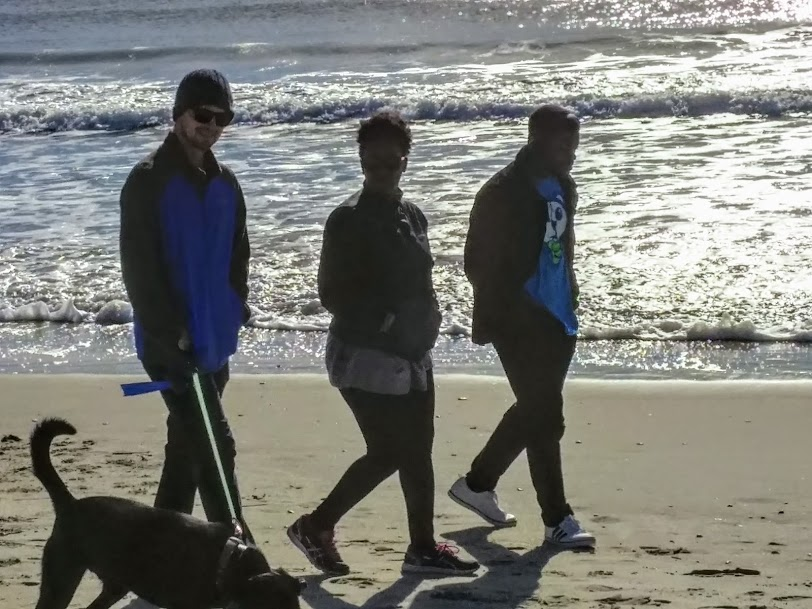 A Midmorning Family Stroll Along and Emerald Isle Beach
This was the first time in a very long time that I've been blessed to have my children together for a family mini-vacation. This mother's heart is filled with joy!!
But, I digress. This post is about my sandwich feature for the week. And, no one ventures into Eastern North Carolina territory without indulging in a barbeque sandwich. Yesterday's lunch was our time for serving up some Eastern North Carolina barbeque.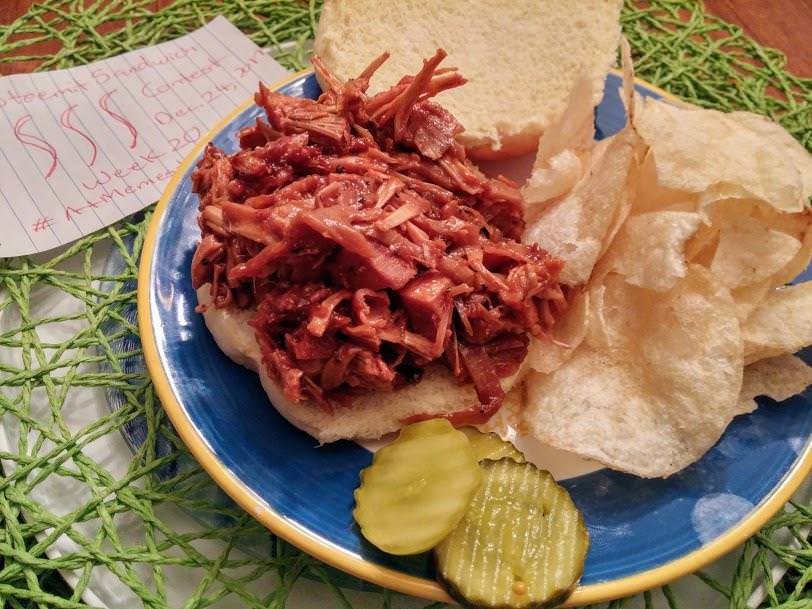 Now, my adult children and son-in-law are unapologetic carnivores. So, picking up a pint of pork Eastern North Carolina style barbeque and making them sandwiches was a simple task. For my dear hubby and myself, both vegans, I was tasked with re-creating that barbeque pit-master flavor...in vegan form.
Not to brag, but I think I my recipe for All-Jacked Up Barbeque Sandwich hit it out of the park! It has all of the flavor and the texture of a traditional Eastern North Carolina Barbeque Sandwich...withhout the "oink".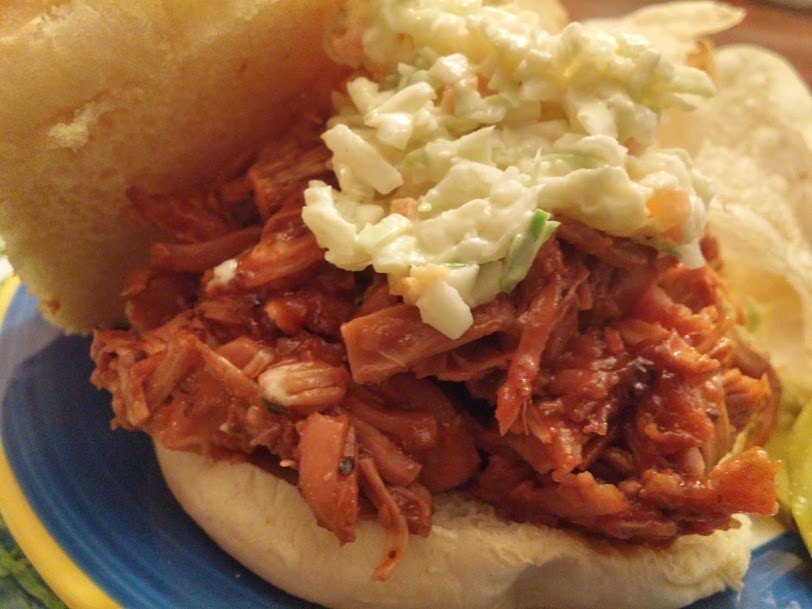 Pulled Jackfruit Barbeque
Note: This is an original recipe by BenitaG and appeared first on my blog, www.AtMemesTable.com.
Description:
Pulled Jackfruit Barbeque brings "pitmaster" flavor that's smoky, tender, juicy and has just enough heat to make you sit-up and pay attention. Perfect when served with sides of Vegged-out Potato Salad, Skillet Sauteed Cabbage and Collards and a slice of cornbread. Or you can go for the ever tailgating friendly sandwich by piling the Pulled Jackfruit Barbeque on a toasted bun and topping with some coleslaw. Either way, you can't go wrong!
Author: BenitaG
Yield: Serves 4-6 persons
Ingredients:
2 (20 ounce) cans jackfruit, in brine NOT IN SYRUP
1 medium white or yellow onion
2 cloves garlic, crushed
1 TB olive oil
1 -2 tsp Barbeque Rub seasoning (either purchased or use this classic BBQ rub recipe from Vegetarian Times)
3/4 – 1 cup Barbeque Sauce (Because I didn't have any homemade sauce on hand I used Sweet Baby Ray's Original. It doesn't contain honey like some other store bought sauces. But, be aware that it does contain high fructose corn syrup. If you really want to do this the right way, make your own sauce. I like the sauce recipe by Simply Scratch. Of course, I use a vegan worcestershire sauce to make it. It tastes a lot like Sweet Baby Ray's but doesn't contain that troublesome high fructose corn syrup.)
1 tsp. liquid smoke
2 TB. Apple Cider Vinegar
Salt and crushed red pepper, to taste
Instructions
Preheat oven to 325 degrees.
Drain and rinse jackfruit to remove salt and brine. Squeeze out any excess water. Break up with fingers or a fork into strips.
Cut onion in half and finely slice.
Heat large skillet over medium heat. Add 1 TB olive oil. When oil is hot, add onion, lower heat to medium-low, and cook for 15-20 minutes until onion is soft and caramelized. Stir frequently.
Add garlic and jackfruit to caramelized onions. Stir to combine. Sprinkle with Barbeque Rub. Stir and cook for about 8 minutes, stirring frequently to prevent sticking.
Add barbeque sauce, liquid smoke and vinegar. Stir well to combine. Taste for seasoning and adjust as desired. Put mixture into ovenproof casserole dish and cover tightly with foil. Put mixture into preheated oven and cook for 45 minutes. (Check occasionally to ensure that your 'cue isn't sticking, burning or drying out. Add more sauce or a bit of water as needed.)
Remove from oven and let stand for about 10 minutes before serving.
Dig in! Perfect for your next tailgate party or backyard barbeque!
Find it online: https://www.atmemestable.com/pulled-jackfruit-barbequetailgating-101-part-1/
Until tomorrow, all the best my fellow Steemians!


Hi, I'm Benita G. You may also know me as, or call me, @AtMemesTable.
Hope you loved this post. Now, make me a happy girl and upvote my post and follow me.
I would love to have the opportunity to talk to you and to get to know you and you me. Check me out later! 'Cause you'd best believe that I'm going to be checking you out! Find me @AtMemesTable.
See you tomorrow!