第38回篠山ABCマラソンvol.5 「陶メダル」獲得 The 38th Sasayama ABC Marathon vol.5 I Got Ceramic Medal
・第38回篠山ABCマラソンvol.1 結果速報 The 38th Sasayama ABC Marathon vol.1 Flash Report of Result
・第38回篠山ABCマラソンvol.2 篠山土産 The 38th Sasayama ABC Marathon vol.2 Souvenir From Sasayama
・第38回篠山ABCマラソンvol.3 号砲まで The 38th Sasayama ABC Marathon vol.3 Before the Starting Gun
・第38回篠山ABCマラソンvol.4 序盤から中盤まで The 38th Sasayama ABC Marathon vol.4 From Start To Middle Stage
30kmをすぎると、足のだるさと重さ、痛みはほぼ限界に達しました。特に下り坂が厳しく、衝撃で足が壊れてしまいそうでした。それでも同じくらいの走力のランナーたちと抜きつ抜かれつ一緒に走っていると、不思議なほどに頑張れました。もしひとりで走っていたとしたら、走り続けることはできなかったと思います。
After running 30km, my legs' tiredness and pain reached a limit. Especially on downgrades, I felt like my legs were going to break by landing impact. But I was curiously able to hang tough, because I was running together with runners of equal ability. I think that if I had been running alone, I could not have kept on running.
終盤、ペースは落ちましたが、最後までキロ5分強くらいのペースは維持することができました。これは前回のフルマラソン「赤穂義士マラソン」ではできなかったことで、大きな自信になりました。下のグラフは今回の篠山マラソンと前回の赤穂義士マラソンのラップタイムの比較です。
In the final stage of the race, my pace slowed down, but I could keep up running 1km in a little over 5 minutes up to the end. This was impossible for me in the previous race "Ako-Gishi Marathon", so that made me very confident. The following graph is a comparison of lap time between this full marathon and the previous full marathon.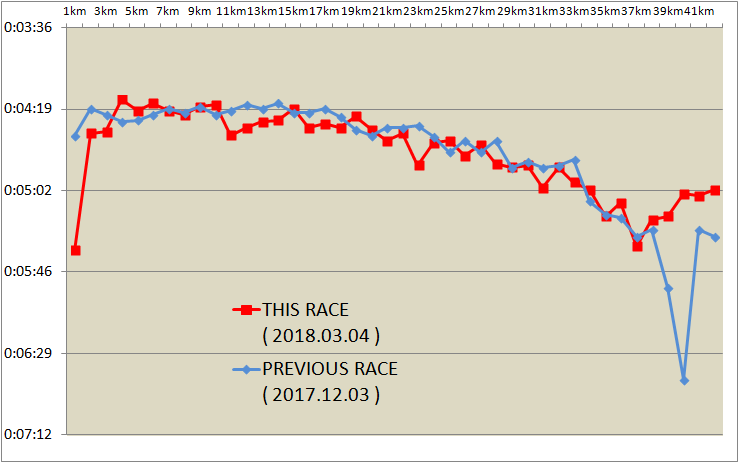 マラソン当日の速報記事でお伝えした通り、最終的に、グロスタイム(号砲~ゴールまでのタイム)3時間22分30秒、ネットタイム(スタートライン通過~ゴールまでのタイム)3時間20分09秒でフィニッシュ。3時間20分09秒は自己ベストです。ゴール直後、完走メダルをいただきました。篠山の伝統的特産品のひとつである陶器でできたメダルです。これで僕も「陶メダリスト」です。
As I wrote in the flash report on the race day, I finish the race in 3:22'30" as gross time ( from starting gun to finish line ), and in 3:20'09" as net time ( from starting line to finish line ). 3:20'09" is my perasonal best time. Right after finishing, I was given a completion medal. The medal is made of ceramic. Ceramic product is one of traditional specialty of Sasayama. Yes, I became a "Ceramic Medalist".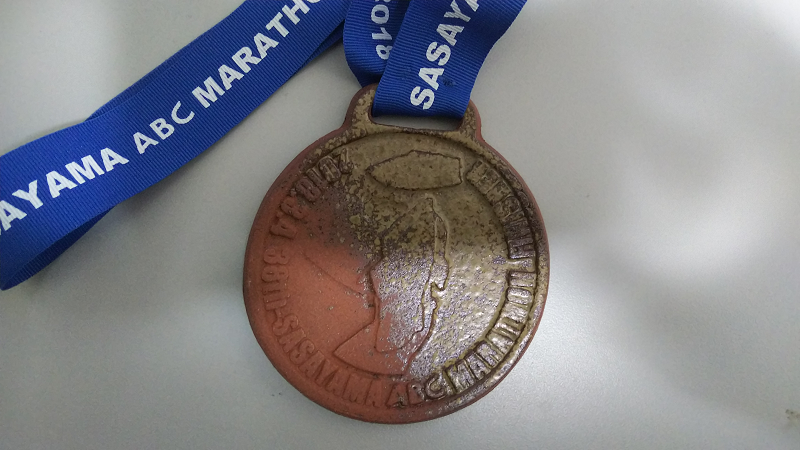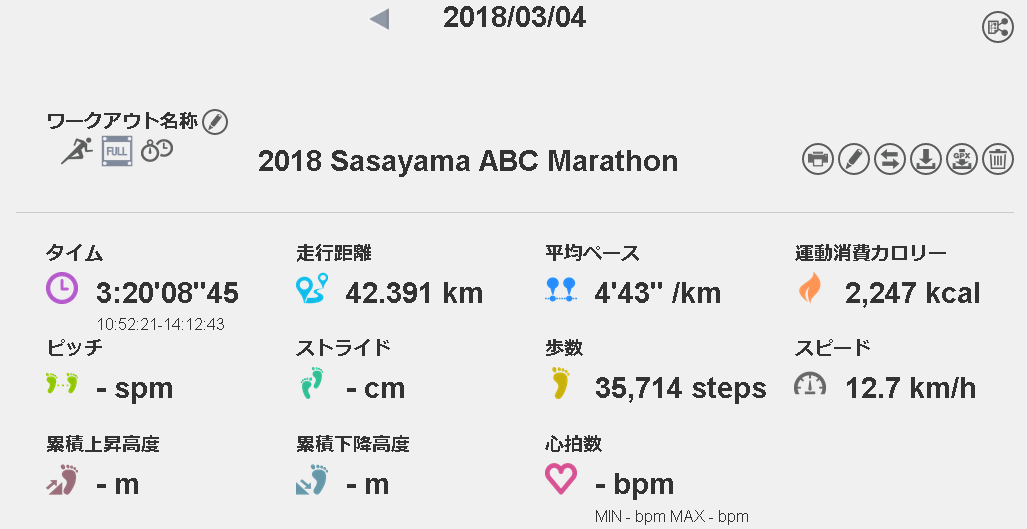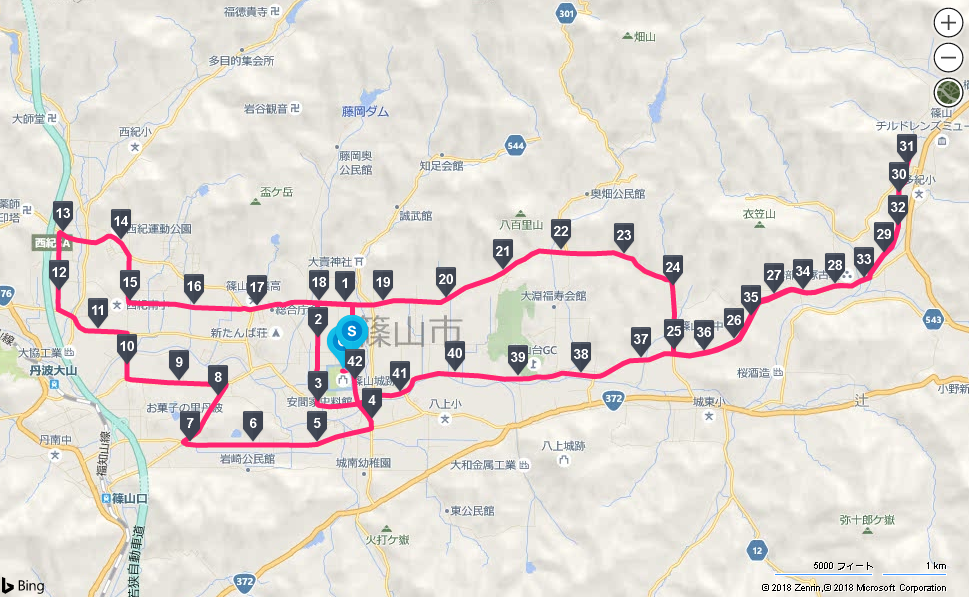 完走後は、篠山名物の猪汁をふるまっていただきました。疲れも吹き飛ぶ美味しさで、あっという間に平らげました。
After the race, we were presented with boar stew, which is a famous specialty of Sasayama. It was so delicious that I felt like my tiredness had cleared off. So I ate all of it in no time.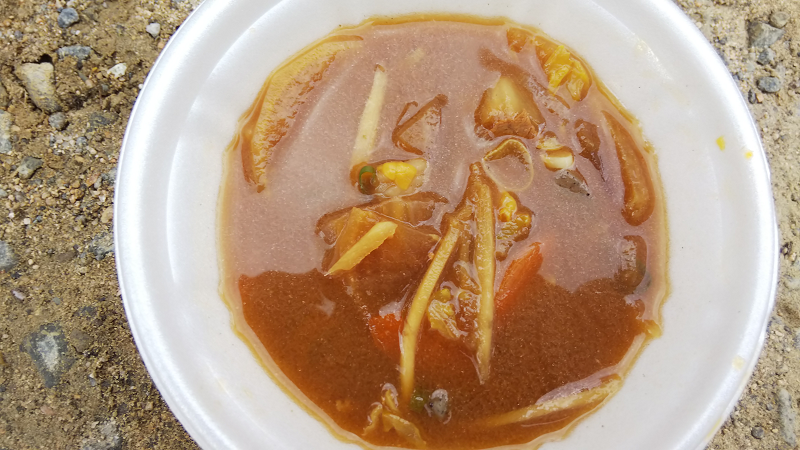 帰りも直行バスで三宮へ。バスの中ではずっと爆睡していました。
I returned to Sannomiya by a nonstop bus. I slept the sleep of the dead in the bus.
今回のフルマラソンは、1ヶ月前に風邪を引いて調整スケジュールが目茶苦茶になり、練習不足を挽回できないままに本番を迎えました。にもかかわらず、こんな好タイムを出せたのは奇跡のようにも思えます。これも大会スタッフのみなさん、沿道で熱心に声援を送っていただいた地元のみなさん、ともに走ったランナーのみなさん、そしてupvoteやコメントで応援していただいたsteemianのみなさんのおかげです。本当にありがとうございました!
This time I had to face the race before I could overcome the lack of practice, as my workout schedule had gotten messed up because of a cold just a month before the race. It seems like a miracle that I ran the race in such a good time in the face of bad condithion. None of this good result would have been possible without the stuff of the race, the local peole who cheered us on the sidelines, the runners who ran together, and steemians who cheered me by upvotes & comments. I really want to thank you all very much !
なお、この大会の模様は、関西エリアで3月10日15時からABCテレビで放映されます。
Also, this race is broadcast on ABC television ( a local television station in Kansai region ) at 15:00 on 10th March.