Steem has changed my life. #𝑻𝒉𝒆𝑮𝒓𝒂𝒕𝒊𝒕𝒖𝒅𝒆𝑪𝒉𝒂𝒍𝒍𝒆𝒏𝒈𝒆 by @theycallmedan
Hello Everyone,
Greetings of the day to you all and I hope you are having good time with family and friends.
Thanks @theycallmedan for this amazing challenge and giving me opportunity to share my steem experience and gratitude to everyone who has been a great support throughout. Thanks to @certain and @madushanka for inviting me to take part in this challenge.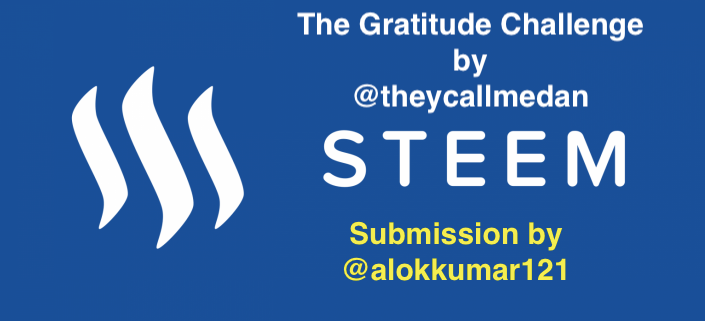 I have been looking for something since long where I can work online as per my skills. My search ended with steemit and I joined this amazing platform on 22 June 2018 after a waiting period of almost a week. Initially I was not much aware about steem and used to think steemit is everything but later I understood that steemit is not steem and steem is very platform having huge number opportunities for everyone. Few months in the beginning of my steem were not so good because I was not aware much about the platform and as a result I was not getting good result. But I did not give-up and kept working as usual. I have completed an year last month on 22 June 2019 and so far this journey has been exciting and fun filled.
What has steem done for you?
To be honest I never thought that I would come such a long way here because I did not know anyone here but now I have made many friends here for lifetime. I take this as biggest achievement for me because I learn from them everyday and their support is great thing for me. Steem has done a lot for me and I can see my own growth in last 1 year time.
I never written any blog/article/post in my life before joining steem and now I can write few pages of blog in within g half an hour.

I was a camera shy person but @nathanmars inspired and supported me to work on dtube and now I post my vlog in dtube everyday.

Steem made me earn over 2000 as payout. Last week I received a comment from @steemitboard that I received payout over 2000 and this another achievement for me.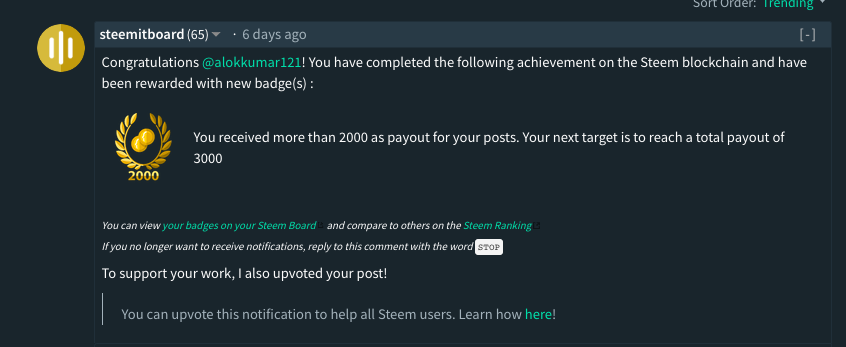 Steem given me opportunity to connect with people across the world and understand/learn their culture. I like connecting with people and for this I used to work in other social media portals but now I feel that it was a waste of time and now I am at the right place to pursue my passion and interest.

I see many steemians having a dream to get 100% vote from @blocktrades and I got it within 3 months of my tenure in steem. This is a wonderful achievement for me and I thanks Blocktrades for this. This is only possible in steem and I dont think there is anything that can give this kind of boost and motivation.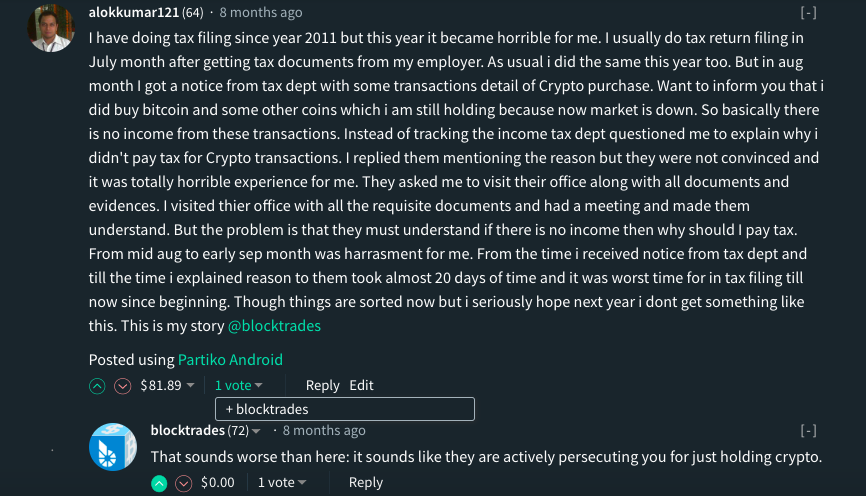 ---
My gratitude -
I am thankful and have deepest gratitude for many lovely steemians-
@nathanmars - For supporting me and making part of seven77
@firepower - Continuous support in my posts.
@actifit - For making me part of their moderation team
@beamentor & @rosatravels - for making me a mentor in all the mentor programs.
@dtube - Offering awesome platform and support
@Blocktrades - For giving me boost when I was in steem.
@shortsegments - For reading my posts and adding his words.
@oracle-d - Support through their tasks and votes
This list is going to be so long if I put all the name here so thanks a million from the bottom of my heart to everyone who extended their support to me.
I can't miss to add your name Dan @theycallmedan because you have been a great support through your weekly post curation and votes on my comments in your posts. I know that you don't know me but thats not important as long as we are part of a fastest growing and an awesome community as steem. You support over 100 steemians daily so remembering them is not possible and I am glad to add your name in my gratitude post. You started https://3speak.online/ with Oracle-D and its going to help lot of steemians.
---
Steem has changed my life in various ways and I am proud to say that I am steemian. I have earned a lot here and I have long term vision with steem. Since Steem has done a lot for me so its time for me to give it back. I have worked on few initiative to add value in steem ecosystem.
I have never sold any STEEM (not even a sigle)
Never used power down option till now in my 1 year tenure and I have NO plans to do it for few years.
I have on-boarded more than 50 people in steem platform through various programs (Beamentor, Steemonboarding etc) in last 5 months period.
I would like to invite my 3 steemian friends to take part in this challenge-
@devkant79
@hungryharish
@shortsegments
---
If you want to participate in Gratitude Challenge please go through the post via below link-
https://steemit.com/gratitudechallenge/@theycallmedan/the-gratitude-challenge