#TreeTuesday - one of my favourite photos
Hello,
to
#Treetuesday
. Yes, this is another challenge where people post pictures with trees. I am aware that it leads to lengthy discussions whether such challenges are good or not. I think that those who do not like it should not vote for those posts. There is so much to discover on Steem and so little time because the posts expire after 6 1/2 days.
But I did not want to write about that, nor about the problems that happened today. It happened and you can not change anything now. Many have missed a lot of blocks, especially the Top 20 Witnesse. There is now only one of them with less than 100 missed blocks. It happens and it shows us how sensitive the blockchain is.
So, I wanted to talk about this photo today. I did it on a journey somewhere in Baden-Würtemberg. A detailed post will follow with the journey.
This picture was just in front of my eyes and I had to photograph it. The red balloon just fit. You can say it's the cherry on the cake. Without this element, the photo would have been plainly banal. There are simply cows and forest in Germany almost everywhere. But in such a combination rather rare. I was glad that I got something like that. I will push the picture in the folder with my favorite pic
Hallo,
zum
#Treetuesday
. Ja ist wieder so eine Challenge wo Leute Bilder mit Bäumen posten. Ist mir bewusst das es zu längeren Diskussionen führt ob solche Challenges gut sind oder nicht. Ich finde es, das die die es nicht mögen, nicht voten sollen. Es gibt so vieles auf Steem zu entdecken und auch so wenig zeit weil die Beiträge ablaufen nach 6 1/2 Tage.
Ich wollte über das aber nicht schreiben und auch nicht über die Probleme die heute passiert sind. Es ist passiert und man kann jetzt einfach nichts ändern. Viele haben sehr viele Blocke verloren, insbesondere die Top 20 Witnesse. Da gibt es jetzt nur einem einzigen der unter 100 verlorene Blocke liegt. Es passiert und es zeigt uns wie empfindlich die Blockchain ist.
So, ich wollte heute über dieses Photo sprechen. Ich habe es auf einer Reise gemacht irgendwo in Baden-Würtemberg. Ein ausführlicher Beitrag folgt noch mit der Reise.
Dieses Bild war einfach vor meinem Augen und ich musste es photographieren. Das rote Luftballon hat einfach gepasst. Man kann sagen es ist die Kirsche auf der Torte. Ohne dieses Element wäre das Photo schlicht banal gewesen. Kühe und Wald gibt es einfach in Deutschland fast überall. Aber in so einer Kombination eher selten. Ich war froh das ich sowas erwischt habe. Ich werde das Bild in dem Ordner mit meinen Lieblingsbilder schieben.
Wie findet ihr es?
---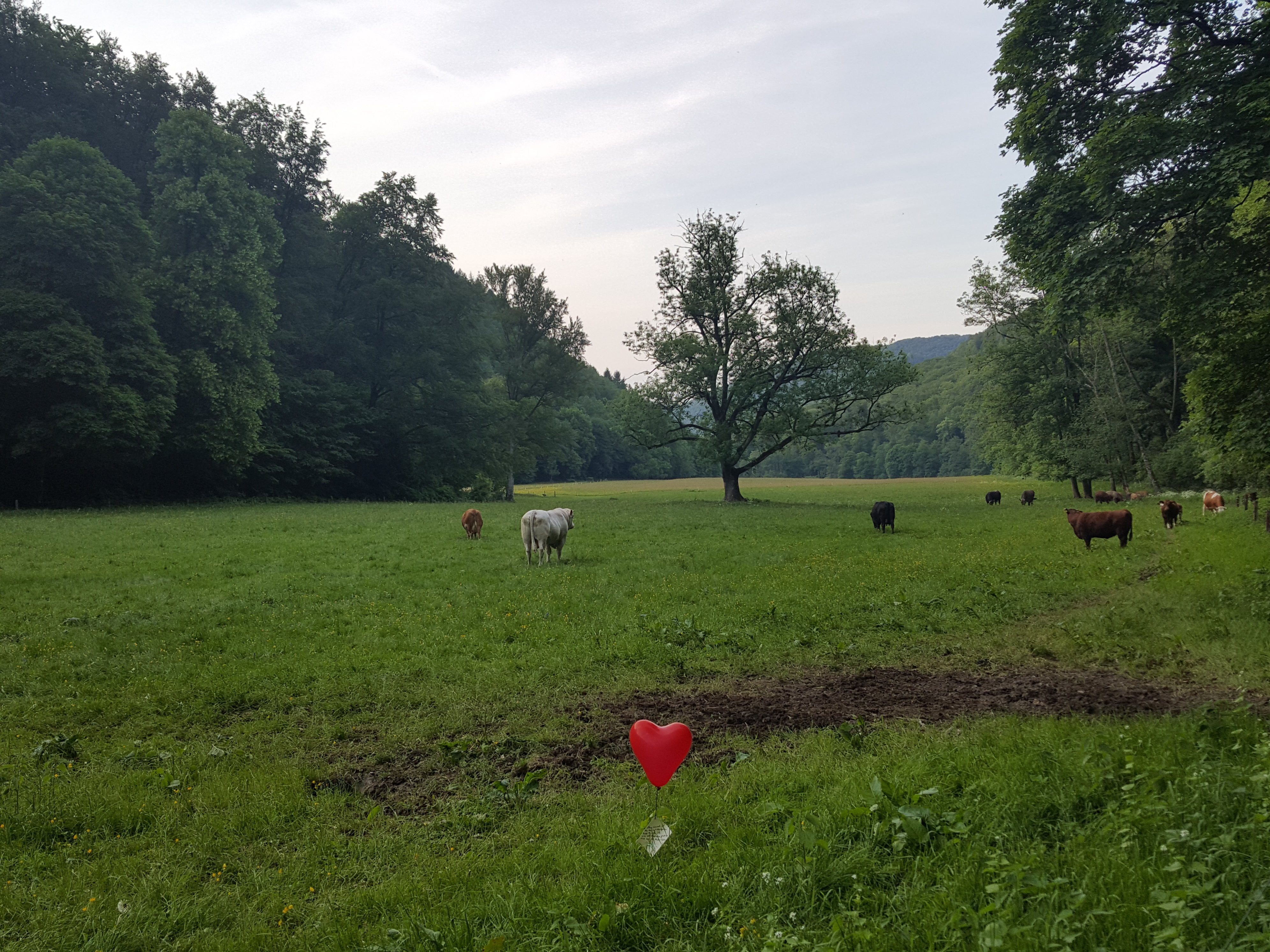 ---