Epstein back in News Soon ?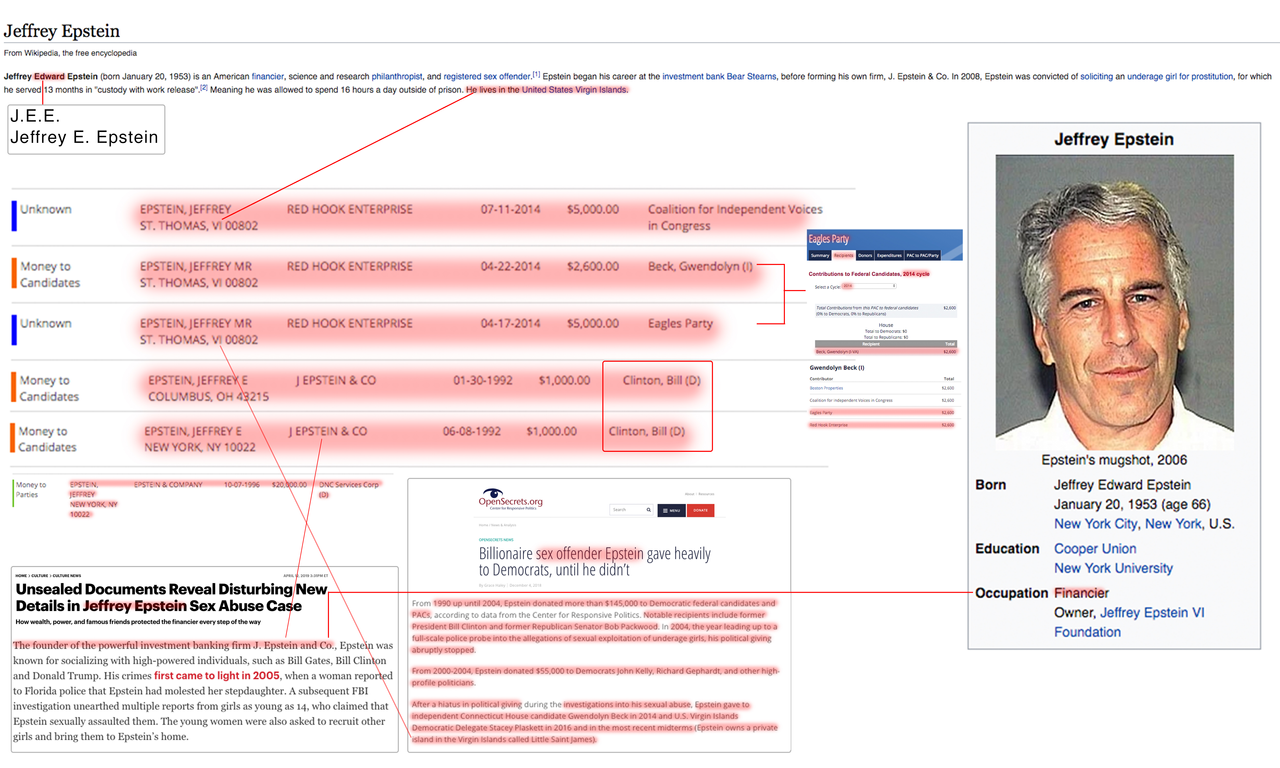 Most is old news, but it's interesting to see the donations to Bill Clinton in the 1990s as well as #epstains resurgence in 2014 donating from the Virgin Islands. Once speculation and investigations into his and sex abuse started in 2004, political donations ceased.
https://en.wikipedia.org/wiki/Jeffrey_Epstein
I tried to dig on "Red Hook Enterprises" but no results besides what is listed for their connection to Eagle Party/Gwendolyn Beck.
https://www.opensecrets.org/races/contributors?cycle=2014&id=VA08
https://www.opensecrets.org/pacs/pacgot.php?cycle=2014&cmte=C00557017
He changed the name of his company to Financial Trust Company in 1996 - nothing there either.
No connections to either of Hillary's campaigns. There is a donor to #hrc listed as "Jeffrey Epstein" from Shaker Heights, OH, but the donations are small so it looks like a case of unfortunate name sharing. Also I can't place #epstain there by cross-referencing any info.
However, notice that THE #epstain donated to #billclinton 1/30/1992 to the tune of $1,000 from Colombus, OH, so at one point he had operations within the state. Perhaps because of this? >
–
"In 1987, Les Wexner, founder and chairman of Ohio-based The Limited chain of women's clothing stores, became a well-known client.[4] "
https://en.wikipedia.org/wiki/Jeffrey_Epstein
–
Also, he gave at least $20,000 to the DNC services Corp.
---
More Sources:
https://www.rollingstone.com/culture/culture-news/jeffrey-epstein-jennifer-gaffney-sex-abuse-leniency-821757/?ref=hvper.com
https://www.opensecrets.org/news/2018/12/billionaire-sex-offender-epstein-gave-heavily/