Actifit V0.6.2 Android is OUT NOW .. Read All About it (& Our Daily Updates)
We are more than happy to announce the official release of our newest and greatest version of Actifit Android mobile version (Iphone guys don't worry, we started the work on yours! :) ). Release went out an hour ago, so it should be updating now (or already did) on your playstore.
This release contains a multitude of new features and enhancements. Let's have a look at some of those key changes :)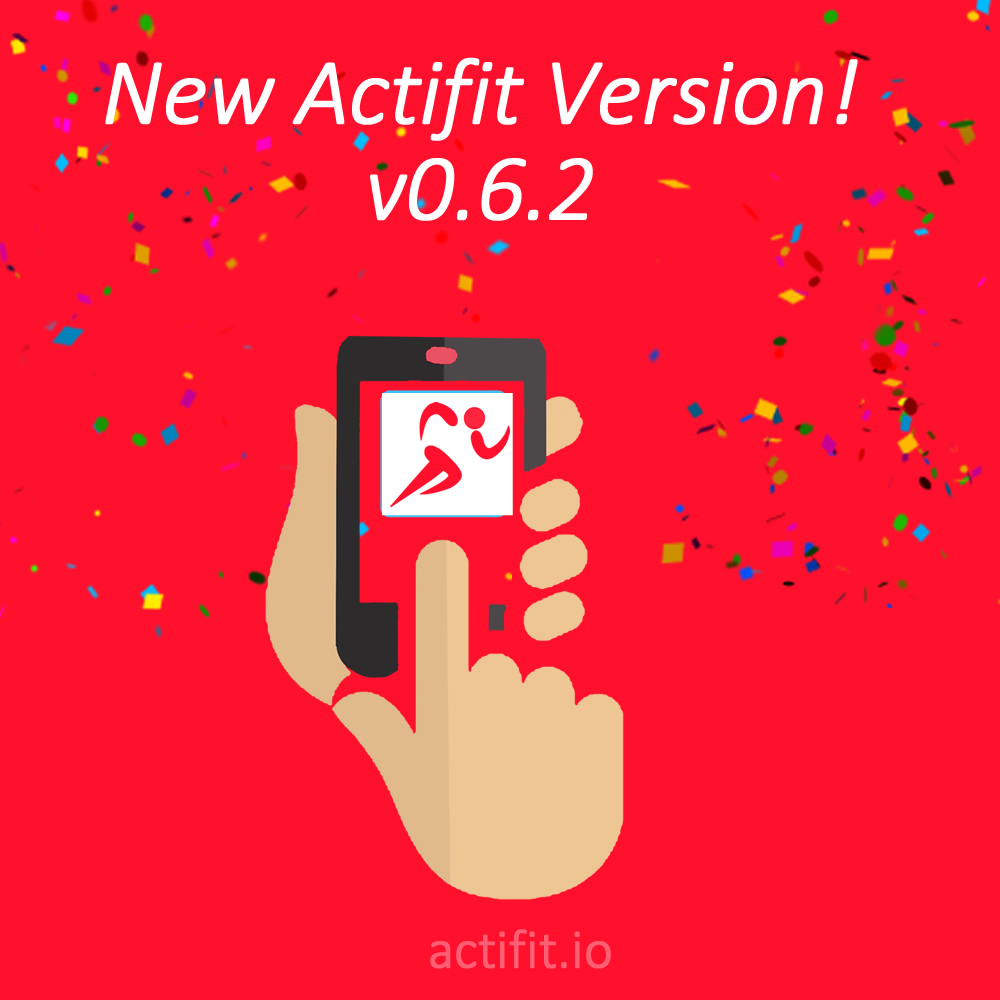 Main Screen Revamp
We wanted to change and beautify the user experience when trying to use Actifit. Yes the experience was very simplistic, but we believe it still is, yet a cooler sight to the eye, and with a lot more information and cool charts.
So what we did was:
Include your profile logo at the top - clicking on your profile image or name takes you to your actifit.io profile.
Include a progress pie chart to highlight where you are in your daily progress. Your milestones are at 5K, 10K, going beyond 10K will still update your number but your chart will remain the same
Include 2 charts below: one for your intra-day activity (more on that below), and another for your full activity. Both charts are interactive, meaning you can zoom, move, but also auto-update whenever you make more movements.
We made the buttons more aligned with Actifit's color palette.

Multi-Lingual Support (9 Languages)
We would like to thank everyone who helped translate Actifit into their own language, including @utopian-io and @davinci translators.
We believe that having Actifit supporting multiple languages would make the experience more satisfying for each user, but also would help make it further ready for mass adoption.
As of this release, we rolled out support for English, Korean, German, Italian, Netherlands, Hindi, Arabic, Portuguese, Yoruba. (If you wish to translate this announce to any of those languages, we will provide additional rewards).
Intra-Day Charts
We wanted to introduce more detailed tracking information on low level intervals so that you can visualize how active your day was across the whole day period.
Accordingly, we made a revamp to the activity history screen, making it cooler and more aligned with Actifit's brand, and also introduced the Day Chart button for every single day, whereby you can see the details, down to the 15 mins, of every day.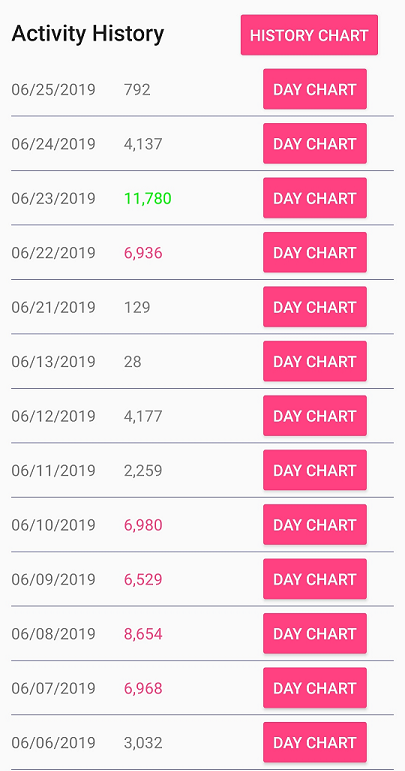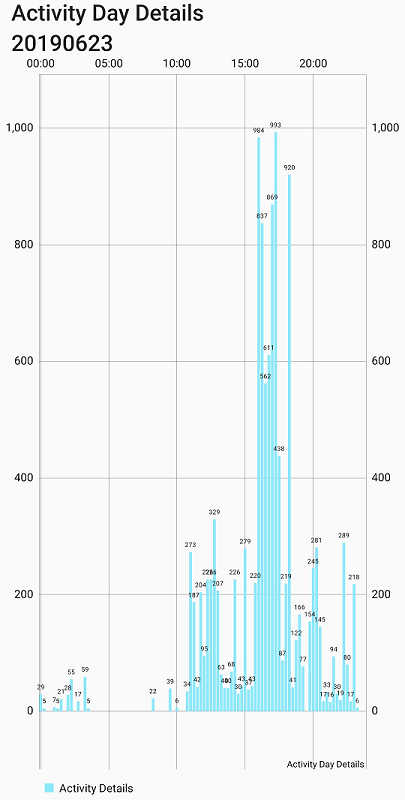 Yesterday Post! - The long awaited one
Yes we know this has been requested for such a long time, and we decided it's time to make it a reality!
As of now, you are able to post your yesterday's activity data in case you fell asleep, your reminder did not kick in, or you just missed doing so by a minute :)
Although we know many enjoy the competitive edge of posting at the same day, and we still recommended that you do that, but now you have the full flexibility to post tomorrow (or today for yesterday).
Posting yesterday's report will NOT prevent you from posting today's report as well and getting rewarded for it, so knock yourselves out :)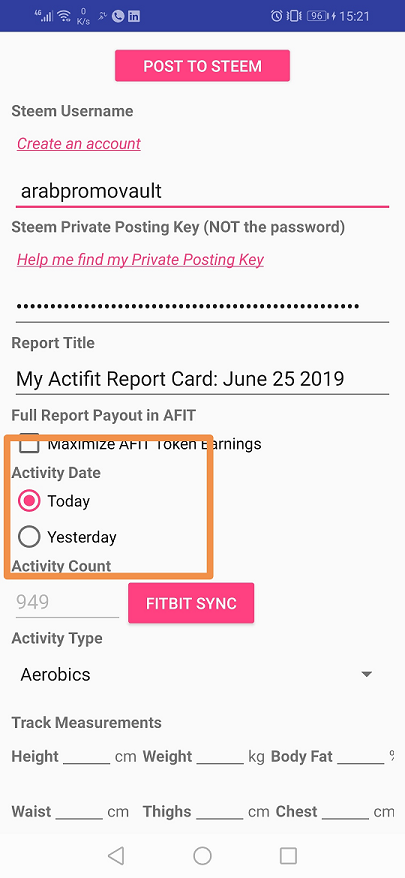 Leaderboard Enhancements
We introduced a new revamped leaderboard, which not only looks quite cool, but also contains much more information.
The leaderboard now contains the full listing of all posts which are pending for today's voting round. You will also be able to click on the name/profile pic of every user to visit their profile, but also click on the post details button to actually read their post, comment and/or upvote it. And yes you still earn AFIT tokens for doing so for at least 3 posts every single day !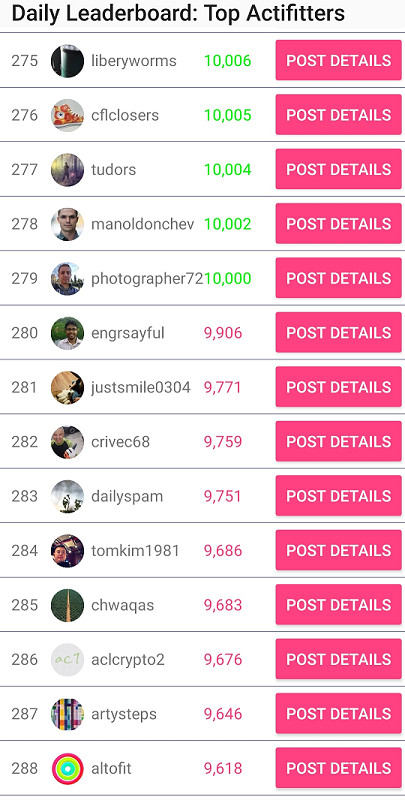 Notifications For Accomplishments & Announcements
As part of this release, when you reach the min milestone of 5K, you will get a notification which would somewhat be make it more clear about this progress. Similarly as you reach 10K, another notification will popup.
We also integrated with Firebase service, which enables sending out push notifications to our users, so as you remain up-to-date with any key announcements Actifit team finds essential to share with you.
Additional Techy, Security, & Anti-Abuse Features
We integrated Actifit with crashlytics and firebase service to better monitor for any crash events. Also Actifit now has the capability to auto-recover following a crash
We implemented additional security & anti-abuse features, which enable Actifit to be better equipped to enforce abusers to remain out of the system.
Finally, we also included few bug fixes as part of this release.
So that's it guys ! Make sure to download the newest version v0.6.2 from playstore to enjoy all those cool perks!
If you have any questions, suggestions, bug reports or anything to discuss, you can find us on discord as always
Top Daily Actifitters
Our latest voting round included 530 reports, out of which 454 reports were rewarded.
Below are the top 20 actifitters from this round. Well done guys !!
A kind reminder to all actifitters: some versions of esteem app still cause issues when used to edit your reports, via removing essential info Actifit uses to identify proper reports. This prevents related reports from receiving rewards.
Until this issue is officially fixed via the esteem team, we advise that you use other Steem interfaces for editing, including our own actifit.io, steemit, busy or others.
Doubled UP Rewarded Actifitter
Today's Random Double Up Reward went to @chunkysoupsvc!
This lead to doubling up the AFIT token rewards and the STEEM upvote value.
Congrats! & Don't forget to claim your "Lucky Doubled Up" badge on your actifit.io profile page.
Will your rewards get doubled UP tomorrow? :)
Our Newest Actifitters
In case this is the first time you see this section, essentially it aims to introduce new actifitters to our amazing community.
During the last voting round, we were happy to welcome the below new actifitters, joining more than 2,500 unique users who had posted an actifit report.
Our recent joiners are: @carolacarmona, @shabuben, @erickpinos, @nmalove, @carlagonz, @zor023 and @yesilli.
Feel free to check out their recent reports and welcome them to the Actifit community!
Delegation Status
Actifit continues to receive amazing support by the community. We would like to extend our thanks to everyone who is continuously supporting Actifit.
Below is the recent delegation updates' list:
@iansart(626 SP)
@runridefly(1,627 SP)
@kiryck(15 SP)
@ramonrene(39 SP)
@moderndayhippie(1,000 SP)
@pjansen(67 SP)
@aamirijaz(490 SP)
@fitnessgal(55 SP)
@uche-nna(100 SP)
@steemgroup2(10 SP)
Thank you to all delegators for the wonderful support! To see the list of all our delegators, check out actifit.io/delegators
The amount of delegated SP has a large influence over not only the daily/weekly delegation reward, but also on the amount of rewards the actifitter receives on daily reports, as it constitutes a key element in User Rank.
Which is why being an Actifit delegator now has more influence on your rewards, coupled with number of AFIT tokens and other factors highlighted before.
Delegators share a max cap of 100K AFIT tokens according to their delegation amount, and also earn a 5% beneficiary reward from actifit posts' beneficiary earnings.
We are appreciative of more delegations to be able to better award actifitters and support our project, so thank you for doing that !
When you are looking to increase your delegation, you need to use the new total amount as the delegation amount, and not only the increased amount. Otherwise only the new amount will be used, and the remaining amount will be undelegated.
---
@actifit Team

To delegate to Actifit, you can use any of the following links:
10SP, 20SP, 30SP, 50SP, 100SP, 250SP, 500SP, 1,000SP, 5,000SP, 10,000SP, 20,000SP, Custom Amount
Make sure you have at least 15 SP left on your account.
consider voting for Actifit as witness

Our Top Delegators
An additional big thank you to some of our top supporters
@goodnewworld | @freedom | @sepracore | @fitat40 | @julialee66 | @onealfa | @binance2 | @selfvotejustice | @supergiant | @taskmaster4450 | @dmoons.kim | @wil.metcalfe

Our wonderful ambassadors
@akomoajong | @alexvanaken | @ervin-lemark | @flauwy | @jaraumoses | @jasonshick | @rosatravels | | @toocurious | @pearlumie

Our amazing moderators
@alfamano | @alokkumar121 | @ashikstd | @ciuoto | @ckole | @definethedollar | @katerinaramm | @kpreddy | @priyanarc | @rabihfarhat | @rogernfl | @pjansen | @thereikiforest | @vishalsingh4997 | @sumit71428

Haven't downloaded Actifit yet? download it from the playstore or from the app store and start your journey to fitness and rewards!