utopian-io: Weekly overview of the Analysis category - Week 5/6, 2019
This is a weekly overview post of the Analysis category at @utopian-io. The report aims to provide insight into the topics covered, the scores provided, staff picks (if any), and a look at how the current week has fared against recent weeks gone by.
Any other work taking place and my personal thoughts in relation to the category will also be included.
If you have any suggestions for additional information that could be included in this report, please comment below.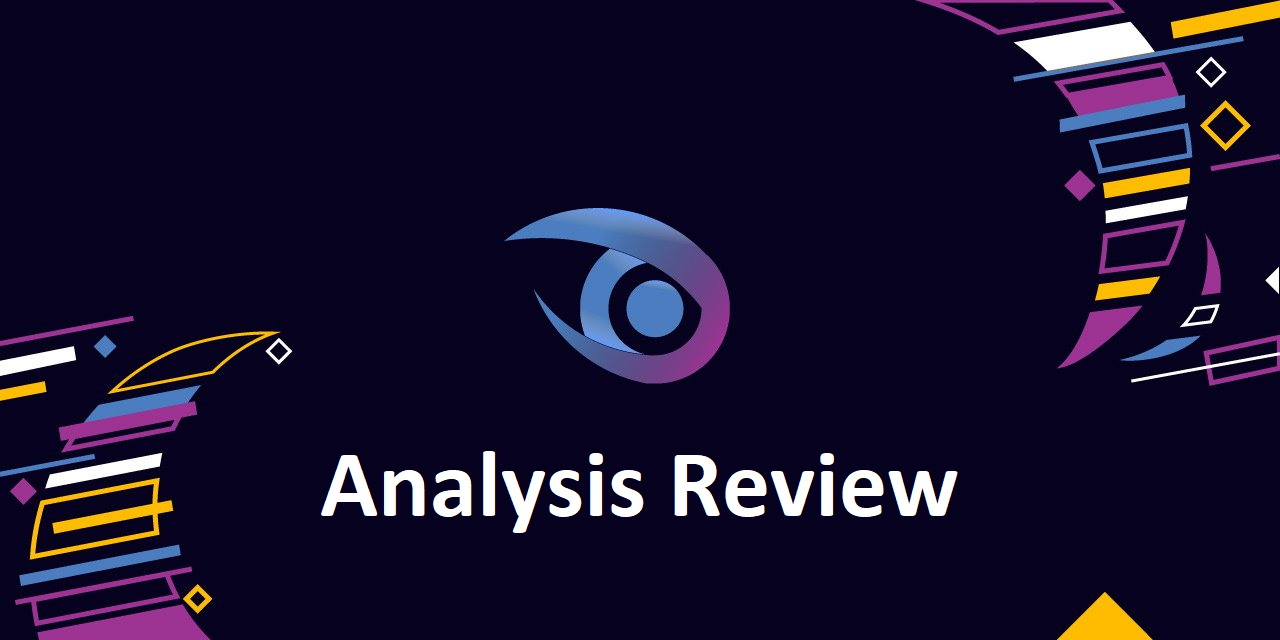 ---
Previous reports
2018
43, 44,45-46, 47, 48-49, 50-51, 52-53.
2019
---
Analysis contributions summary
Week 5: Jan 31st- Feb 6th (inclusive)
No 'Staff Picks' this week
2 contributions, 2 scored, 2 authors
An average score for the week of 77
An average of 36 comments per contribution
Week 6: February 7th-13th (inclusive)
No 'Staff Picks' this week
3 contributions, 3 scored, 3 authors
An average score for the week of 73
An average of 18 comments per contribution
Contributions
Week 5
Week 6
Five contributions in the past two weeks, covering 2 applications, curation, Steem accounts, and steemit.com. All the contributions fared well in the scoring, with 'lostmine27' receiving a high score for his insight into curation 'yield'. The 'Steemhunt 2018' round-up by 'dalz' was well-presented with a raft of numbers and presentation pieces. Both 'paulag' and 'vlemon' provided direct insight into Steem and Steemit.com and together, they suggest that an improvement in figures for both the blockchain and Steemit.com could be arriving soon.
---
Analysis and visual reporting
The aim of this section is to represent the current weeks activity along with a recent set of data. The current data span covers the previous 20 weeks.
Weekly Average Score and number of Contributions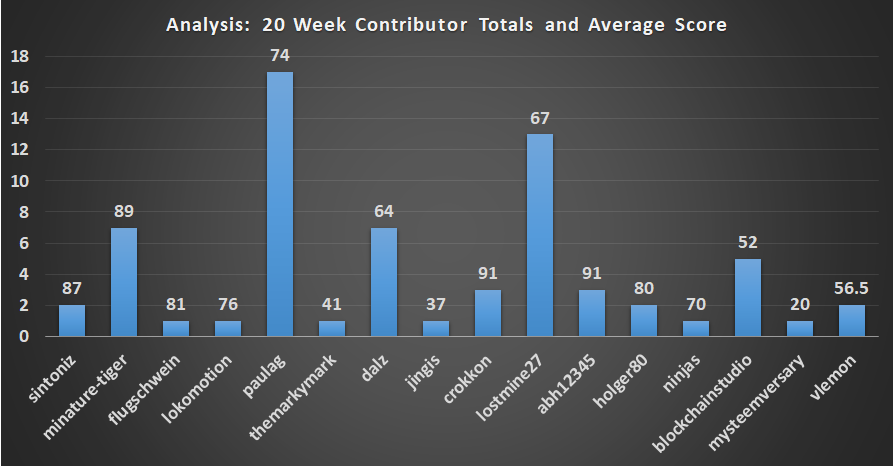 An average score of 73 this week is just under 2.5 % higher than the 18 week average of 70.69. Two contributions last week, and three this time brings the average 20 week average total to 3.55 per week.
---
Contributor Totals and Average Score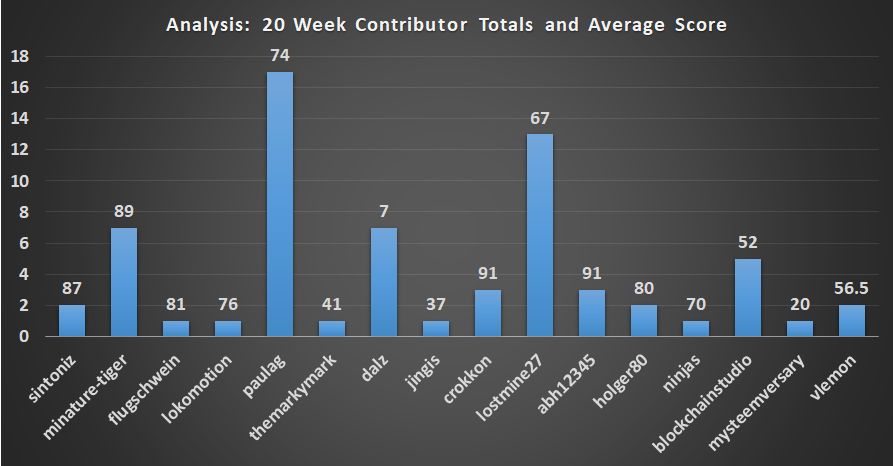 No new contributors since the last update.
'paulag' tops contributor table with 17 contributions at an average score of 74 over the past 20 weeks. 'lostmine27' is in a clear second place with 13 contributions and an average score of 67. 9 contributors have an average contribution score of 70 or above over the past 20 weeks.
---
Review Totals by Reviewer (Scored/ Not scored)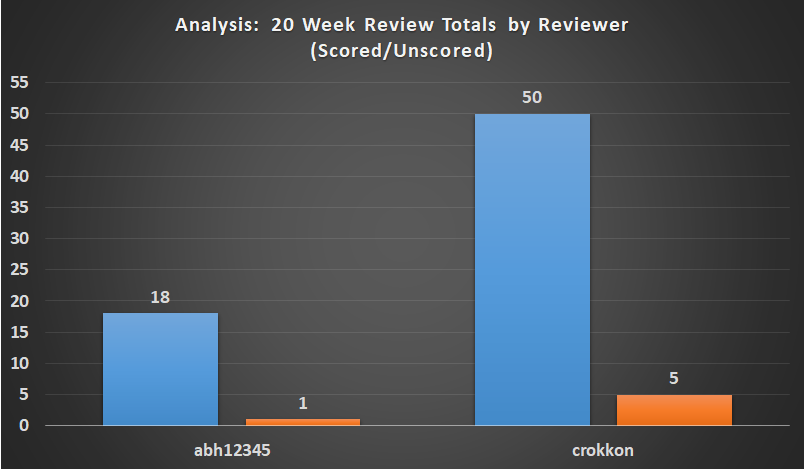 Two reviewers assessed all 68 contributions that received a score in the past 20 weeks. Six contributions have not been scored during this period.
Contributions that did not receive a score are not included in the chart above.
---
Other items
Review Comments
Recently, a query over the comments of a particular review were made in reply to the reviewer. The contributor asked if stating that the submission lacked scope was required, considering it was known to the contributor in advance.
So people like me already know that it's a narrow scope, but may still quite interesting and have values to some people. So you don't need to say "quite a narrow scope" in the comment explicitly :) I'm absolutely fine with a lower score due to that, but it can be done just with the scoring system not by comments.
After considering the comment, and not wishing to upset the contributor, the reply contained:
I understand your suggestion, but as you say, we score the contributions based on a questionnaire, and one of the criteria involves scope. So I would rather mention this to provide other readers with information on the review/reward. For this part of the questionnaire, it's not really a question of 'popularity of topic'.
However, I will try to word reviews more positively in future, as I do appreciate every contribution to the category and don't want to scare anyone away!
We certainly do not want to discourage contributors, but the comments are made for all to see and we wish to make known the good, and the areas which could have dropped the score of a contribution. The contributor then added:
And yes, I understand that. Especially for the first-time contributor, you should better inform them for improvement. Hope you could remember me even if I made another narrow-topic post :) so you could use more positive wording with low score behind the scene. haha. Thanks!
Yes, we will try to do that :)
---
The Analysis team is available for contact in the utopian-io discord, and also via our blogs. We would like to be able to give every contribution the opportunity to be scored and welcome conversation from potential, or existing contributors that have an idea of a piece of work they are thinking about submitting.
utopian-io Discord: https://discord.gg/6T97um
Analysis team: 'crokkon', 'abh12345'
---
That's all for this week, thank you for your time.
Asher